This is not some unheard of offer concocted by the marketing wizards of a popular clothing brand. We just want to help you find those clothes that last significantly longer that the cheap, distressing consequences of fast fashion nicely wrapped on shiny shelves all over the world.
Today we talk longevity as an essential ethical feature of clothes that, while serving their purpose, live longer than the average, and, most importantly, do not cost our very own habitat.

Have you ever gone shopping thinking: "I have to find something that lasts for the rest of my life"? In our fast everything society this might sound like a science fiction scenario but honestly, have you ever thought of buying something that would be in your closet for decades?
Fashion fads, price tags, seasons, moods, and a bunch of other reasons intervene in making a final decision. But let's imagine you want clothes that last for the rest of your life and more (or at least a few good seasons).

Question | Is there a brand that comes to your mind when you think of ethical or maybe fair trade clothes? If not, then you're in the right place. Keep reading.
With fewer clothes around, we would significantly reduce the damaging impact that manufacturing and disposal have on the environment. Fewer clothes mean less resources down the drain, not to mention the absence from our geography of the non-recyclable mountains of synthetic rags.

A recent report commissioned by Traid discovered that people in London are buying too much and wearing too little. 23 % of Londoners' clothes are unworn. Globally, consumption of clothing and footwear is expected to increase by 63% by 2030 (from 62 million tonnes today to 102 million in 2030!).

Ideally, this should be enough to make you reconsider your clothes shopping habits. Buying quality clothes from brands that did their sustainability homework is surely a step in the right direction.

Are there any new clothes that last a lifetime?

Among the many companies producing clothes, you'll also find some that stick to principles and ideals that go beyond the cash flow. They're usually family owned, run by a group of friends from childhood who used to dream big, companies brought to life in garages by dedicated craftsmen, by people passionate about the outdoors, or by people who at some point in their lives got tired of poor-quality products.

If you look closer at the brand you're about to shop from, you should see a company that had sustainability on its mind from the beginning and actually acts on its principles, rather than using them for cheap popularity among ethical customers. They should also be involved in campaigns and causes that reach beyond their company and their products.

Those willing to guarantee their products for life are most likely promising free or cheap repair and should be willing to replace the item if needed. Take for instance companies that produce clothes for people with a love of the outdoors. From the start, such clothes need special attention and innovation in their production. They may not be the cheapest, but the quality of the product, the lifetime warranty, the "no strings attached" return policy, and the environmental impact of their production will save you (more than) money in the long run.

Clothes & Socks | The Lifetime Versions
Take for instance Patagonia. It makes outdoor gear and calls its lifetime warranty "Ironclad guarantee". If their apparel and gear do not perform as expected, the company will replace them. They guarantee everything they make. You can also return the product "for a repair, replacement or refund", while the normal wear and tear is repaired "at a reasonable charge."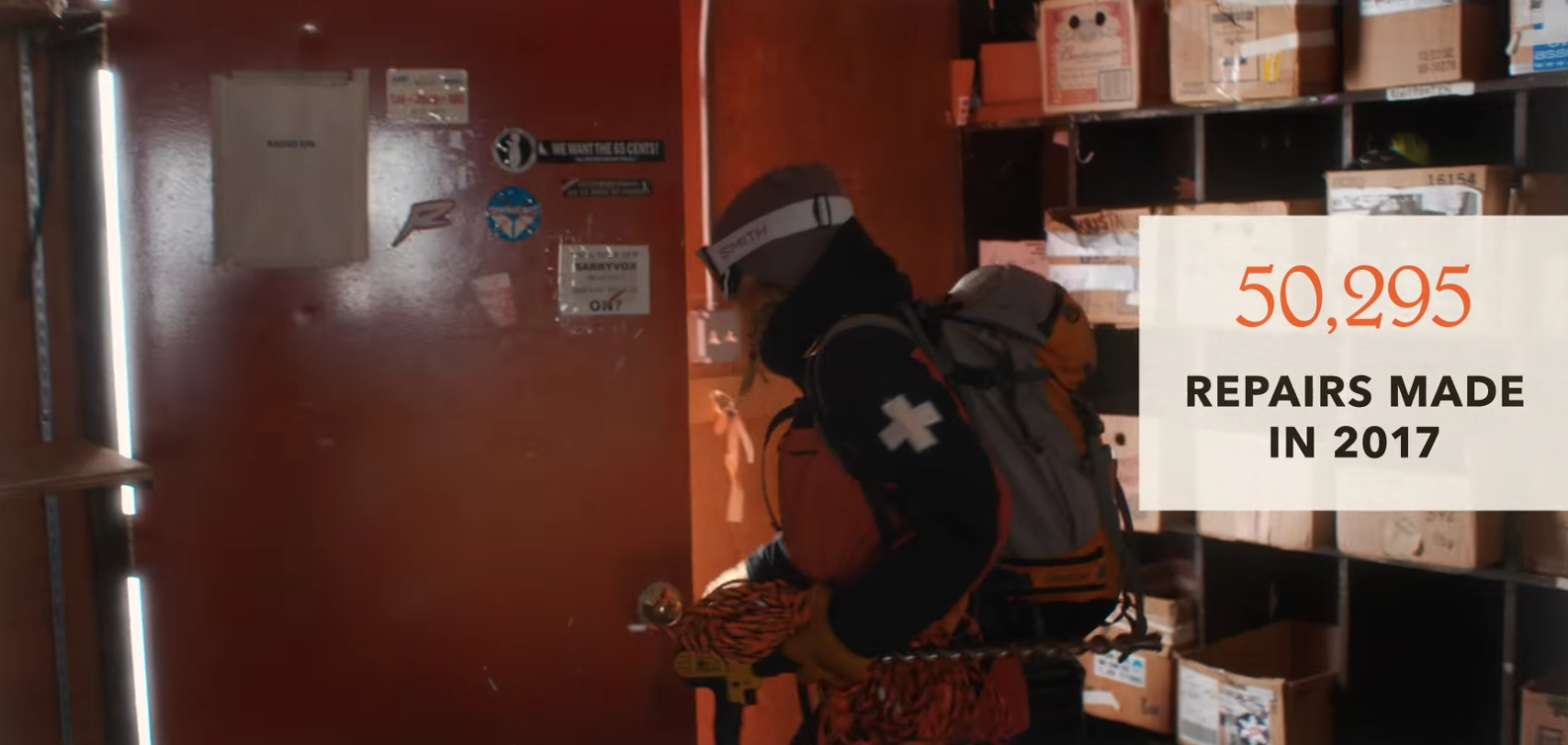 Quite a few companies (outdoor gear or not) offer this guarantee, but try to look for mission statements that sound like this: "Build the best product, cause no unnecessary harm, use business to inspire and implement solutions to the environmental crisis." Words, you might say, but if you look at Patagonia's campaigns and achievements outside financial profit, you'll understand what I'm talking about.
The North Face also has items guaranteed for life. This is another company declaring its "love for the outdoors", pledging to "protect the places where we live, play, and operate" and to improve their environmental performance and social responsibility in the supply chain.
You might find it hard to believe, but yes, there are also socks guaranteed for life. Like Darn Tough's socks, handmade in Vermont by people who know what the outdoor can have in store for your feet. Their "unconditional lifetime guarantee is simple and without strings or conditions". Plain and simple: "If our socks are not the most comfortable, durable and best fitting socks you have ever owned, return them for another pair". In less words: No strings. No conditions. For life. You can add to the list Feetures too, another sock-maker from North Carolina, producing mainly socks for high-performance athletes. They offer refunds or replacement pair at any time.
We mentioned just a couple of companies promising quality and longevity. We'll come back with more. And do feel free to share in comments your personal experience with clothes for life.

To Make an Ethical Decision, When You Buy for Life, Take These Aspects into Account too:
Can I repair it? Can they (the company) repair it?
Are there other people I know who can recommend it? Testimonials on shopping platforms might help, but it's a different level when it comes from a friend, isn't it?
Do they offer lifetime warranty?
Is this easy to maintain? I'm afraid you too are responsible for the longevity of that new product you just bought.
What is the impact on the environment and other people's lives? Meaning: check their dedication to sustainable production, fair trade, fair pay.

What if I don't want to buy any new clothes?
Then it's time to start visiting second hand and charity shops. You'll give new life to old clothes. Chances are clothes that have more lives in them are also better quality. And even if they do not live up to your expectations and a lasting relationship, at least you did not go bankrupt buying them, while helping a charity and its noble causes.
Needless to say, the oldest tricks in the book should work with second hand clothes too: mend, repair, re-purpose. There are also brands that don't come with a lifetime warranty, but because you're so good at maintenance, they might just break a new longevity record.
It does work. Buy less, but make sure you buy products that are essential for your life, improve your life, don't impact the Earth more than they should, and can be of use to others (to wear, repurpose, recycle, etc.) when you're done with them.
I bet there aren't many people who want to tell their children stories of the Earth's demise by clothes.

Ready to wear that jacket for the rest of your life?