Let's assume that you've just decluttered your home. You kept only the things that spark joy and the few practical utensils that make life easier in the kitchen, because you've also decided to cook more and eat less processed foods, fast foods, and takeaways.
Reducing, reusing, making do with less, precycling, upcycling and other similar ethical decisions have actually made more space for the important things in your life. But wait, those important anniversaries are coming soon (there's always one just around the corner), and you need to come up with presents for the good friend, the family member, and the reliable colleague.
What would the best decision be for the new you? Stuff, experiences, vintage, second hand (also known as pre-loved stuff), practical, meaningful, symbolic?
It's not easy, we know, because when you are trying to reduce the waste and the clutter in your life, you feel that your loved ones should enjoy a bit of that bliss, right? So it should be out of the question to burden them with unimaginative wasteful objects they don't really need. What shall it be then?

Let's kick this conversation off with a few suggestions.
"The best things in life aren't things." — Arthur Buchwald
Free stuff
Buchwald reminded us something we've always known, but caught in the throes of today's rampant consumerism many would beg to differ. I even heard variations on his quote: the best things in life are free (hopefully not things). A surprise visit, a bouquet of tulips from your garden, that walk in the park with your bestie (that was pretty good, wasn't it?), hugs, homemade carrot cakes are (almost) free of charge. In the age of meetings via screens, long working hours, daily commute, brimful agendas, and "time is money" incantations, putting aside some time for a loved one can truly be the greatest gift.
Experiences
But let's say you're already proficient in free stuff and want to splurge some money too. Experiences ranging from concerts, festivals, cinema season tickets, to train trips, workshops, and gym cards can be cheap or expensive—like pretty much everything else that comes with a marketing budget attached. When you want to reduce your waste it's easier with gifting experiences rather than stuff (do prove me wrong in the comments). Except for the ticket (which you should recycle or pin to the fridge) or membership card, not much stuff would end up in the bin a month later.
Helpful rant to make your case for experiences (if necessary): Comedian George Carlin produced an inspiring (beware the strong language) visionary rant about a world with "too much stuff". It's hard to believe this material was recorded in 1986.
Train trips
It depends in which country you plan to travel. In some European countries train trips are cheaper than in others, with fixed tariffs per distance. If you travel in Belgium, for instance, you have multi-buy tickets and weekend discounts. In other countries, like the UK, it can be pricey, but if you buy in advance you can get some great deals.

A train trip means lower carbon emissions too. Most international trains offer on board meals, drinks and snacks for every travel class, so you can start catching up before you reach your destination. If you're in London, think about Paris, Brussels, Amsterdam, as city breaks all just one train ride away. Or you can enjoy slow traveling to the coast or nearest forest for one day of rambling, far from the madding crowd.
Good point: Ideally, for short trips, you should jump on the train too, and not just send your friend/family member alone. It might send the wrong message. If you don't want to or can't join, but know they need some extra financial help or a simple nudge to help them take a long-awaited trip, train companies like Eurostar have personalized gift vouchers. The e-vouchers they offer can be from £25 to £300 and are valid for one year from the day you buy them.
Must do: Give extra thought to the chosen time, date, and destination so it does fit your friend's schedule and preferences. Even better: make it a flexible train ticket or just discuss it in advance.
For longer trips: Have you ever used Interrail Global Pass? It's a travel pass that lets you discover, at your own pace, 40.000 destinations and unlimited travel on trains in 31 different countries, including France, Germany, Italy, and Switzerland, "from Europe's liveliest cities to its quaintest villages". They offer discounts for travellers aged 27 and under. You can also start and end your journey at your local train station. So, does it sound like a good gift?
Here's a thought: You can add a Paul Theroux book to the trip. Theroux is famous for his (train) travel books around the world. They truly capture the beauty of adventure. The Old Patagonian Express and The Great Railway Bazaar come to mind. You can find many of Theroux's books in charity bookshops too, maybe because he does talk about older and slower times embraced by fewer people these days. Hopefully, the tide will turn.
Concert tickets
We're not in the music business, so no reviews and musical recommendations from us, but in the process of gifting concert tickets, you might want to support a ticketing company like WeGotTickets. First of all, they have an environmental policy. Secondly, you don't have to print the tickets you buy from them. It might not sound like much, but according to this study, a paper ticket sent in the post emits over 1000 times more carbon than the one sent via email only. Thirdly, they work on making their business sustainable in general, that's why they offset 100% of the carbon emissions from their offices. Whether your friend is into sustainability or not, make sure you mention on the anniversary card something about your choice of ticketing company.

And with all these music streaming services around, concerts are a good way to show your appreciation for a certain musician or band. Last, but not least, concerts bring people together. We should do this more often during these trying times.
Classes: from dancing to fermentation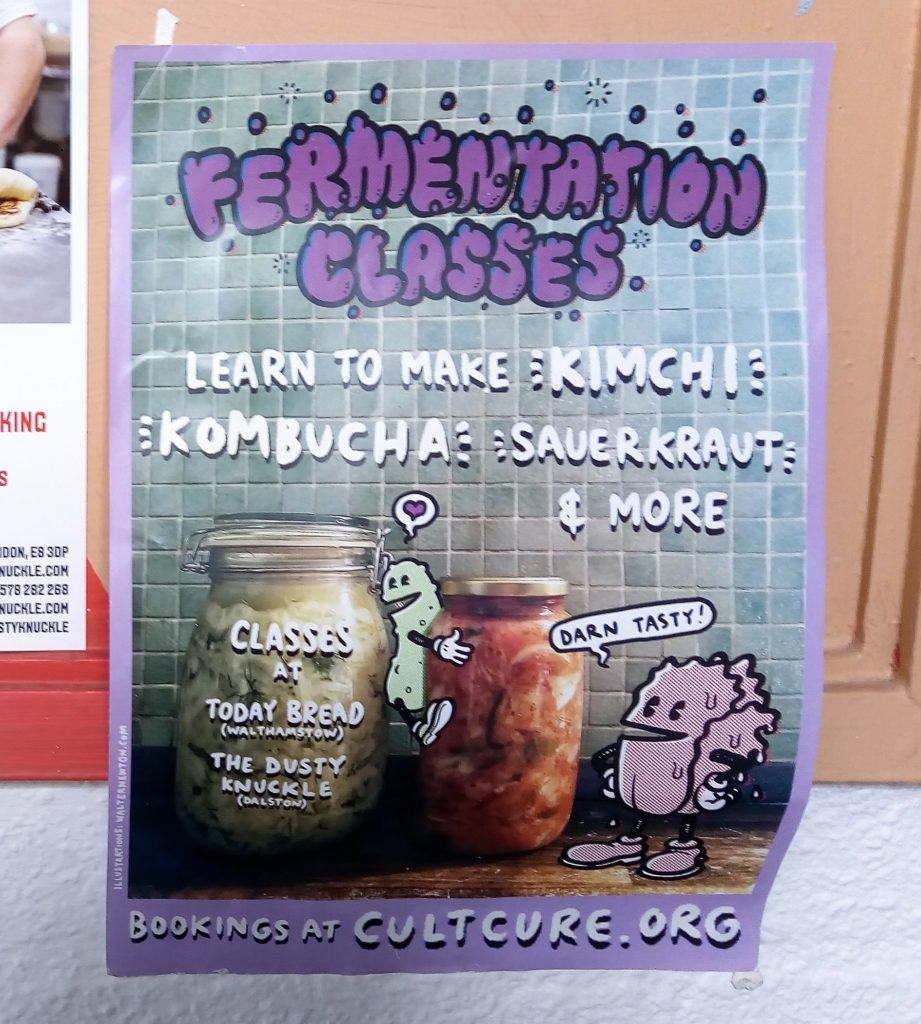 In big cities there's no shortage of classes about pretty much anything you can think of. From macaroon making class to fermentation workshops, indoor climbing, and swing dance, you only need some serious internet browsing sessions to come up with the most suitable class or workshop.

The attached leaflet was pinned to a notice board in our building. After walking past this for days in a row we've been buying more pickles. Making our own could be the normal next step.
Subscriptions & memberships
A one-year gym subscription, a membership card to a museum, or a subscription to a cult-classic-indie movies platform are more consistent gifts that will keep your friends busy for longer periods of time.

But let's say that you want to improve the health and well-being of your beloved friend or family member who's not too keen on running machines or spandex. What do you do? Green Gym sounds like a good alternative. The beauty of the green gym is that it improves the health of those using it, while also tending to the life-giving environment. How many gyms tick boxes like natural resources and environment besides healthy and fit? Not many, I know.

Experienced leaders guide you through a range of practical projects, giving you the opportunity to tackle physical jobs in the outdoors—improving your strength and stamina, boosting your practical skills and confidence and benefiting your local green spaces.

Did you know? You can set up your own Green Gym. How's that for an ethical present?

Gyms: Make sure you pick one that is conveniently close to your friend's house or workplace, but mostly make sure they keep an eye on sustainable practices.
~~~~~
We'd really like to know: What is an ethical present for you? What would you buy or make that falls under this category? Thank you!
Featured image by Ouch.pics