"Google it." Even my technophobe grandma understands what that means, and almost everyone with any experience of the internet has used the company's services in some shape or form.
Once a humble search engine, Google has morphed into one of the biggest companies in the world. "Don't be evil" used to be part of its corporate code of conduct, but any trace of this old motto was purged in 2018.
From Android to YouTube, it's tough to avoid its services entirely, but it's easy to understand why you'd want to. The following guide discusses why it's a good idea to remove Google from your life and how to do it, as well as listing some of the best ethical alternatives to its products.
The Origins of Google
The first version of Google, designed by computer scientists Larry Page and Sergey Brin, was released on the Stanford University website in 1998. Starting from a garage in California, their original mission was to catalog and organize the many pages of the internet. They nearly sold the company in 1997, but competitors like Yahoo! balked at the $1 million asking price. Instead, in 2000, Google developed AdWords, enabling the platform to be heavily monetized, with this funding allowing an expansion across a wide range of services and products over the next decade.
By the mid 2000s, Google Maps had been launched, while the purchase of Android was completed in 2005. The release of Google Chrome in 2008 was soon followed by apps like Google+ (2011) and Google Drive (2012). The company moved into cloud computing and other ventures, cementing its status as the undisputed king of the internet.
Of course, it hasn't been smooth sailing; Google has faced a number of accusations regarding everything from monopolization to disrespecting user privacy.
Eight Reasons to Avoid Google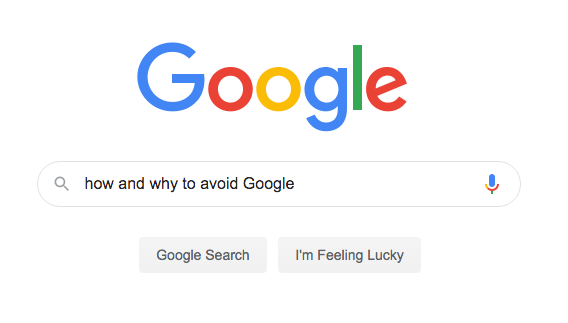 This list could have taken up twice the word count of this article, but here's a rundown of eight of the main reasons to avoid Google. We're open to further suggestions, so let us know below what we've missed!
1. Privacy
One of the most persuasive reasons to avoid Google stems from its blasé attitude to privacy. Each time you use its search function or one of its many services, you give away more personal information. We're all aware that Google stores an enormous amount of data about the average user, from their search history to an advertising profile – however, you may not know just how sinister its data collection methods are.
For example, not only does your phone constantly ping your location to its servers throughout the day, smart lights inform the company of exactly when you've chosen to go to bed at night. Additionally, Gmail tracks users' purchases, and footage from secondhand Nest Cam Indoor home security cameras can still be viewed even after being reset. If subsequent users can see the footage, Google can too.
In September 2019, Google was fined a record $170 million after the US Federal Trade Commission investigated how YouTube handled the user data of children under the age of 13. FTC chairman Joe Simons released a statement soon after: "YouTube touted its popularity with children to prospective corporate clients, yet when it came to complying with COPPA [the Children's Online Privacy Protection Act], the company refused to acknowledge that portions of its platform were clearly directed to kids. There's no excuse for YouTube's violations of the law."
In October 2022, Google paid out $85 million to settle a privacy lawsuit after being accused of "deceptive and unfair collection, use, and exploitation of user location data". However, the fine constitutes less than 12 hours of parent company Alphabet's quarterly profits, so it's unlikely to make much of an impact on its future business practices.
The only way to avoid your data being harvested by Google is to limit usage of its platforms.
2. Censorship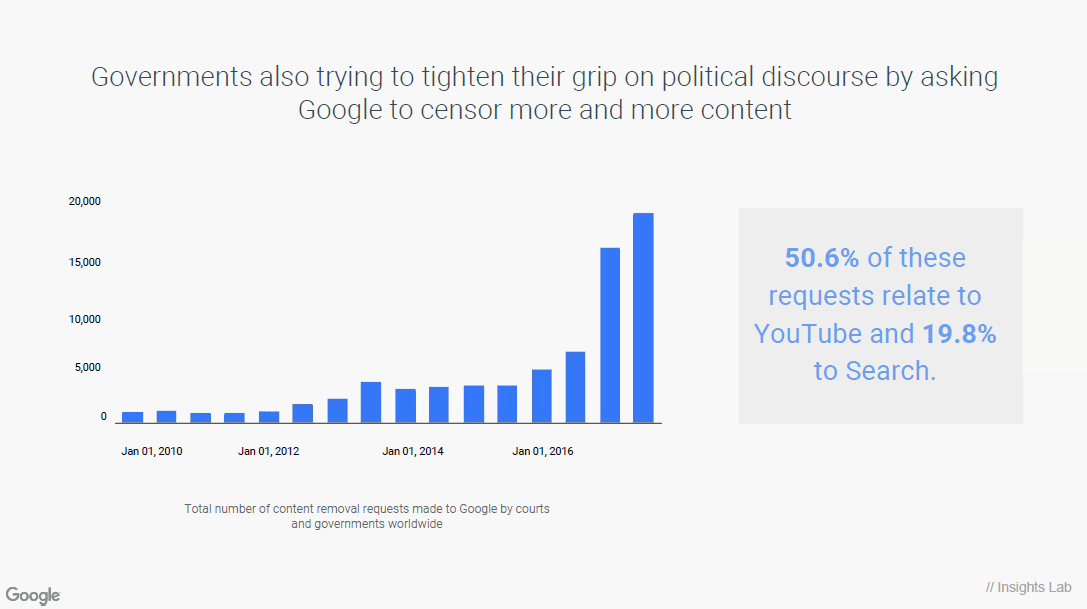 As Google controls so much of what we see on the internet, censorship is a key issue for the company. It's aware of the delicate nature of free speech, so much so that an 85-page presentation entitled 'The Good Censor' was commissioned in 2018. Leaked and published online by the far-right Breitbart News, the briefing gives an insight into Google's stance on the subject. It concludes that large tech companies "are performing a balancing act between two incompatible positions": facing pressure from governments on one side and users on the other. The frequency of censorship requests by governments is also rising, as shown in the image above.
Google was also reportedly developing a censored version of its search engine for China, which would have linked users' queries to their phone number – a direct way of keeping tabs on individuals. The project was eventually shut down before release, "after members of the company's privacy team raised internal complaints that it had been kept secret from them".
In 2022, Alphabet agreed to new licensing rules to continue operating in Indonesia. The new laws "give authorities broad powers to compel platforms to disclose data of certain users and take down content deemed unlawful or that 'disturbs public order' within four hours if urgent, and 24 hours if not".
3. Tax avoidance
Most people will associate Google (like Amazon) with tax avoidance. Google has repeatedly made headlines over the last decade in relation to this subject, with the UK press and government regularly combining to condemn the practice. It's hard to blame them, considering that "Google's UK unit paid just £6m to the Treasury in 2011 on UK turnover of £395m" – a paltry sum. Has anything changed subsequently? Not really.
In January 2019, it was reported that "Google moved €19.9bn ($22.7bn) through a Dutch shell company to Bermuda in 2017, as part of an arrangement that allows it to reduce its foreign tax bill, according to documents filed at the Dutch chamber of commerce."
In 2022, Google paid £200 million in tax to the UK Treasury, although its total turnover was £3.4 billion.

Despite the legality of these methods, it leaves a sour taste when considering the detrimental impact unpaid tax money has on the funding of public services like the NHS, among others. Removing Google from your life will only lower its income infinitesimally, but a concerted effort from a significant portion of users would have an effect on its engorged coffers.
4. Antitrust concerns
Google is massive and has consequently faced allegations of monopolization from both sides of the pond. It's also paid out on multiple occasions in recent years.
The European Union (EU) threw the book at Google in 2018, when it found that the company had "violated competition rules by paying phone makers to exclusively pre-install Google Search on their devices and preventing them from selling phones that run other modified, or 'forked,' versions of Android". It hit the company with a $5 billion antitrust fine, and in compliance with European regulations, Android phones in the region are now slightly more flexible.
It didn't take long for the company to end up in hot water again. In March 2019, "Europe's antitrust regulators slapped Google with a $1.7bn fine for unfairly inserting exclusivity clauses into contracts with advertisers, disadvantaging rivals in the online ad business."

Additionally, in September of that year, 50 US states and territories banded together to commit to another antitrust investigation, due to concerns about Google's impact on smaller companies. They're hoping to send a "strong message" to the giant, but it's hard to hurt it financially when Alphabet is worth over $820 billion.
5. Treatment of employees
From the outside, Google is generally seen as a great company to work for – yet multiple concerns have been raised by employees in recent years. Two employee activists, Meredith Whittaker and Claire Stapleton, organised a mass demonstration against Google, where 20,000 workers walked out of its offices to protest the handling of sexual harassment claims. A few months later, both Whittaker and Stapleton felt that they'd been made to pay for their role in the walkout, with the former explaining in an open letter:
"Just after Google announced that it would disband its AI ethics council, I was informed my role would be changed dramatically. I'm told that to remain at the company I will have to abandon my work on AI ethics and the AI Now Institute, which I co-founded, and which has been doing rigorous and recognized work on these topics. I have worked on issues of AI ethics and bias for years, and am one of the people who helped shape the field looking at these problems. I have also taken risks to push for a more ethical Google, even when this is less profitable or convenient."
Stapleton was told she was going to be demoted, despite being a high performer in her sector. After failed attempts to escalate to HR and her vice president, Google suggested she go on medical leave, despite having no illness. She eventually had her role reinstated after lawyering up.
It could be a series of coincidental circumstances, but it's easy to see why Whittaker and Stapleton feel penalized for their role in the demonstration. Either way, not a good look for Google.

Neither was the news that Google had decided on mass layoffs in January 2023, cutting 6% of its total workforce. In other words, 12,000 people are now out of a job in a sector that has seen a lot of turmoil in recent months. (Thousands more have been laid off at Microsoft, Amazon, and Meta.) It's easy to argue that this is a byproduct of the current climate, but Google earned roughly $69 billion and made $13.9 billion in profit in the third quarter of 2022.

6. Pushing AMP
I quietly ignored AMP when it first arrived on the scene. 'Accelerated Mobile Pages' tended to load quickly on my phone, but it was annoying if I quickly copied a link only to see a weird AMP version on my desktop.
A range of privacy experts penned a letter discussing their problems with this Google project: "AMP keeps users within Google's domain and diverts traffic away from other websites for the benefit of Google. At a scale of billions of users, this has the effect of further reinforcing Google's dominance of the Web."
Considering that Google already controls much of what is seen and heard online, this is a worrying development.
7. Google's inconsistent ethical stance, and AI concerns 
The ethics of AI is a delicate subject, one probably deserving of its own article. Of course, Google is heavily invested in AI, and has released a list of principles and objectives for its applications. It has committed to staying away from weapons tech, but admits, "We will continue our work with governments and the military in many other areas. These include cybersecurity, training, military recruitment, veterans' healthcare, and search and rescue."
While its technology won't be used to actively kill people, it would be desirable for Google to ensure that its AI development is safe and ethical. It launched the Advanced Technology External Advisory Council (ATEAC) in 2019, to work on developing AI responsibly, but this was forced to close just a week later, because more than 2,000 Google employees signed a petition criticizing one of the company's selections for council membership. The Guardian reported that Kay Coles James "has a history of fighting against trans rights and LGBT protections, has advocated for Trump's proposed border wall, and has taken a vocal stance against abortion rights".
Then there's the fact that AI is seen as the next big competitor to Google Search. Take ChatGPT (Chat Generative Pre-trained Transformer), arguably the most popular example of chatbots designed to answer questions and find information. You'd be surprised at its efficiency:
It's not perfect, but it may still end up putting writers like me out of a job in a few years!
8. (A Lack of) Diversity
In recent years, Google has rolled back a number of diversity and inclusion initiatives. 'Sojourn', a "comprehensive racial justice program created for employees to learn about implicit bias and how to navigate conversations about race and inequality", was cut entirely.
NBC News reported on this in 2020; after contacting Google employees, it found that:
"Seven current and former employees from across a range of teams and roles at the company said separately that they all believed the reason behind cutting Sojourn and taking employees off diversity projects to move them elsewhere at Google was to shield the company from backlash from conservatives."
Though the company has seen incremental positive change in direct workforce representation year on year, ethnic representation among its employees is still extremely unequal.
Ethical Google Alternatives
We've come up with a list of some of the best ethical alternatives to popular Google-owned products, which are split into individual sections.
Ethical Google Analytics Alternatives:
Launched in 2005, Google Analytics is a platform used to track and report website traffic, and accounts for a significant share of the market for traffic-analysis tools.
It's free to use, but by doing so you'll be handing Google even more of your data. (There's also a premium version, Google Analytics 360, which features a variety of paid tiers.) If you plan to record website traffic, it's best to have a transparent policy about any data collected, so we've listed a few great ethical alternatives below:
Clicky
For web analytics, over one million websites depend on Clicky to monitor, analyze, and react to their traffic in real time. The service produces detailed reports with a range of additional data available, and you can see how its features compare with the big names in the sector here.
It's also compliant with the EU's General Data Protection Regulation (GDPR), and works to anonymize visitor IP addresses by default.
AT Internet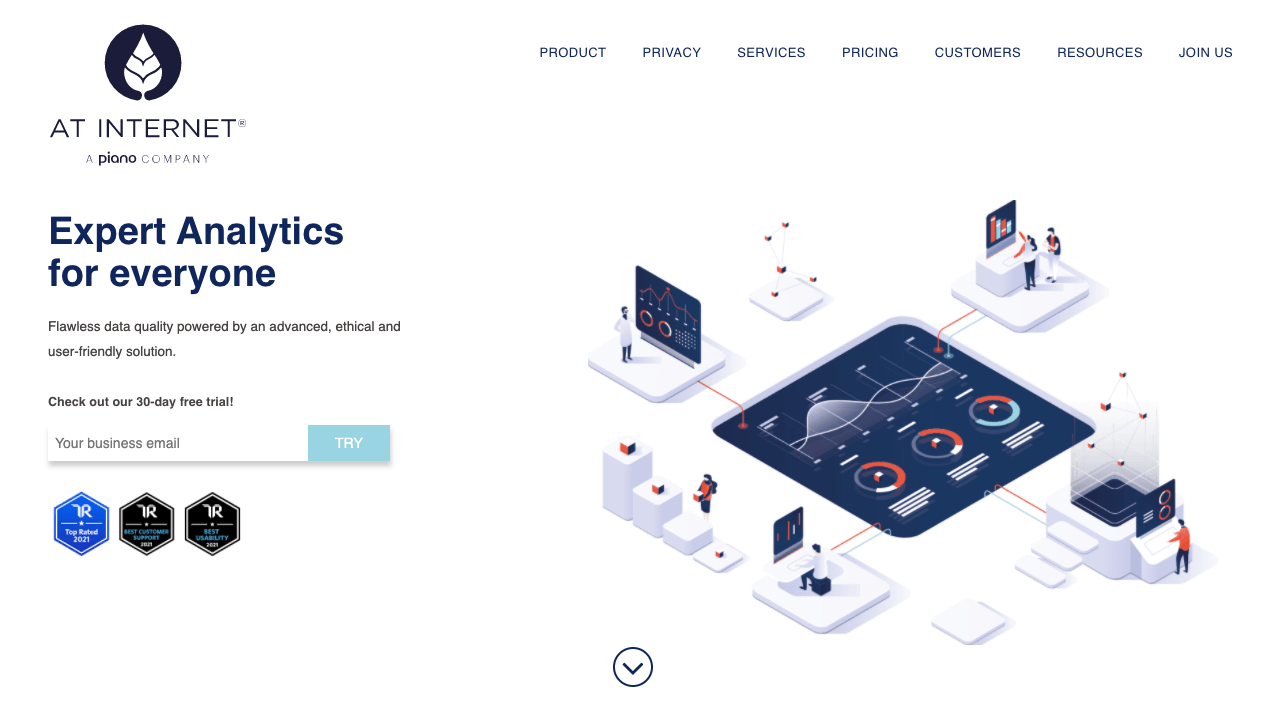 AT Internet provides "flawless data quality powered by an advanced, ethical and user-friendly solution". That ticks the majority of the boxes in terms of what we're looking for, and it further notes that:
"AT Internet has always held the protection of users' data and respect for their privacy as a fundamental value and a guiding principle. As a result, our Analytics Suite is fully compliant with the GDPR. We provide our customers with real guarantees, meeting the strictest privacy criteria."

However, it's worth mentioning that the company was acquired by Piano Software Inc. in 2021, for an undisclosed sum. We'll have to wait and see whether this affects the service in the long term.
Plausible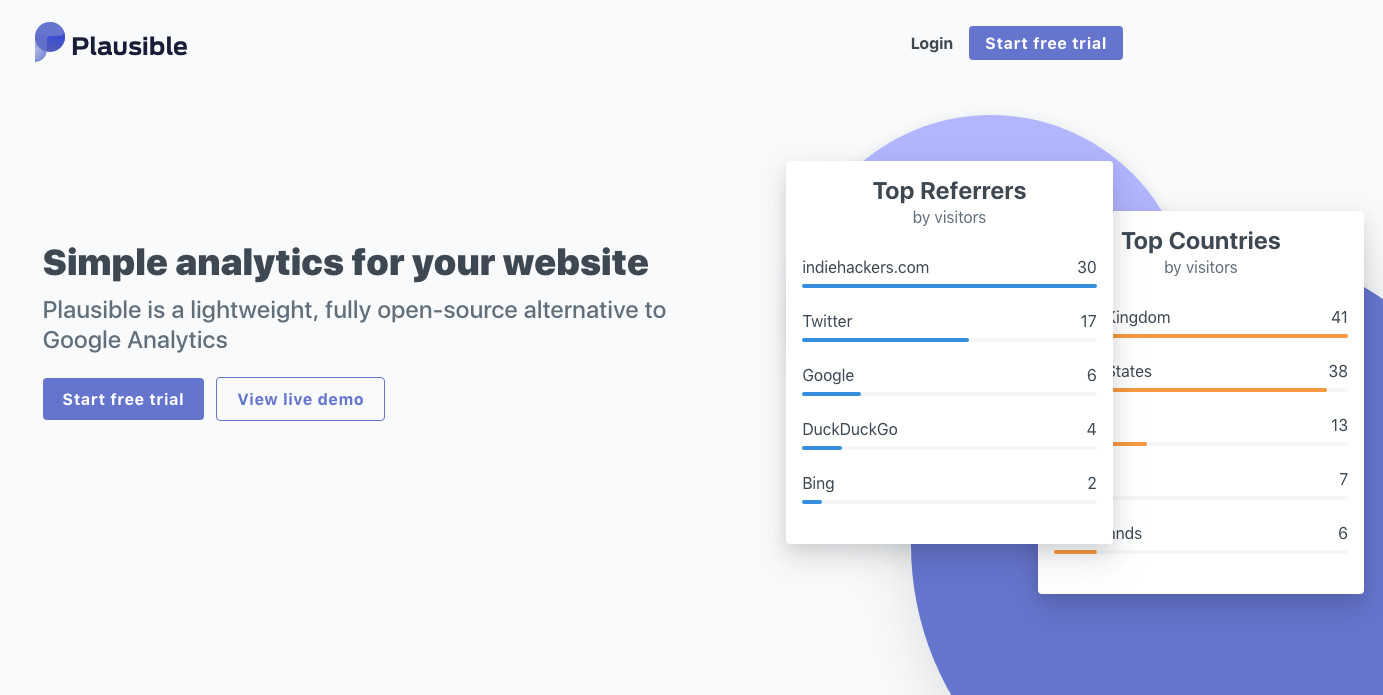 Plausible is marketed as a simple, lightweight alternative to Google Analytics. Its script is 14 times smaller, which should mean quicker load times, and key information is stored on a single page. It's open-source and available on GitHub, and is committed to giving users full ownership of their data.
It's great if you prefer a minimalist approach, and also emails users a weekly report including key stats like "pageviews, visitor numbers, top pages and top referrers for the week".
Countly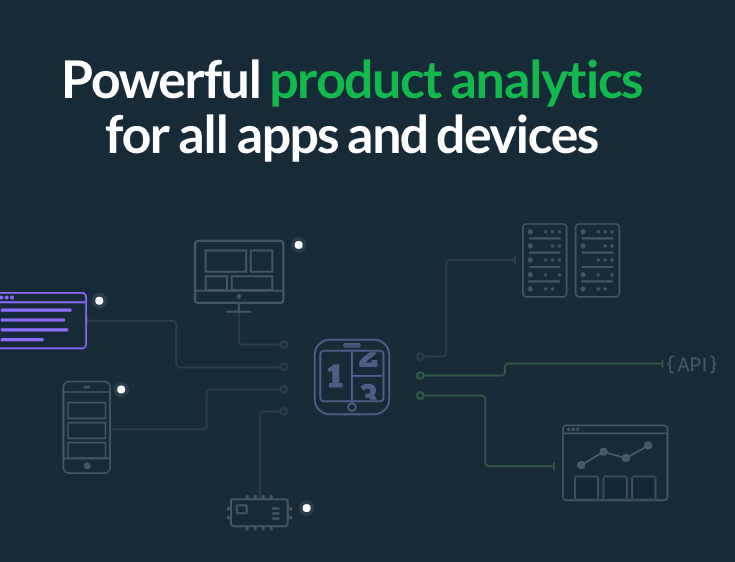 Countly is an analytics platform that offers a chunkier experience than Plausible. You'll still find all relevant information on a single dashboard, but with additional detail about everything from custom actions to tracking individual sessions. Countly gives users full control and ownership of their data. It's a UK-based company, but all employees work remotely.
Fathom
Fathom Analytics provides "simple, useful website stats" without tracking or storing personal information about its users. Instead, it collects data about trends and insights, so there are no ethical ramifications about optimizing your website traffic. Everything is available via a single screen, and it's "built on modern, cloud-based technology".
Ethical Google Search Alternatives:
Google's quintessential service, its search bar helped the company to grow into the behemoth we know today.
Over the years, Google has faced numerous complaints about its search functionality. For example, there's the use of dark patterns to get users to click on ads, or the censored version that was almost released to comply with Chinese regulations.
After a $5 billion fine for the way Google promoted apps on the Android OS, the company allowed different search engines to be installed as default apps on its devices in Europe. It did so to meet EU regulations – but by proposing an auction, with places going to the highest bidders, its methods still raised eyebrows.
Ethical search engine Ecosia released a response, saying that it would "not be taking part in Google's revenue-making auction". It continued:
"We are calling on Google to cease damaging, monopolistic behavior. Android users deserve the option to freely choose their search engine, and that choice should not be auctioned off to the highest bidder. Google has chosen to give discrimination a different form and make everyone else but themselves pay, which isn't something we can accept."
Ecosia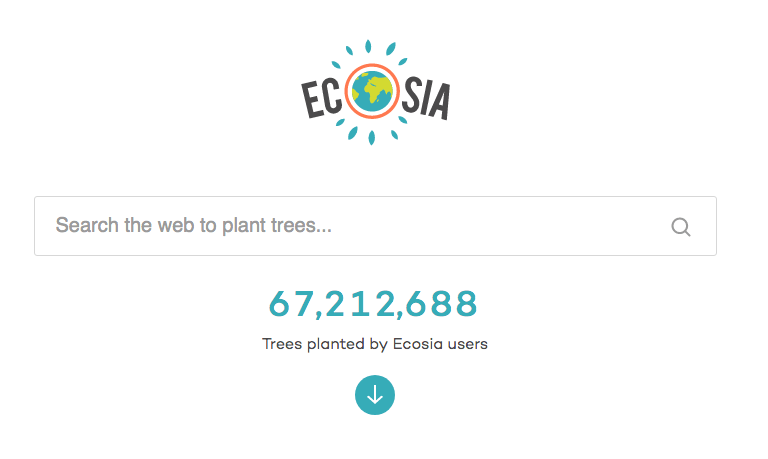 Given the strength of its stance, it's only fair that we add Ecosia to our list of recommendations. It uses ad revenue from searches to plant trees, so is hard to ignore if you're looking for an ethical option. Founded in 2009, the browser is completely free, and the company aims to bring reforestation to those areas which need it most. To date, it has planted over 69 million trees and counting, as well as protecting orangutan habitats and helping coffee farmers in Colombia, among other projects.
MetaGer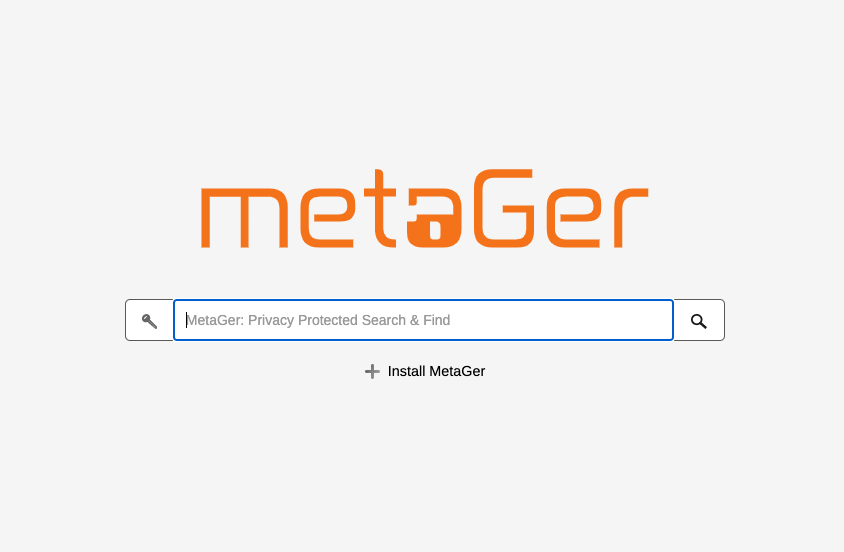 MetaGer states that it "protects against censorship by combining the results of multiple search engines. Our algorithms are transparent and available for everyone to read."
In terms of the collection and use of personal information, it says: "By using MetaGer you retain full control over your data. Our anonymizing proxy keeps you protected even when you continue surfing. We don't track." This is backed up by its privacy policy, which transparently lists all of the information it does collect.
DuckDuckGo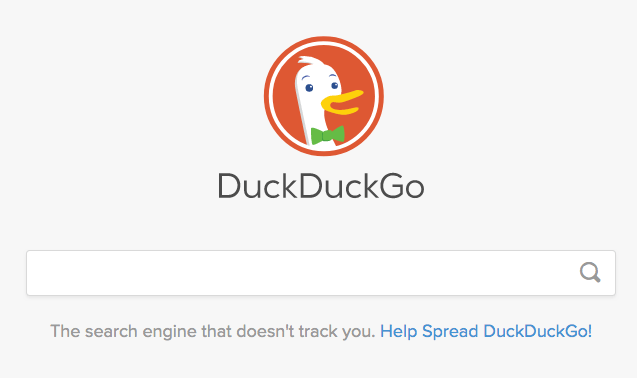 DuckDuckGo is a nifty alternative search engine with none of the worrying privacy problems associated with Google. Your IP address isn't stored, and your user information isn't logged – meaning search results aren't skewed by your history and your browsing data remains private.
DDG is customisable, with options and themes like Dark Mode. It's also popular, recording 1.3 billion searches per month. It takes time to disconnect from Google's web, but DDG makes the switch painless.
Searx

Searx is another popular metasearch engine (or search aggregator): an online tool that uses the data of other search engines to produce its own results. In other words, it's like using multiple search engines such as Yahoo!, Bing, and Google simultaneously. (Roughly 70 are supported at the time of writing.)
It's self-hosted, and there's no tracking or profiling of users. Searx protects the privacy of its users in multiple ways, regardless of whether they are public or private. Removal of private data from search requests comes in three forms:
Removal of private data from requests going to search services
Not forwarding anything from a third party's services through search services (e.g. advertisements)
Removal of private data from requests going to the result pages.
Startpage
Startpage is headquartered in the Netherlands, so users are protected by stringent European consumer privacy laws, including GDPR.
The service works by removing personal data such as IP addresses, while allowing the user to receive '"unprofiled and unpersonalized" search results. You'll be able to browse websites privately, and search queries are never logged. It's ideal if you want to avoid the algorithmic results seen when using Google Search.
Ethical Android Alternatives:
Google acquired the Android mobile platform in 2005 for a reported fee of $50 million, prior to its release in 2008. A great success, it proved to be a lucrative purchase.
Android is currently the most popular mobile operating system (OS) in the world, and has held this crown since 2011. (Estimates put Android's market share at roughly 71% during the last quarter (Q4) of 2022.)
However, in 2018, the European Commission found that Android had used its mobile OS to illegally "cement its dominant position". The commission fined the company $5 million, and threatened "further penalties of up to 5% of its average global daily turnover" unless changes were made.
Similarly, Google was fined a further £127 million in September 2021 for "allegedly preventing smartphone makers like Samsung from using customised versions of its Android operating system" in South Korea.
The chairwoman of the Korea Fair Trade Commission (KFTC), Joh Sung-wook, said in a statement that its "decision is meaningful in […] that it provides an opportunity to restore future competitive pressure in the mobile OS and app markets".
Apple may be a slightly better option in terms of privacy (aside from its draconian walled garden), but what ethical operating systems are there?
LineageOS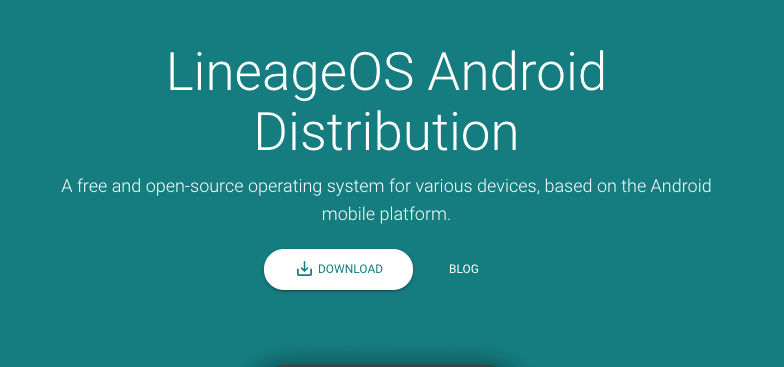 How about "a free and open-source operating system for various devices, based on the Android mobile platform"?
LineageOS extends the functionality and lifespan of mobile devices from more than 20 different manufacturers, thanks to an open-source community of contributors from around the world.
It also removes a lot of bloatware, while still including many useful and essential apps such as AudioFX and FlipFlap. It also offers a range of features that aren't available on the Android OS.
Replicant
Replicant also fits the bill: "a fully free Android distribution running on several devices, a free software mobile operating system putting the emphasis on freedom and privacy/security".
Replicant uses LineageOS's source code as a base, with parts of the code reworked to remove anti-features that can spy on the user. Most importantly, Replicant does not include any of LineageOS's proprietary components (programs, libraries, firmwares), instead providing some free software replacements. The rest of the system is also adapted so that these replacements can function correctly. However, it only runs on a few classic devices.
Purism Librem 5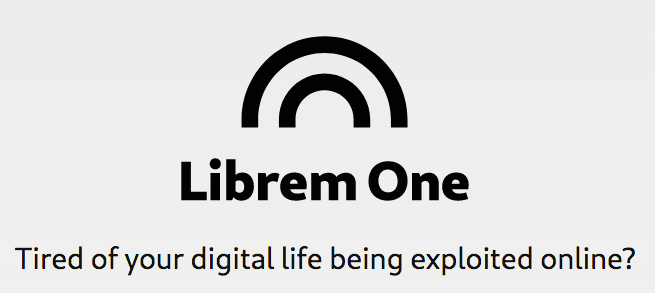 The Purism Librem 5 is marketed as a mobile phone "for anybody and everybody interested in protecting his/her data, communicating privately to your loved ones, or supporting a future of protecting your digital rights". That should be pretty much everybody, and Librem has kept its promises: the phone is built with PureOS, an open-source operating system not based on either Android or iOS. It's the perfect choice if you'd like to stay away from this traditional duo – although it is expensive. 

There's also now a new version, in the form of the Librem 5 USA. While it has the same features and look of the Librem 5, all its electronic components are made in the company's US facility, and the entire phone is assembled in the States.
Ethical YouTube Alternatives:
I hate what YouTube has become.
YouTube is undoubtedly the largest video-sharing website in the world, with content on almost every topic uploaded constantly. Yet despite being popular enough to give bigger content creators full-time jobs, the platform has faced a variety of issues over the years.
As with Android, it was acquired by Google – for $1.65 billion, in 2006. YouTube is now another cornerstone of Google's services, but it has been subject to problems and issues ranging from the content itself to censorship on the platform.
And, since the service has been heavily monetised, it's almost unusable, with even 30-second videos featuring multiple ads. Maybe Google will end up killing YouTube for good, after increasingly ruining the experience with each successive update.
PeerTube
The ethical alternative most similar to YouTube has to be PeerTube. Financed by French non-profit organization Framasoft, it's a "decentralised video hosting network, based on free/libre software". In plain English, PeerTube is a network with many different hosting providers, and you're free to either join or host your own. PeerTube UK is one example of a network it's possible to join. The platform has a similar layout to YouTube, and since it was only released in October 2018, expect more features and updates in the coming months.
DTube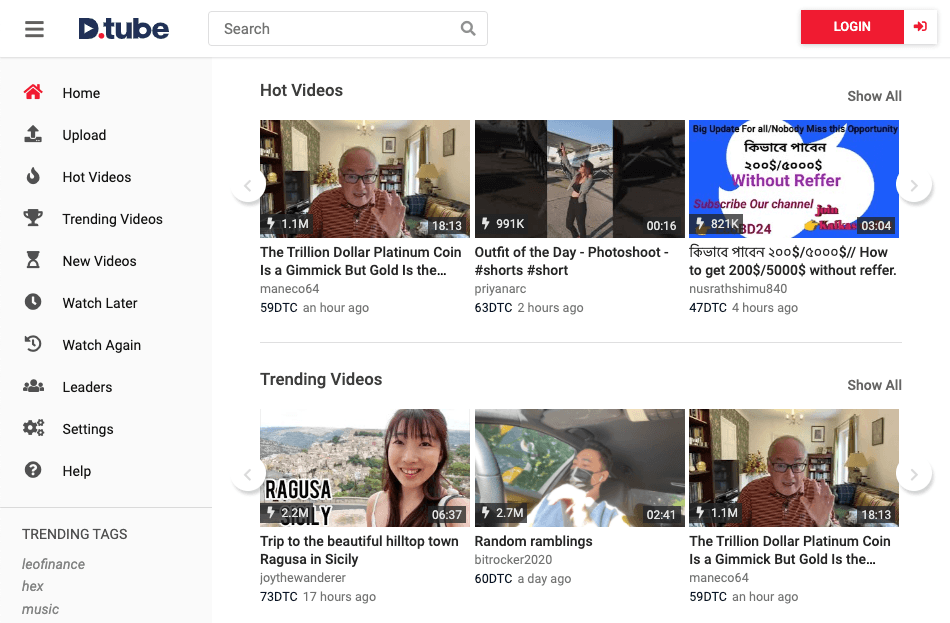 DTube aims to become an alternative to YouTube, allowing users to watch or upload videos on the InterPlanetary File System (IPFS) and share or comment on the immutable STEEM blockchain, while earning cryptocurrency.
Because of the decentralized nature of IPFS and the STEEM blockchain, DTube is not able to censor videos or enforce guidelines. Only users can censor content, through the power of their up- and downvotes.
But best of all, there are no adverts. The crypto angle makes DTube slightly suspect, but it's a viable method for circumventing the usual advert-driven business model. It's also very similar to YouTube's layout and overall design.
Invidious

Invidious is a browser app which doesn't collect any data about its users. An open-source front-end alternative, it's great if you're not willing to give up on YouTube completely. It also supports the various search filters provided by the video hosting platform.
All you have to do to get started is select a public 'instance' from the list and you'll be able to start watching videos straight away.
Ethical Chrome Browser Alternatives:
It's entirely possible that you're reading this right now on the Chrome browser: another Google service that's a leader in its field, somewhat justifiably. Personalized results make it easier to find what you're looking for – but every interesting entry is liable to be added to your advertising profile in some shape or form.
Removing yourself from Chrome will go some way to curbing the data Google can collect about you, so we've listed a couple of great privacy-focused alternatives below:
Brave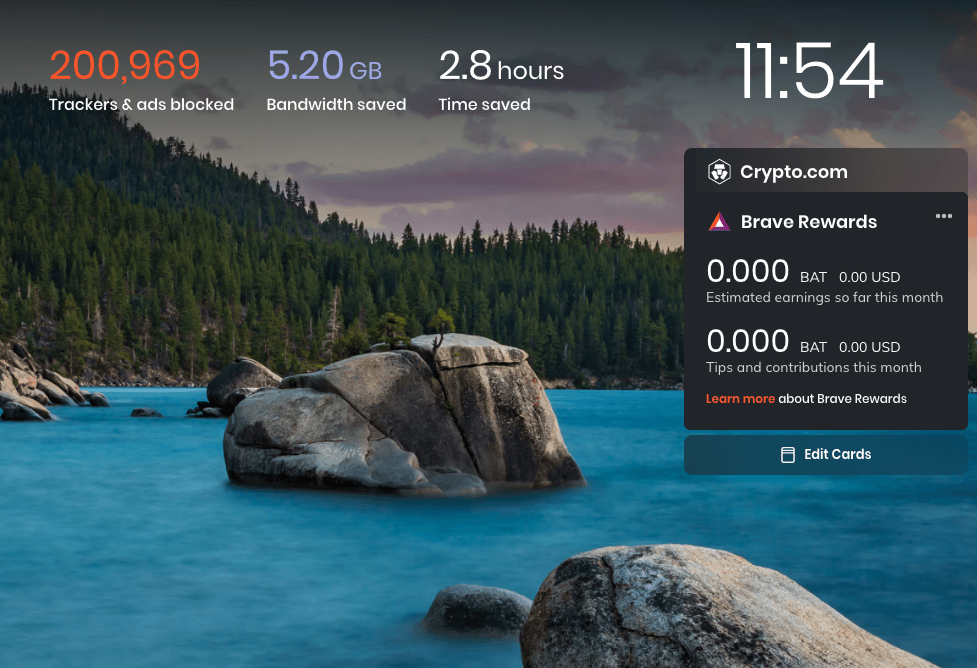 The Brave browser is a fast, private, and secure web browser for PC, Mac, and mobile. (It's also what I'm using to write this review.)
Other browsers claim to have a 'private mode', but these only hide the history within your own browser. Brave lets you use Tor (short for 'the Onion Router';free, open-source software for anonymous communication) within a tab. Tor not only hides your history, it masks your location from the sites you visit by routing your browsing through several servers before it reaches your destination. These connections are encrypted to increase anonymity.
It's also exceptionally fast, as it blocks all ads and trackers while in use. (I've blocked over 200,000 adverts over a period of roughly six months, saving just under three hours in total.)
Adverts on Brave use a crypto token called a Basic Attention Token (BAT), which is paid to the user at the end of the month. You can also choose to hide ads entirely, as I've done in the image above.
Tor
The Tor browser is well-known in privacy circles, as it blocks third-party ads and trackers while you're online. Despite being blocked by some mobile internet providers, it's perfectly safe, and the nonprofit's mission is to "advance human rights and freedoms by creating and deploying free and open source anonymity and privacy technologies".
Tor was used to great effect by protestors during the 2010 Arab Spring, although the privacy features have seen it used for the sale of illegal drugs and distribution of paedophilic images. In such cases, the company will work with law enforcement agencies to apprehend those involved.
Firefox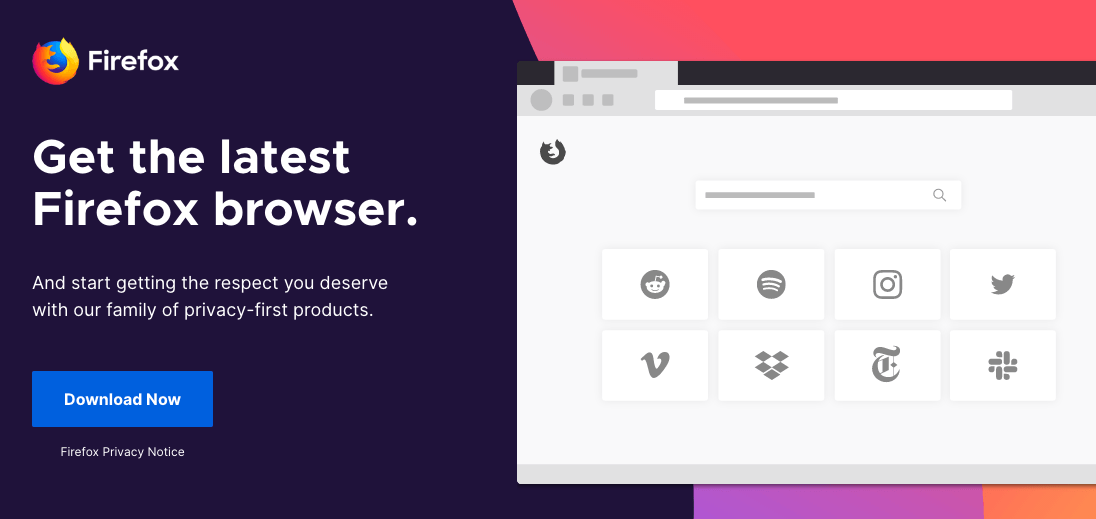 Mozilla's Firefox was briefly the second-most-used web browser, before being surpassed by Chrome in November 2011. At the time, Firefox was noticeably slower when loading pages, and took up a lot of memory. Though eventually overtaken by the lightweight Google Chrome, Firefox has improved massively in recent years. 

It has focused on improving privacy as well as performance, with features including Total Cookie Protection and Hypertext Transfer Protocol Secure (HTTPS, which uses encryption for secure communication) by default. Firefox is also completely free to use, and runs on open-source software.
Safari
The lightweight Safari browser, which has made a number of notable improvements in terms of privacy and security, is only available on Apple devices. It comes with a number of useful tools and features, such as the ability to block cross-site trafficking and ad targeting. It's the default browser on Apple platforms, and features a built-in password manager that works across all devices.
Performance is brilliant, as it's designed to work with either your Mac or iPhone, producing some of the best possible speeds.
Ethical Gmail Alternatives:
Released in April 2004, Gmail is a free, advertising-supported email service. Over 1.8 billion users worldwide make Gmail the second most popular email platform behind Apple (iCloud). By comparison, just 500 million use Microsoft Outlook and only 230 million have signed up to Yahoo Mail.
But, in a world of data-driven digital marketing, can you trust an email service owned by Google, and what ethical alternatives are available?
StartMail
StartMail is based in the Netherlands and complies with the EU's General Data Protection Regulation (GDPR) privacy laws – some of the most stringent regulations for the protection of consumers' personal data.
It offers 10 GB storage, and you'll be able to use your own domain, create temporary email addresses, and send password-encrypted messages.
Interestingly, anonymous payments can be made with Bitcoin. As a premium service, personal accounts come in at $35.99 per year, while business accounts with custom domain support and centralized billing are also available.
Runbox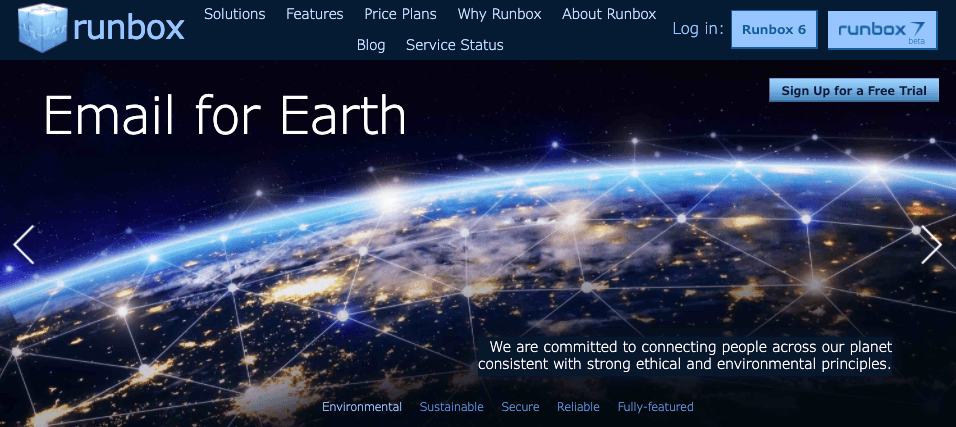 An independent, private Norwegian company, Runbox is headquartered in Oslo. The company's email service was launched in September 2000, with key personnel from Runbox Solutions involved ever since.
In its current form, the company was founded in March 2011, and is owned by employees, board members (77.54% in 2018), and close associates. That's a great start, and its ethical credentials are proudly stated on its website:
"We take our ethical responsibility seriously and will always make our best moral judgments with regards to our customers, our employees, our partners, and our shareholders. We will act ethically with regards to the principles that govern Norwegian legislation, such as human rights, freedom of speech, and environmental rights. We comply with Norwegian laws and regulations, and we will never intentionally compromise them."
ProtonMail
ProtonMail is a Swiss end-to-end-encrypted email service protected by the country's robust privacy laws; users' data can't be shared with third parties, and no personal info is required to open an account. ProtonMail is an open-source project and basic accounts are always free. It can be used without installing any additional software, and there are apps for iOS and Android to complement its web version.
The company "[does] not have access to the contents of emails on [its] servers thanks to zero-access encryption", while its paid plan vastly upgrades storage, as well as allowing for a custom domain name.
However, it's worth noting that Proton made the news in 2021 after handing over the IP address of a French climate activist following "a legally binding order from Swiss authorities". In response, the service noted:

"There is a difference between security/privacy, and anonymity. As we wrote in our public threat model (published back in 2014), 'The Internet is generally not anonymous, and if you are breaking Swiss law, a law-abiding company such as Proton Mail can be legally compelled to log your IP address.' This cannot be changed due to how the internet works. However, we understand this is concerning for individuals with certain threat models, which is why since 2017, we also provide an onion site for anonymous access (we are one of the only email providers that supports this)."
Tutanota
Another open-source, end-to-end-encrypted option, Tutanota claims to be "the world's most secure email service". However, it does collect metadata, including sender, recipient, and the date of the message. Free, with 1 GB of storage allocated to private users, its email systems are powered by green energy. Profits from the business version of its website are donated to non-profit organizations, while iOS and Android apps are available for mobile devices. You can check out the roadmap listing a range of upcoming features here.
Mailbox.org
Mailbox.org offers a combination of email and cloud storage from €1 per month. Powered by eco-friendly energy, with servers located in Germany, it was released in the wake of the Edward Snowden revelations in 2013, providing a "secure, ad-free, anonymous, and tracking-free email service". The company goes the extra mile to ensure eco-friendliness, using options like public transport or car-sharing for travel and renewable energy in its offices. The Mailbox.org client is available on mobile and desktop, and comes with a packaged cloud office suite which can be used for editing documents and organizing appointments via an address book.
Fastmail
Fastmail is a privacy-focused company, taking aim at competitors like Gmail and Outlook with its premium service. Giving the user "complete ownership and control of their data", calendars and contacts are available via one app, in addition to email. All users have an ad-free experience, while extra features like users' own email domains and additional online storage are available for purchase.
A 30-day free trial means you can give it a try if you're not sure about paying for an email address, while basic plans come in at $3 per month.
Ethical Google Drive Alternatives:
Google Drive is a file storage and synchronization service with over one billion users worldwide. Google Docs is seen as an industry standard for many companies, as it allows anyone with an account to create, edit, and share documents and spreadsheets. Accounts include 15 GB of storage for files and images, but this is shared across Gmail and Google Photos. Though highly functional, Drive is susceptible to spammers.
Its terms of service promise not to use or share "your files and data with others except as described in our Privacy Policy". In turn, the privacy policy states: "We use the information we collect to customise our services for you, including providing recommendations, personalised content and customised search results. Depending on your settings, we may also show you personalised ads based on your interests. For example, if you search for 'mountain bikes', you may see an ad for sports equipment when you're browsing a site that shows ads served by Google."
So though it's free, some of your information may be used for anything from personalized adverts to general improvements to the service.
If you're worried about the privacy of your Google Drive data, here are a couple of alternatives:
Nextcloud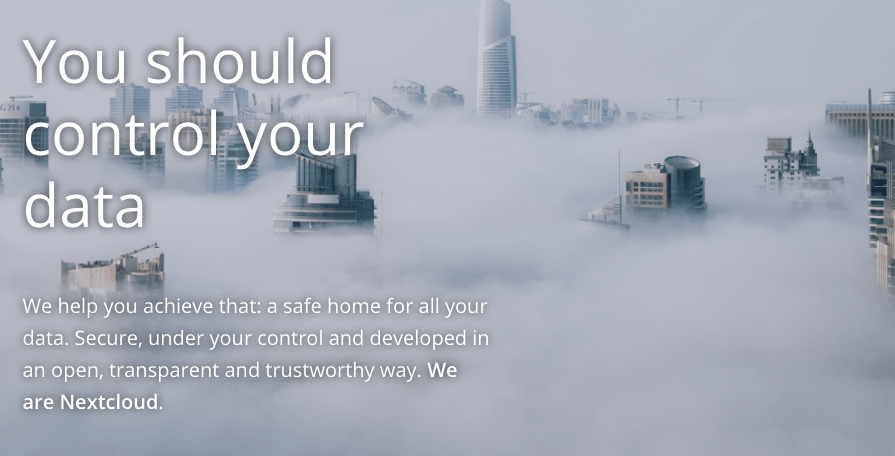 Nextcloud is a viable solution: "Unlike competitors, we offer hosting strictly through partners and have absolutely no incentive to lock our customers into a SAAS [software as a service] solution."
The company's mission is to develop software for decentralized and federated clouds as alternatives to centralized cloud services. It's 100% open source, and has a strong focus on sustainability, privacy, and security.
NordLocker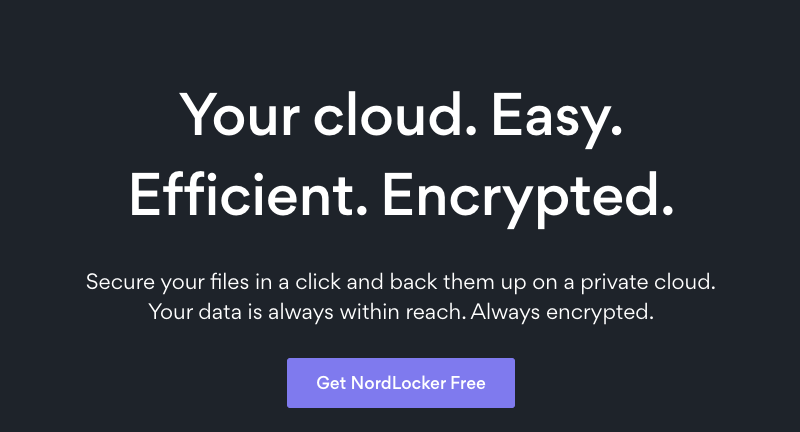 NordLocker is developed by Nord Security, the well-known cybersecurity company which is also behind NordVPN. Its encrypted solution comes with a free, 3 GB lifetime plan, which upscales depending on the amount of data required.

It says: "NordLocker was designed to bring privacy back to you. You hold the encryption key. That's why no one else, not even us, knows what you encrypt or store on the cloud."
LibreOffice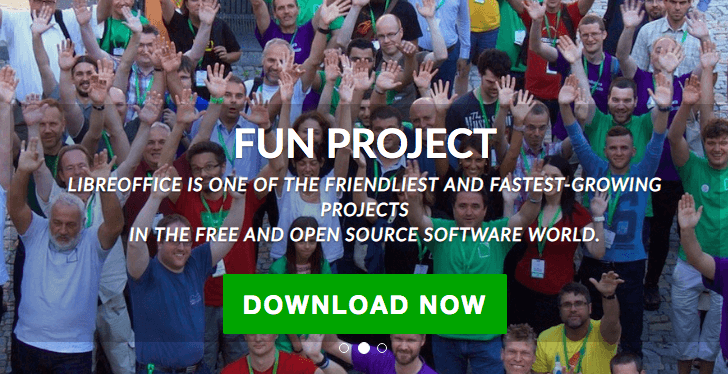 LibreOffice is an offshoot of OpenOffice, created by the non-profit Document Foundation. It is a completely free and open-source office suite, available for Windows, Mac, and Linux. It includes a range of apps analogous to Google Drive's word processor, spreadsheet, and presentation programs, plus many others. It's also highly compatible with Microsoft Office apps and has a similar interface to that popular Microsoft service.
There's no real-time co-authoring, but another alternative is available if that's a make or break feature:
Etherpad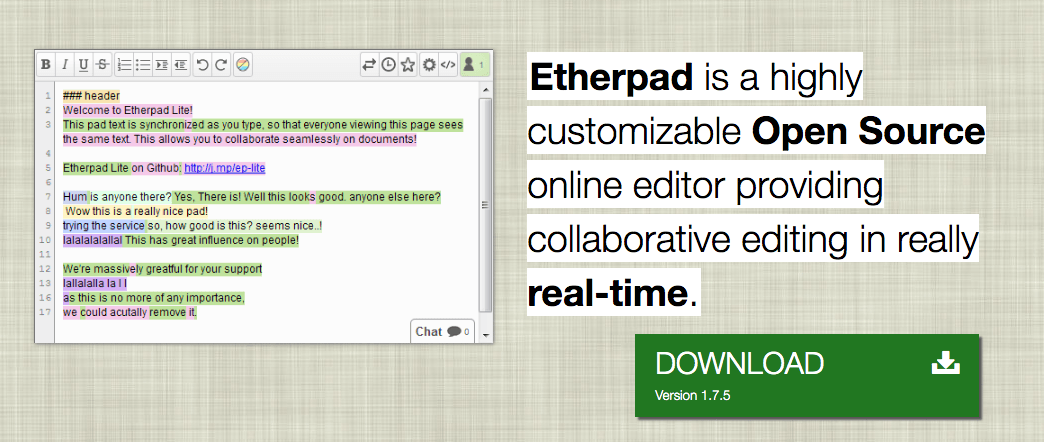 If you've used Google Docs, you'll know how handy it is to be able to collaboratively edit a project in real-time. Etherpad is an open-source online editor with good functionality and customisation options, developed by volunteer contributors on GitHub. As you can see from the image above, it's easy to color-code different parts of a document to different authors, and there's a chatbox for talking things out.
Originally a Google competitor when first released in 2008, Etherpad was quickly snapped up by the giant. The software was acquired and discontinued, but later released as open-source in 2009 following an "outcry from users".
CryptPad
CryptPad is ideal if you're looking for a collaborative office suite that is end-to-end encrypted and open-source.
You'll find a range of tools, including spreadsheets, text, presentations, forms, kanban (a scheduling system for lean manufacturing), a whiteboard, and more. The software is free to use, as well as offering paid plans with additional storage and priority support for individuals, teams, and organizations.
Ethical Google Maps Alternatives:
The main ethical concern with Google Maps is arguably the privacy users have given away in the name of progress. You'll never get lost, but if you leave the app open with location services running, Google will always have a rough idea of where you are.
OpenStreetMap
OpenStreetMap is a collaborative tool which "powers map data on thousands of websites, mobile apps, and hardware devices". The project was inspired by Wikipedia, and is developed by millions of users.
The service can be used positively, such as when, in the aftermath of Hurricane Dorian, "107 volunteers from around the world logged on to their computers and, over the course of five days, used satellite imagery and mapping software to identify and draw more than 1,600 roads and 9,000 buildings." Among other examples, it also helped following a devastating earthquake in Haiti in 2010, and has worked to map Ebola-affected areas in the Democratic Republic of Congo.

Its deeds speak for themselves, and as it's classified as 'open data' everyone is "free to copy, distribute, transmit and adapt our data, as long as you credit OpenStreetMap and its contributors".
Mapstr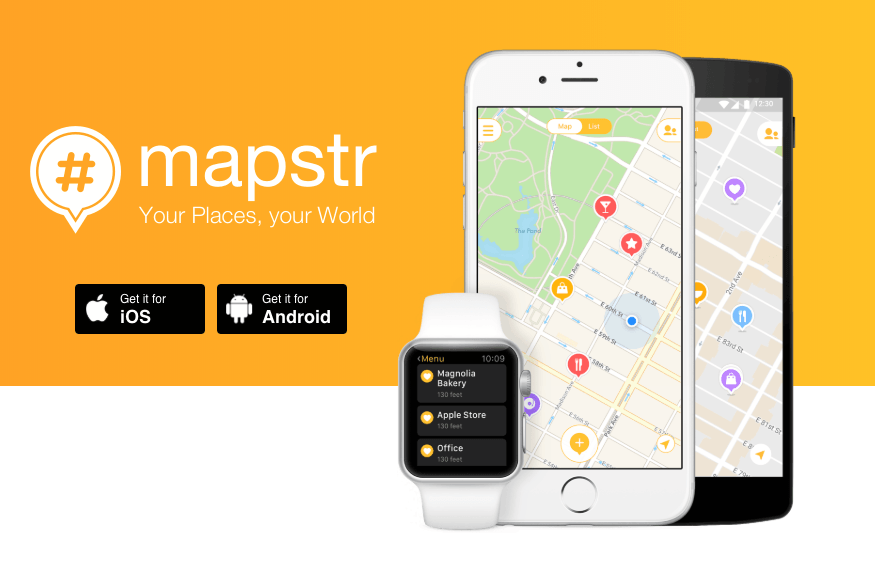 Mapstr allows mobile users to "keep track of all your favorite places around the world, tag them, and find them on your very own map".
Unlike many other mapping platforms, privacy is key here, including the ability to choose what you share and with whom. Nothing is made public, including "your places, your custom places, your comments, the pictures you add, and the information you change".
OsmAnd
Built using data from OpenStreetMap, OsmAnd provides global offline map browsing and navigation with various tools for Android and iOS. It's ideal if you're aiming to save data, or if you need a reliable map while you're abroad without internet access. It's free, but a pro version uses a subscription-based model.
Ethical Google Translate Alternatives:
Google Translate makes it easier to understand the insults I receive online, and there's no denying that it's a slick piece of tech – when it works. 

It's also improving all the time, as we're handing the company so much of our information. However, there are still multiple ongoing teething problems, and it's another market Google owns a significant share of.
DeepL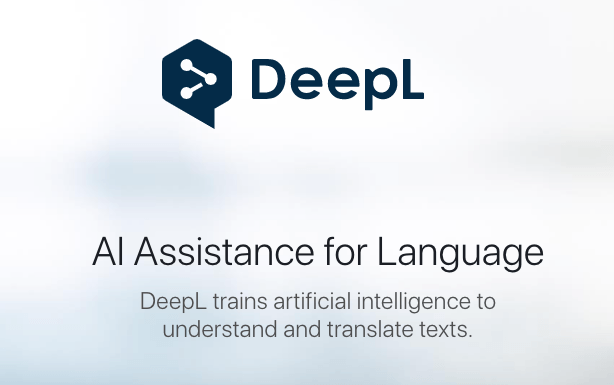 DeepL is a premium service available in 26 languages which you can test out for free, up to a limit of 5,000 characters. It says:
"With DeepL's advanced features, you can simplify your workflow, save valuable time, and scale your translation needs without compromising on translation quality."
The pro version will translate entire documents, including alternative translations, while also offering the choice between a formal or an informal tone, and integration tools.

It also offers an offline dictionary app called Linguee, which translates various languages, including German, French, and Italian.
Ethical Google Authenticator Alternatives:
Google Authenticator uses two-step verification to provide an additional layer of security when signing in. It's always smart to have an authenticator of some sort, but you don't have to use the Google-branded solution.
Authy

Authy is a solid two-factor authentication (2FA) alternative. It's completely free, with no hidden fees or adverts.
"In a nutshell, Authy is a product of Twilio, a company that makes it easy for businesses to communicate with individuals (and vice versa) by providing developers with access to complete software solutions. These businesses pay for authentications generated by Twilio's pre-built authentication software, the Authy API [application programming interface]. The Authy app is free for end users because, in essence, it's paid for by businesses working with Twilio to ensure you stay protected."
Authy 2FA will work with any site that prompts you to use Google Authenticator, or any other time-based one-time password (TOTP) service.
FreeOTP
FreeOTP is a simple open-source, two-factor authentication application available on both the Google Play Store and the Apple App Store. It's sponsored and officially published by Red Hat, and has one of the cleanest privacy policies I've ever seen: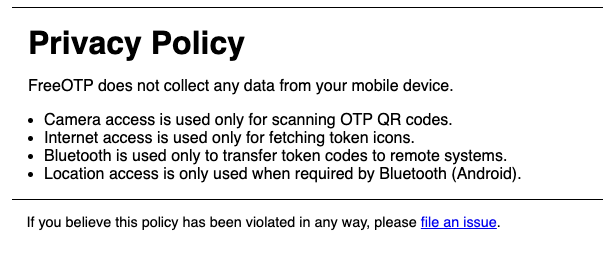 Ethical Google Calendar Alternatives:
Google Calendar isn't the best option in terms of privacy, as it's not ideal for the company to have even more information about the average user. Also, if you use the service for work or school, your administrator may be able to view your calendar.
The company argues that: "Google respects your privacy. We access your private content only when we have your permission or are required to by law."
Nevertheless, we've tracked down an open-source option for mobile users:
Etar
For Android users, Etar (from the Arabic إِيتَار) is an open-source calendar app available on the Play Store. (It's also available as part of F-Droid, which we'll get into below.)
As it explains: "On Android there are 'Calendar providers'. These can be calendars that are synchronized with a cloud service or local calendars. Basically any app could provide a calendar. Those 'provided' calendars can be used by Etar. You can even configure which ones are shown and[,] when adding an event[,] to which calendar it should be added."
Ethical Play Store Alternatives:
What about the Google Play Store itself? The platform is used for apps and varied digital content. There are a number of external alternatives on the market, such as the Amazon Appstore, while the Epic Games Store could be strong competition in the long run.
In the present, there is a sole alternative worth mentioning:
F-Droid
F-Droid is an installable catalog of free and open-source software (FOSS) applications for the Android platform. It's powered by user donations and updated regularly with new features and languages. This non-profit also has a strong track record in terms of data and privacy:
"​​F-Droid respects your privacy. We don't track you, or your device. We don't track what you install. You don't need an account to use the client, and it sends no additional identifying data when communicating with our web servers, other than its version number.
"We don't even allow you to install other applications from the repository that track you, unless you first enable 'Tracking' in the AntiFeatures section of preferences. Any personal data you decide to give us (e.g. your email address when registering for an account to post on the forum) goes no further than us, and will not be used for anything other than allowing you to maintain your account."
How to Avoid Using Google
Google Search is easy to avoid, but it's almost impossible to replace all of its products and services if you spend any time online. Business is business, but the company might have a stake in everything from the phone in your pocket to documenting your online shopping habits.
Escaping Google's web is a tough task, but the least you can do is ensure that you're giving it the minimum of your personal information. Its apps and services are well made, but it's down to you to decide whether that's worth the ethical trade-off.
We'd welcome any suggestions for apps that we haven't covered, or additional ways to keep your data safe from Google. Check out our list of resources and organizations if you'd like to find out more!
Organisations
Further reading
This guide was updated on 14 February, 2023.
Featured photo by Reza Rostampisheh on Unsplash