Recycling isn't the solution to waste paper; it's the last resort. One of the routes towards a smaller carbon footprint is to reduce and reuse everything – including all the paper used in any workplace that requires at least one desk and a printer.
Below are some small, easy-to-implement changes for your daily office routine. Despite requiring minimal effort, we guarantee a surprisingly positive impact.
Add a "think before printing" message to your email signature
This is literally a couple of clicks away. There are plenty of messages to pick from, but if you want to be original, why not come up with your own? Who knows, others might share it and you'll become a viral success story. More seriously, with high resolution screens and mobile gadgets so commonplace, printing an email message makes less sense than ever.
I use this: "Please consider the environment before printing this email". Quite serious, but not desperate. I only hope it starts ripples that might reach further than expected.
Use recycled paper
Replace bleached white A4 sheets with recycled paper. These days, they come in various friendly and professional hues. Recycled paper is cheaper too (or should be).
As a rule, make sure all paper used in the office is either FSC‍‍‍ approved, sustainable, or recycled.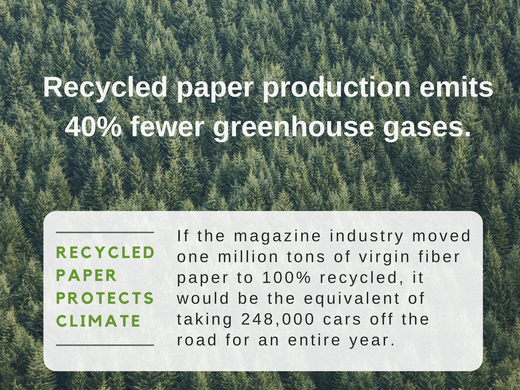 Companies like Eco-craft offer greener products which are more ecologically sound than their standard counterparts. They source from reputable green suppliers and take great care to research the credentials of the paper used. Most of the paper and cardboard they choose are 100% recycled, and the majority contain a large proportion of post-consumer waste (i.e. old brochures, print-outs, etc). If the occasional tiny fleck or speckle doesn't bother you, then go for it. You'll be helping to conserve the Earth's natural resources and reduce the waste ending up in landfill.
No office without a scrap paper box
Turn an empty cardboard box into a scrap paperbox. This isn't the same as those recycling containers where people throw anything with even 1% paper, from sandwich packets to full-of-plastic glossy magazines. All those only-printed-on-one-side A4 sheets that are lying around can have a second life. Display the box somewhere prominent and encourage colleagues to put their partially written or failed print-outs in it, then use this scrap paper for notes, lists, doodling, or wrapping an unfinished burrito. Well, you'll figure it out.
Quick note: Don't forget that confidential documents shouldn't go in the scrap paper box, recycling, or even garbage bins. For this type of document, consider a secure documents bin or a shredding container.
Sometimes making a difference really is as simple as putting a cardboard box by the printer – but you can also bring up paper waste during administrative meetings. Suggestions never hurt anybody, especially when backed up by persuasively valid arguments regarding waste reduction, cost-cutting, and even that it might look good for the company to show consideration for the environment.
Use ink-saving fonts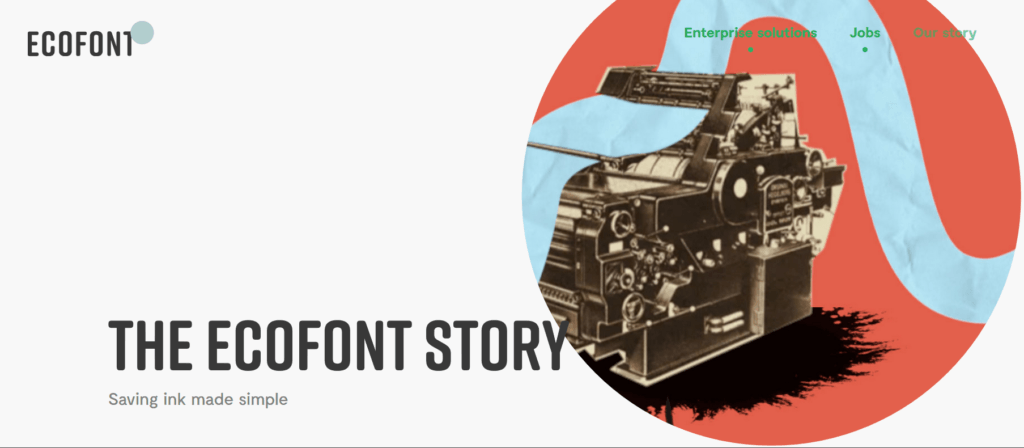 These options save both ink and money, and make printed paper easier to recycle after its (first!) life – while also saving energy.
Have a look at Ecofont, who came up with smart software that helps decrease ink use. "You print the way you're used to, with the quality you're used to – nothing changes. Your wallet wins, the environment wins." Nothing messy, confusing, or expensive. In fact, you can save up to 50% in toner ink, according to this independent test.
The people behind Ryman Eco – or, as their website informs us, "the world's most beautiful, sustainable font" – pride themselves on being accepted by the design community, and we bet they'd like to get some feedback from environmental activists, too. The font is free; give it a try.
If you want to stick to the 'classics', consider using fonts that use less ink by design, like Century Gothic or Courier.
Whichever option you choose, make sure it ticks the box for legible design, but also for eco-friendliness.
Making the case for greener methods
All the above solutions will save you money – but doesn't it feel great to be saving so much more than just financially? You can pat yourself on the back for making small but significant steps in the right direction.
It's also good for your corporate social responsibility (CSR) score, especially if you already have projects in this area. A discerning public increasingly worried about the state of the environment – which we all depend on – would appreciate your adoption of green(er), more considerate ways of leading a business, or just managing your office space.
If you can't decide what type of ink, paper, and containers your office should use, make sure to start a conversation with those in charge. Chances are they have no idea what they're missing.
Fingers crossed! We're looking forward to hearing more useful best practices and success stories.
---
Don't forget that you can start conversations on topics close to your interests on the ethical forum.
Featured image by Jack Royle