I know I'm not the only one who still writes by hand, so let's talk about how we can put our most soulful thoughts (ahem, work-related tasks) on paper while remaining environmentally friendly.
Whether you're buying school supplies for your children, office supplies for yourself, or contemplating to take a calligraphy class, you should know a few things about the impact of pens, pencils, erasers and more on the environment.
Usually, my favourite writing utensil happens to be whichever pen has crossed my path that week. It might be from a hotel or business – in other words, I don't consciously choose it.
But what if we did actively choose our writing utensils, helping reduce plastic waste and the toxic ingredients used in conventional writing items? 

Let's find out what eco-friendly writing tools are available to minimise waste produced by disposable utensils!
The Problem with "Traditional" Plastic Pens
Plastic pens are one of the most commonly used writing tools in the world. Even with computers replacing many handwritten documents, pens are, of course, still used daily to sign physical papers or take notes every day.
If you're like me, you've used these pens until the ink runs out – always, maddeningly, in the middle of a very important word – and then toss them in the recycling.
So what's the issue?
The issue is that without having their metal components removed, plastic pens actually aren't recyclable. Shocking, I know.
This means that the pens you use and dispose of are actually ending up in landfills. In the United States alone, Americans throw away an estimated 1.6 billion pens each year.
That's a lot of plastic that could be either be recycled or just not manufactured in the first place. So what can you do?
10 Sustainable Pens and Pencils to Consider
Whether you're a pen or pencil lover, you can reduce waste (and treat yourself) by consciously choosing one of the following sustainable pens or pencils, all of which are better for the environment than cheap plastic pens.
1. Recycled Paper Pens
The barrel of these pens are made from 100% recycled paper, with a wooden clip and a 98% recycled plastic accent. Or you can choose from these recycled cardboard pens, with this particular brand working with 80% recycled materials.

Or, you also have the option of choosing pencils made from recycled paper, if you're more of a pencil person (I see you, pencil people!).

If you are in the UK, check out the Green Stationery Company to complete your writing tools with pencil sharpeners and erasers.
2. Biodegradable Corn Pens
These pens are made out of corn starch plastic, although there are concerns about the throwaway nature of these pens. They're not much different from typical disposable pens, in that they are simply discarded once the ink is gone.
However, biodegradable corn starch can decompose in about a year, and could make it easy to transition from traditional plastic pens to more eco-friendly ones, giving landfills a break.
3. Recycled Newspaper Pencils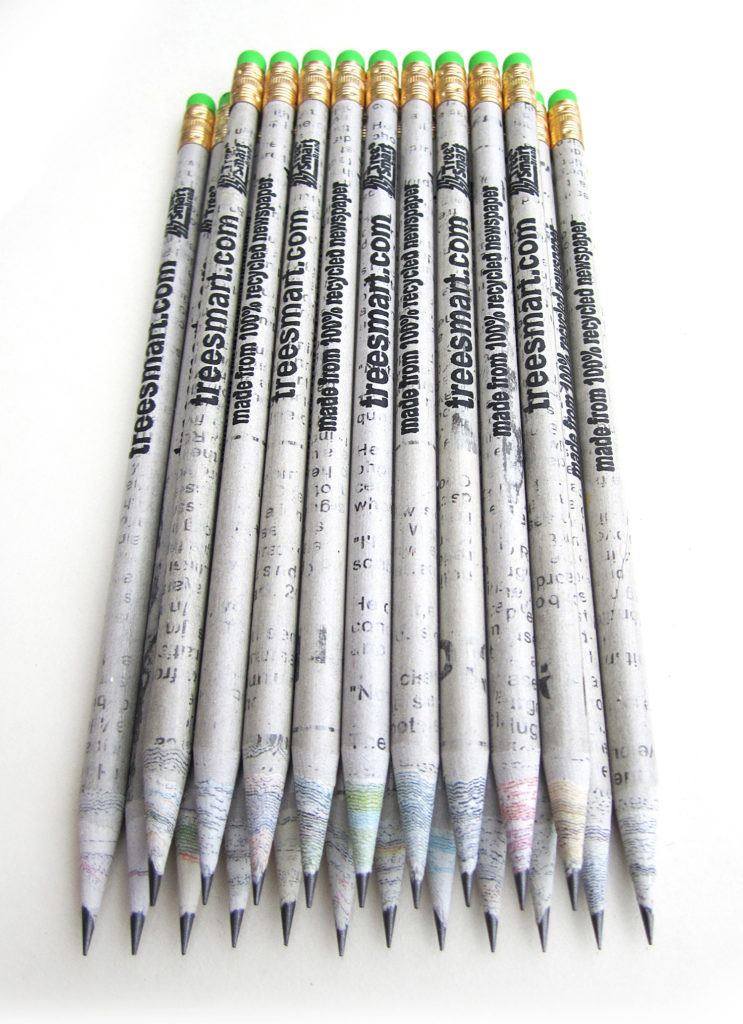 One sheet of recycled newspaper makes three of these pencils, giving purpose to old newspapers and preventing the use of new wood!
4. Recycled Water Bottle Pens
There are many choices of pens made out of recycled water bottles, including models by big-name manufacturers Pilot and Pentel. However, although recycled, these pens are still plastic; at the end of their life, you'll need to send them to a designated recycling facility or else they'll end up in landfill.
5. Inkless Pens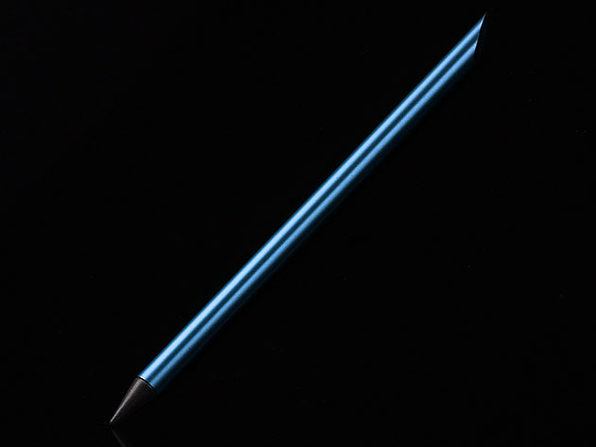 Itself made of metal, this pen uses metal instead of ink. Writing in grey, the tip never needs to be sharpened, and will never run out; a permanent replacement for throwaway plastic pens!
6. Sprout Eco-Friendly Wood Pencils
Sprout wooden pencils are pretty cool. They were born to be reincarnated: each contains the seeds of a flower or plant, so when you've used it down to the nub, plant it in soil and watch a cute little plant sprout! They also have a range of colored pencils for coloring book enthusiasts.
The capsule at the end of the pencil which contains the seeds is biodegradable, and the pencil itself is made from sustainable Programme for the Endorsement of Forest Certification (PEFC) and Forest Stewardship Council (FSC) certified cedar wood.
Choose from ten non-genetically-modified (non-GMO) seeds, and nine different coloured, 100% natural clay or graphite pigment cores.
7. Refillable Bamboo Pen
This ballpoint pen is made from sustainable bamboo wood, and comes with a refillable ink cartridge.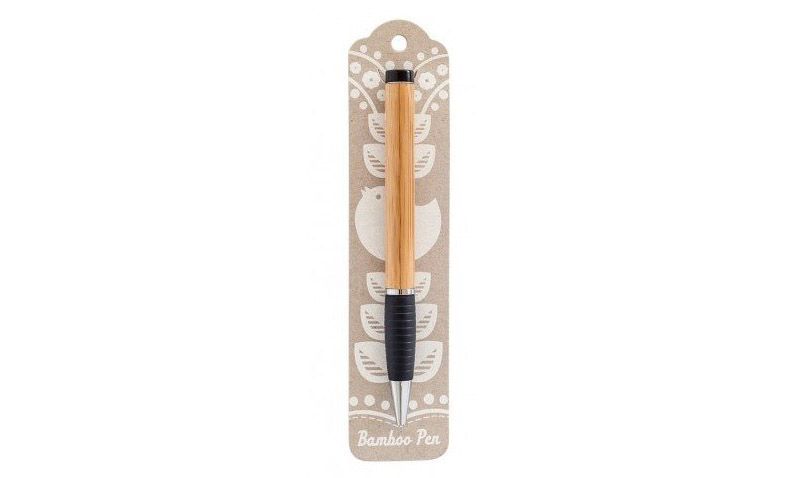 Although cartridges do generate waste, they are more eco-friendly than plastic pens which tend to run out at a faster pace – keep reading for even more eco-friendly, cartridge-free options!
8. Fabula Biodegradable Pencil
I have to admit, anything with the word "tea" catches my eye. Where are my fellow tea lovers?!
Whether you're a tea, coffee, or flower fan, you're going to love these biodegradable pencils from Fabula. Made from – you guessed it – recycled tea, coffee, and flowers, these pencils are wood-free and include a capsule on the end, similar to the Sprout pencil, containing seeds which give the pencil an extra lease of life.
Plus, they look really cool!
9. Recycled Car, Fridge, and CD Case Pencils
These pencils from Remarkable are pretty cool. They give plastics generated from disposed cars, fridges, and CDs new life in the form of a pencil.
Just be sure to properly recycle to prevent these plastics ultimately ending up in the environment!
10. Go Old School with a Fountain Pen
By going old school with a traditional fountain pen, you can purchase a bottle of ink and refill as necessary. You can even choose recyclable glass ink bottles, so you'll never run out of ink, and have a zero-waste option for your writing (and even drawing!).
You can buy used fountain pens online and eco-friendly ink refills are available. As fountain pen ink is generally composed mainly of water, it's easy to go natural, such as with walnut ink, or you can even make your own with natural ingredients!
Other Things to Consider
You thought that was all, didn't you? See anything you like? Well, let's review a few final points before we make the journey to our next writing tools.
So what's up with the ink cartridges?
Above, we've discussed ink pens that require cartridges. Although each cartridge will provide a pen with new life, it's possible to run through them rather quickly, defeating the intention of reduced plastic usage.
Although an improvement on traditional plastic pens, if you want to eliminate the waste, it may be better to go with a fountain pen, inkless pen, or the pencils we've reviewed!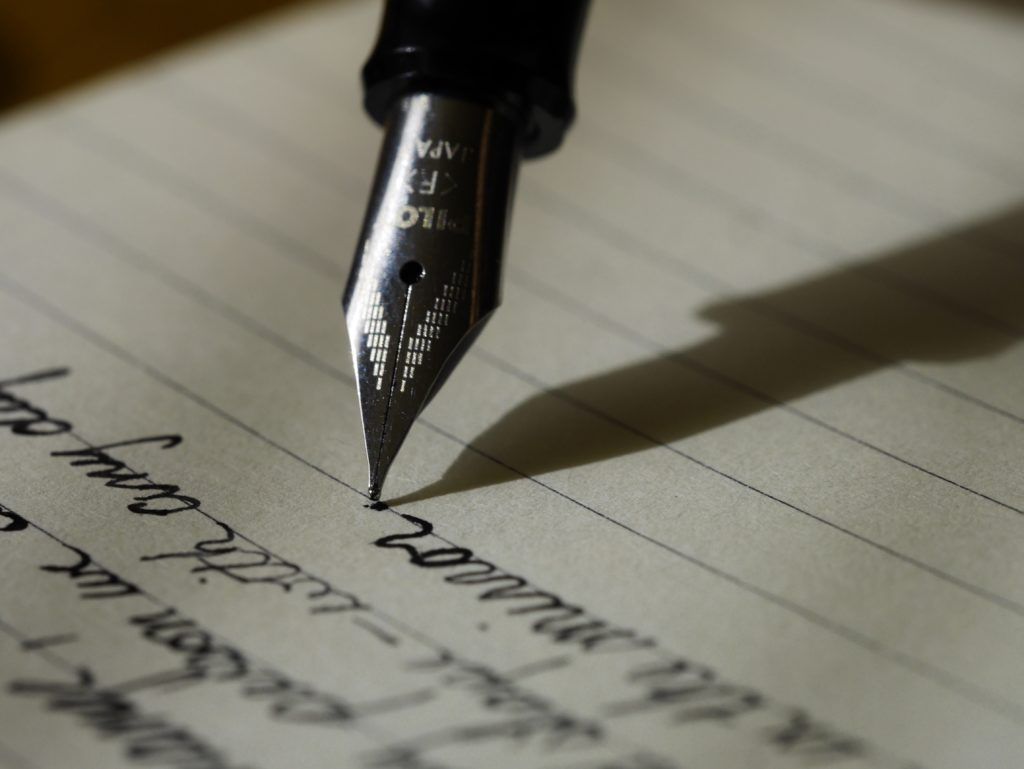 What about mechanical pencils?
Though mechanical pencils can be refilled, the plastic they're made from is toxic. However, if you're able to not lose your mechanical pencil for as long as you exist, it could be a worthwhile investment.
Where can I recycle my pens?
Bic, which sells millions of pens every year, is looking to help reduce the plastic waste generated by disposable pens and wants to help you recycle your pen waste. Check out their recycling program here. (Although the company is purported to test their products on animals, so I don't generally support them.)
With any of these pens, it's essential to recycle them properly when they reach the end of their life. Although it might be okay to throw a biodegradable corn pen away, you still need to remove the metal tip. By sending your pens to a recycling program, they can be disposed of correctly.
Isn't using a computer more sustainable?
Perhaps, although computer components and manufacture includes much plastic, toxic substances, heavy metals, and 'conflict minerals', as well as the carbon footprint of their usage. Also, because of built-in obsolescence, much technology doesn't last very long, with many users upgrading to new devices when older models become software-incompatible. This upgrading can leave devices unused, or even thrown away, polluting the environment if not disposed of properly!
Did You Find Your Next Love?
I know I'll probably use up all the disposable pens lying around the house before I invest in a more sustainable option (might as well use them and then dispose of them properly!).
Encourage people and companies you know to consider how they're making their pens and to think about where they end up. As consumers, there's power in what we purchase, and companies are usually willing to listen to our preferences!
Featured photo by Kelli Tungay on Unsplash