I have been using the same toothbrush for more than three years. Despite never imagining I would write about this particular activity, here I am, trying to convince you to make zero-waste eco-friendly toothbrushes a part of your life too. Oh, and there's nothing to be squeamish about because I do regularly change the head!
No, it's not an electric toothbrush – seemingly the most familiar replaceable head in mainstream oral hygiene. Nevertheless, this brush head is replaceable too. And the handle lasts for years. The raw material? Bamboo. It's also human-powered – a big plus.
Bamboo, Recycled Plastic, and the Other Toothbrushes in the Parallel Shopping Universe
The bad news is that eco-friendly toothbrushes are not yet mainstream, despite evidence that most virgin-plastic toothbrushes never get recycled, instead being dumped in landfill, ending up in oceans, on mountain tops, or remote islands, choking what's left of the planet's wildlife. Since plastic is definitely not compostable, those toothbrushes may also be minced into microplastics, contaminating water reserves and entering our own bodies. That a supposedly disposable object takes centuries to break down isn't a dream design or sustainable production, is it?
On average, we change toothbrushes every three to four months. That's around five billion toothbrushes used and disposed of in just one year. Now consider that pretty much every toothbrush you've ever used, and everyone you know has ever used, still exists in one form or another.
So, are you ready to look at friendly alternatives?
Because that's the slightly better news: we're slowly heading towards sustainability. But this is where you – the consumer – play an essential role.
When picking a toothbrush, consider the material the handle is made from (the product's most wasteful chunk), as well as those making up its head, and whether the company is reducing the quantity of material required (biodegradable or otherwise). Packaging is just as significant, and mirrors the company's general approach to production.
To clarify, we're not talking about electric or disposable plastic toothbrushes, no matter how powerful the greenwash backing them up.
Below are a few examples that don't add to the problem:
Recycled Plastic and Similar Options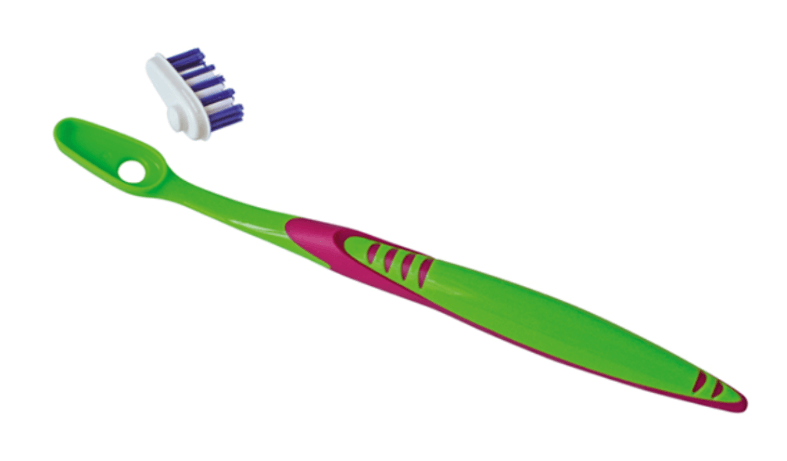 Yaweco (Germany) is famous for its small replaceable head, which reduces waste to a minimum as it is made from biodegradable materials, including the bristles. However, this means the bristles are made from pig hair, which is not suitable for vegans. Yaweco toothbrushes are available in different versions, include a tongue-cleaning function, and are free of plasticisers, bisphenols, and other harmful substances. They come in different versions; you can choose between medium to soft bristles. They're also produced with solar energy and an in-house water cycle. Yaweco also makes dental floss using silk as their primary material.
Find out more about the company's use of renewable raw materials here.
Replaceable heads help save resources because the bulk of the toothbrush can be reused; a practical and sensible solution. The brush head is made of a biopolymer based on sugar minerals, mineral fillers, natural waxes, and biodegradable additives. With this option, you needn't eliminate plastic from your oral care routine, but without adding to the billions of plastic toothbrushes discarded annually.
Preserve (USA) – another sustainable toothbrush brand – makes its handles from 100% recycled yoghurt cups and other post-consumer #5polypropylene plastic, decreasing demand for virgin-plastic toothbrushes. Bristles are tri-level virgin nylon. These brushes are BPA free, which is an industrial chemical used in making certain plastics, and don't involve animal testing and therefore, cruelty-free. Preserve has also launched a new product line exclusively made with ocean plastic.
Bamboo and Other Biodegradable Options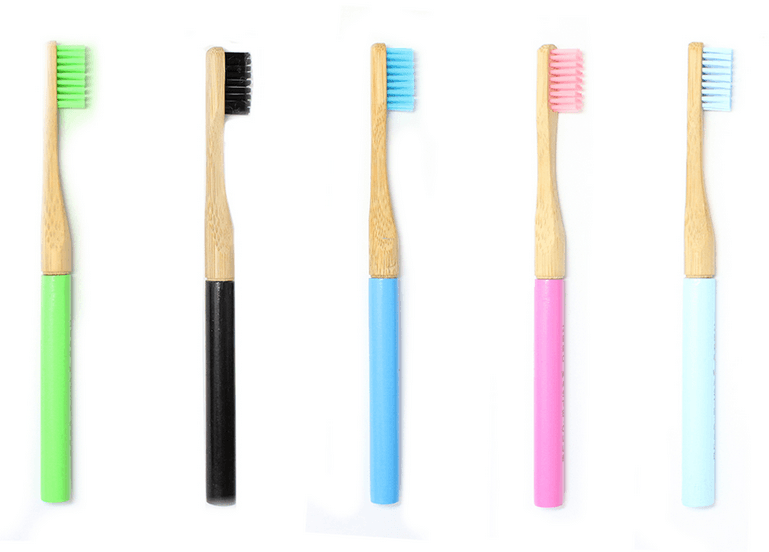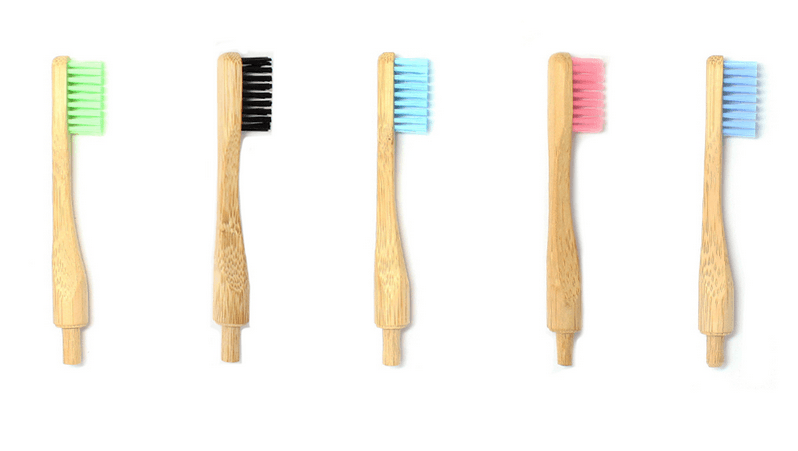 The bamboo toothbrush was initially disposable, still resulting in significant waste (albeit biodegradable waste). Fortunately, certain companies developed replaceable heads; Zero Waste Club even demonstrates how to change them so you can keep the bamboo handle for as long as you like.
Though bamboo – a natural cellulose fibre – is the most common biodegradable choice, other types of wood are an option, such as good old miswak sticks to chew on (from the Salvadora persica tree). At the moment, the only existing compostable bristles are generally made from pig hair and most sustainable toothbrushes are mainly made with nylon bristles.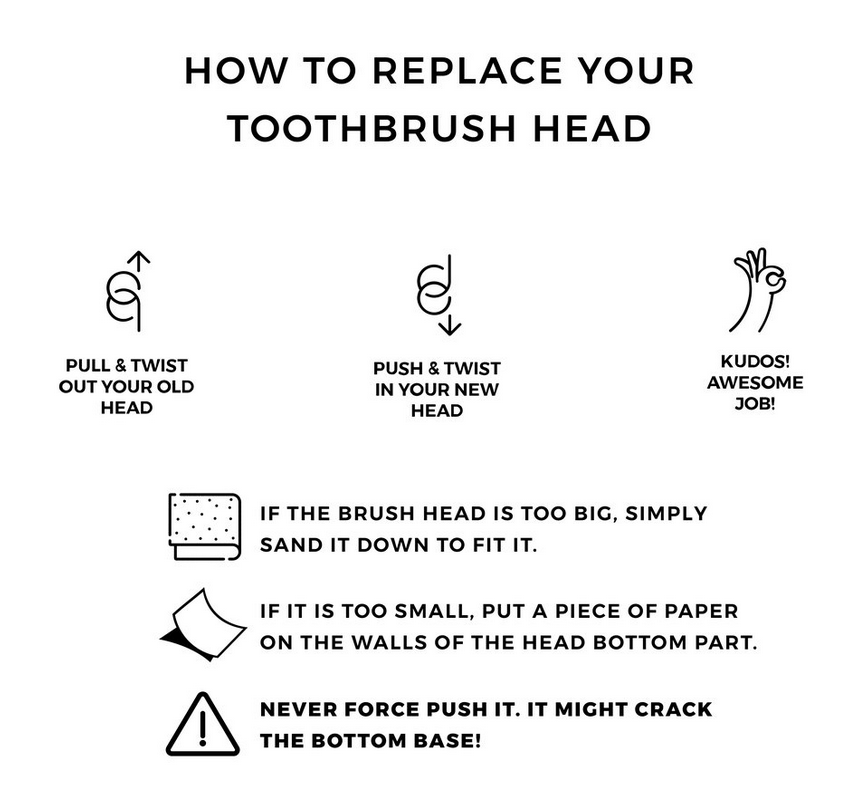 The Environmental Toothbrush (Australia) is also made from bamboo; it has a bamboo handle and its bristles are made from a BPA free nylon polymer. Although it's not 100% biodegradable, the company is arguing that there are no plant-based bristle options but that they will switch to a "better true biodegradable bristle" when it becomes available.
Brush with Bamboo (California) is a family business that's been around for a decade. Every component of its product is plant-based: bristles, handle, wrapper, and box. The product is made exclusively with Certified 100% Organic Bamboo. And in case you're wondering, it also has BPA-free bristles and is vegan, non-GMO, gluten-free, and non-toxic. Purchases of this toothbrush are a vote for non-fossil-fuel-derived bio-based products, and the company has attracted an impressive following.
Where to Find Eco-Friendly Toothbrushes?
Given the global plastic pollution crisis, you'd hope bamboo would be on every shop shelf. But you'd be wrong. Every time I visit a corner shop, or any massive supermarket – where you get lost but you still can't find what you're looking for – I browse, full of hope, for these reusable toothbrushes and their heads. But, so far, the closest I've come has been some bamboo toothbrushes tucked away in a corner. The replaceable heads have yet to go mainstream. So, when it's time for you to buy a new toothbrush, you can try a health shop instead of a supermarket.
In London, recycled-plastic and bamboo brushes are available in Whole Foods and Planet Organic (most of their range being bamboo), while some smaller health/alternative stores in affluent neighbourhoods carry similar options.
As with many sustainable products, online remains the best place to source them. Avoid mammoth online shopping platforms; support smaller, cleaner ones to find the best bamboo toothbrushes online like:
Natural Collection

Ethical Superstore

Alternative Stores

Plastic Free Shop
We'll keep browsing the shelves, and return with more suggestions – while also looking forward to hearing about your experiences with sustainable toiletries; whether they are bamboo toothbrushes, plastic-free toothpaste or mouthwash or any other natural teeth whitening products you can think of. Let us know what is the best toothbrush you used in the comments.
Cheers!
Featured image by Gregor Porada