Though written before the current lockdown, we would still like to point you towards some great sustainable independent businesses with this article. They will need support more than ever during and after this crisis. Also, in stocking up on food and emptying supermarket shelves, it's important to remember that packaged food which travels thousands of miles to reach us shouldn't be our only option. 
Food-box subscriptions listed below unfortunately now have waiting lists for new customers. However, if you can't book a delivery slot, farmers' markets are still open, so you can visit them on the weekend instead (adhering to physical distancing requirements). You can also help those in your community affected by food shortages with their grocery shopping via the food waste apps we've listed.
---
We all know and love London as an incredible foodie city. However, we also know that the average diet is an unfortunate driver of climate change.
Our current food system, the meat consumption, food waste, and plastic usage are among the reasons carbon emissions are increasing and the world is warming. The question then, is: what is a sustainable diet?
There are a few answers below, but we first need to recognise the impact our consumerist behaviour has on the environment.
Here are the facts:
If everyone cut meat and dairy from their diet, researchers at the University of Oxford found that there would be a:
49% reduction in greenhouse gas emissions from food production
76% reduction in land use for food production
49% reduction in eutrophication (nutrient run-off from fertilisers into lakes and rivers, damaging ecosystems and reducing biodiversity)
19% reduction of freshwater withdrawals (ie, usage), weighted by local water scarcity.
Furthermore, Oxford Martin School researchers found that "a global vegan diet would also result in 8.1 million fewer deaths per year worldwide, projecting cost savings of "$700–1,000 billion per year on healthcare, unpaid care and lost working days", as consuming more fruit and vegetables contribute to healthy diets.
Food waste is also important to sustainable eating; according to the United Nations Food and Agriculture Organization, combined global annual greenhouse gas emissions resulting from food waste nearly equal total emissions from China or the US – the two largest national producers of greenhouse gases.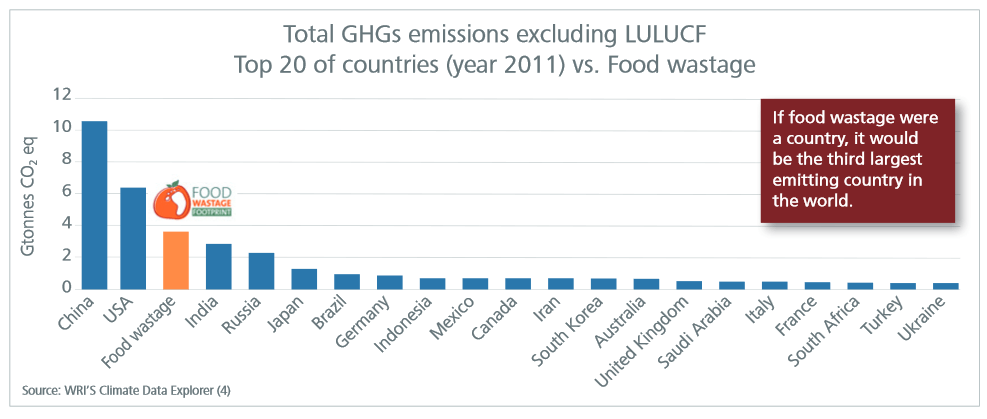 However, it's untenable for every single person on the planet to go vegan. Some people are prevented by health issues, while others struggle economically to buy fair trade, organic, sustainable, or vegan products. So eating less meat and dairy products can help build more sustainable food systems by lifting the pressure on agricultural land that can be used for grains or vegetables instead.
Even if everyone were able to become vegan, the demand for vegan favourites with higher environmental impacts (say, avocados, almonds) would be damaging in its own right. Avocados caused controversy when they were linked to illegal deforestation in Mexico, however, there are still ethical ways to consume avocados such as; buying EU regulated organic avocados that come from Spain, or perhaps growing your own avocado tree.
Also, if managed correctly, cattle farming can actually help revive land made infertile by poor agriculture practices, through regenerative agriculture. (And yes, we are talking about cow poop.)
But what is sustainable food anyway?
The charity Sustain, which advocates for environmentally-enriching agriculture and food policies, explains that:
"There is no legal definition of 'sustainable food,' although some aspects, such as the terms organic or Fairtrade, are clearly defined.
"Our working definition for good food is that it should be produced, processed, distributed and disposed of in ways that:
"Contribute to thriving local economies and sustainable livelihoods – both in the UK and, in the case of imported products, in producer countries
"Protect the diversity of both plants and animals and the welfare of farmed and wild species
"Avoid damaging or wasting natural resources or contributing to climate change
"Provide social benefits, such as good quality food, safe and healthy products, and educational opportunities."
With that in mind, here are a few adjustments you can make to eat sustainably in London:
1. Choose zero-waste, organic, or vegetarian and vegan restaurants
The easiest starting point is to not cook meat at home, and to only eat out at zero-waste, vegetarian and vegan restaurants. Starting with a definitive change and then taking small steps is often more effective than trying to do everything at once. 🙌
So next time you eat out, why not try a zero-waste, sustainable, vegetarian or vegan restaurant? Luckily, London was selected as the top vegan city in the world! Note that our list of London restaurants include either tried and tested places or recommendations by trusted sources.
Here's a list of the best restaurants in London serving vegetarian and vegan food:
Central London:
First opened in Soho in 1988, Mildred's has grown to include three more branches, in King's Cross, Camden, and Dalston. Serving delicious modern British vegan and vegetarian food and desserts, the menu changes frequently.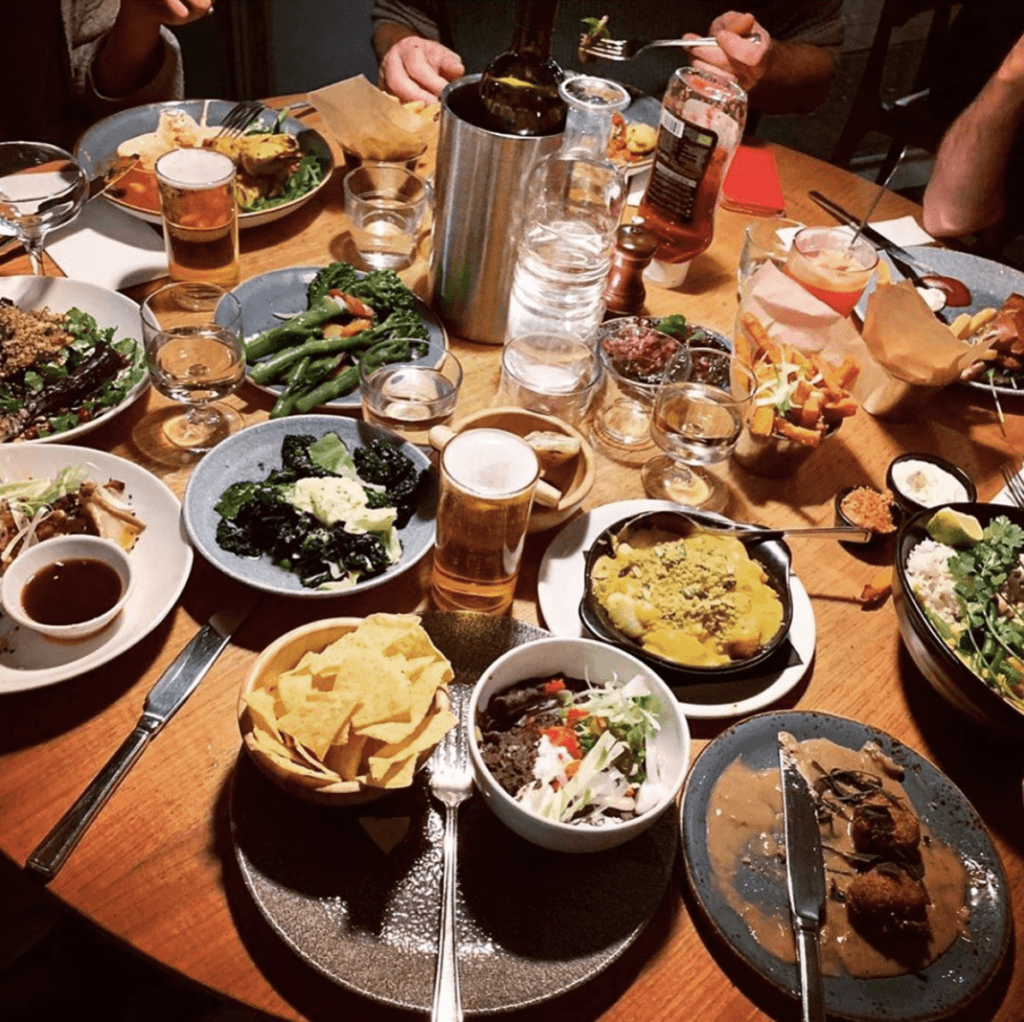 Sagar, in Covent Garden, is an authentic Southern Indian restaurant boasting a vast menu.
If you're after vegan gelato, ice cream, or sorbet, you're sure to find plenty of choices in Soho's Yorica and La Gelatiera.
East London:
For English breakfast or afternoon tea, try Lele's near Hackney.
Cub is a zero-waste and vegan-friendly restaurant in Hoxton, twelfth in Time Out's '100 Best Restaurants in London You Have to Try'. It may not have a Michelin star, but it certainly offers a fine dining experience, with a tasting menu of many unique small-plate dishes.
If you're near Liverpool Street, Old Spitalfields Market has tons of food options, whether you're craving Japanese, Indian, Italian, British, Taiwanese, or Turkish food. Merkamo Ethiopian offers delicious fresh vegetarian and vegan dishes, or try the Dumpling Shack's vegan options.
Wild Food Café in Islington is another vegan favourite, especially for those who like Italian food, while even pub lovers have a sustainable option: the Duke of Cambridge is "Britain's first certified organic pub".
For Sunday roast lovers, the Prince Arthur in Shoreditch makes an incredible vegan version, with options starting from £12.95! Who said gastropubs can't be vegan?
Grow Hackney describes itself as "an experiment in ethical and sustainable business", and holds music events while serving delicious food from its kitchen. Good vibes and good food? We're in.
South London:
The Michelin-starred Native turns leftover ingredients into perfect dishes.
Flour & Grape in Bermondsey is among the best Italian restaurants, with incredible fresh pasta, plenty of vegetarian options, and some vegan ones. If you miss Italy or you don't want to queue at Padella, it's definitely worth a visit. Try the tagliolini with truffle and egg yolk.
Café Van Gogh in Oval serves a delicious vegan brunch you don't want to miss.
Pipoca is a restaurant and zero-waste shop in Brixton that makes delicious French-style vegan crèpes with both savoury and sweet options.
If you are looking for a lunch spot, go to Borough Market in London Bridge for vegan Thai, Middle Eastern, or Mediterranean options, or have yourself some delicious vegan or vegetarian Indian food at Gujarati Rasoi or Horn Ok Please.
Did I hear you asking about drinks? If you didn't know zero-waste cocktail bars exist, head to Nine Lives cocktail bar, also in London Bridge.
North London:
The first vegan pizzeria, Purezza, opened its doors in Camden in 2015, and has been serving amazing wood-fired sourdough pizza ever since.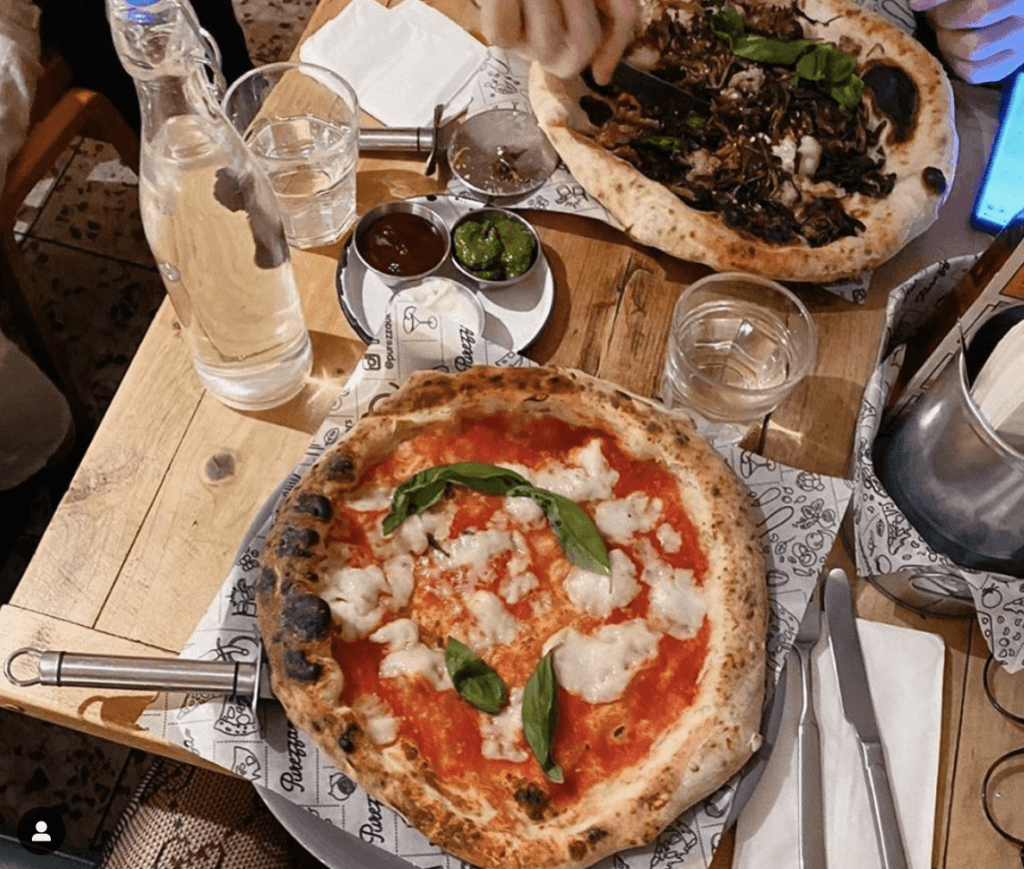 If you're craving some good ol' pie, head to Young Vegans Pie and Mash in Camden Market.
Since 1985, one place serving homemade vegetarian Indian food is Indian Veg in Angel, where you can let your hair down and even bring your own drink.
West London:
222 Vegan is a healthy, eco-conscious restaurant serving vegan food since 2004 in West Kensington.
Jusu Brothers in Notting Hill are a plant-based pan-Asian restaurant with very healthy and filling options.
Café Forty One in Bayswater, a vegan restaurant located inside La Suite West Hotel, is trying to minimise food waste by partnering with zero-waste food app Too Good to Go (more on which later!).
If you really want to ensure no food waste, choose street food markets instead of restaurants. Street food markets most likely sell off all their goods at the end of the day, and you can even buy cheaper food from around half past four.

Street food markets to check out include: the Southbank Centre Food Market (Waterloo), Camden Market (Camden), Borough Market (London Bridge), Mercato Metropolitano (Elephant and Castle), and Maltby Street Market (Bermondsey).
2. Subscribe to food box deliveries
Sustainable food doesn't have to be difficult to find. In fact, food box subscriptions make it much easier to ditch supermarket shopping for local, seasonal, or organic fruit and veggies, as well as sustainably-sourced fish and organic meat delivered to your door.
Odd Box's fruit and veg boxes rescue perfectly good produce that would otherwise go to waste, due to its appearance not meeting "supermarket standards". Individuals and couples can sign up for £11.49 per box, which include six to seven types of local and seasonal vegetables, and three types of fruit.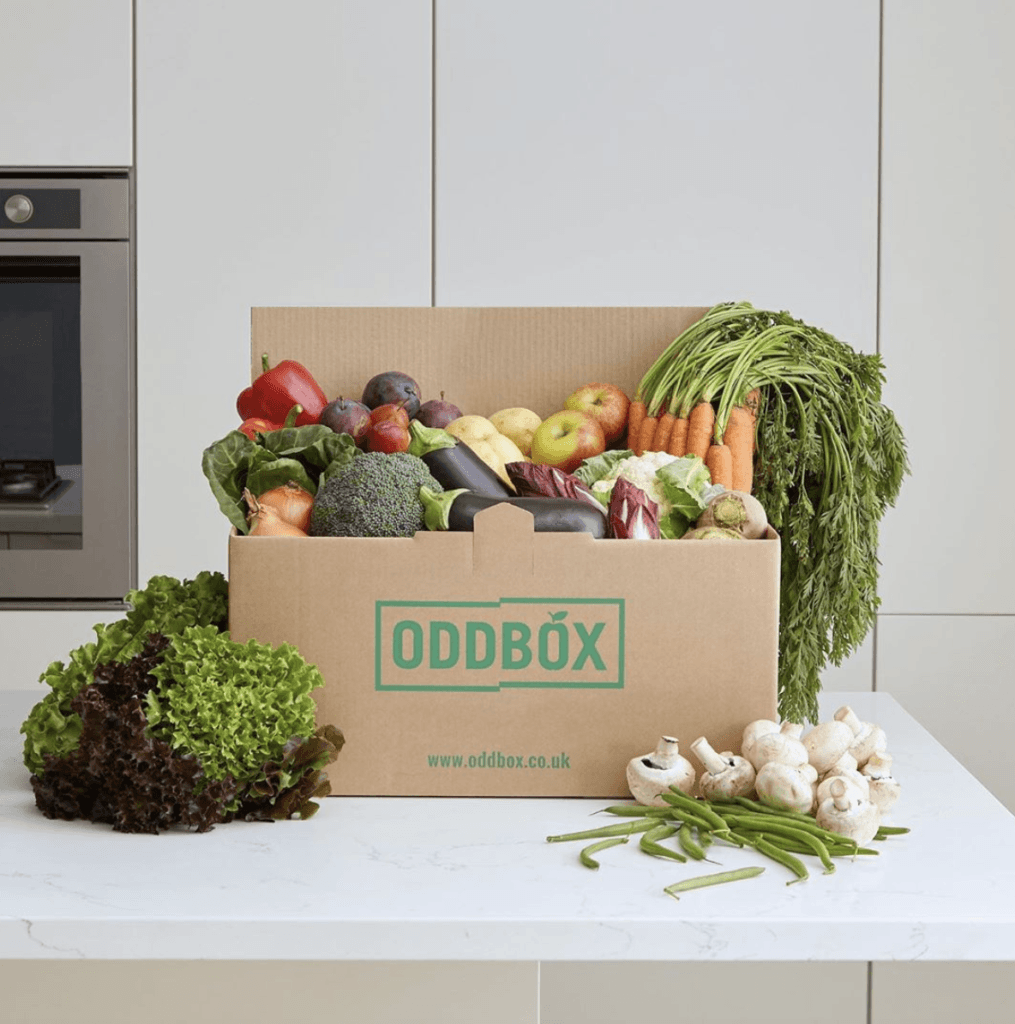 Riverford's seasonal and/or organic veg boxes include seven types of veggies for £12.65. Riverford also sells other organic goods such as meat, fruit, cheese, eggs, deli items, bread, drinks, and more. Their seasonal organic veg-plus-meat box sells for £30.95, and contains over 1kg of meat.
Abel & Cole's fruit and veggie boxes start at £11.50 and include two fruits and five seasonal vegetables. Meat and fish boxes come separately, and start at £15.
Farmdrop is an ethical supermarket you need in your life. They pay farmers fairly, package their items with compostable materials, and bring you organic fruit and veg as well as sustainably-sourced fish and organic meat from the UK.
If you share a flat, the most sustainable and zero-waste option would be to subscribe to a fruit and veg box together and cook at home. You are guaranteed to save money, get healthier, and reduce your carbon footprint. If you have a family, food box deliveries are similarly a great choice.
If you don't cook every day you might also need to buy a few veggies every once in a while. Rather than going to your local supermarket to buy goods wrapped in plastic, try your local grocer, where fruit and vegetables should at least be plastic-free.
"What if I don't have time to cook every day?", I hear you say – which brings us to the third point:
3. Use zero-waste food apps
If you work in Central London, chances are that restaurants nearby have food left over at the end of the day. By downloading a few zero-waste food apps, which allow you to buy food at the end of the day at cheaper prices, you can 'rescue' food that would otherwise go to waste.
For example, Too Good to Go, a certified B Corporation, has "prevented 75,135 tonnes of CO₂" by saving food from being wasted.
Karma will help you save money when you can't avoid eating out for lunch, or if you are on the lookout for a takeaway. It allows you to buy delicious food from great restaurants for half-price!
Olio makes it easier to connect with neighbours and local retailers so surplus food can be shared rather than thrown away. 👏
You can also choose to do your weekly shopping at a local farmers' market; buying exactly the amount of fresh vegetables and fruit you plan to eat in a week will minimise leftovers.
More on this topic 👇

10 UK-Based Zero-Waste Local Shops

A Beginners' Guide to Farmers' Markets
Find your closest farmers' markets here.
Farmers' markets are great because you get to meet the people behind the food, and buy fair trade, organic, fresh seasonal vegetables, as well as other goods such as eggs, milk, dairy, and more. You can also avoid excessive plastic packaging and waste.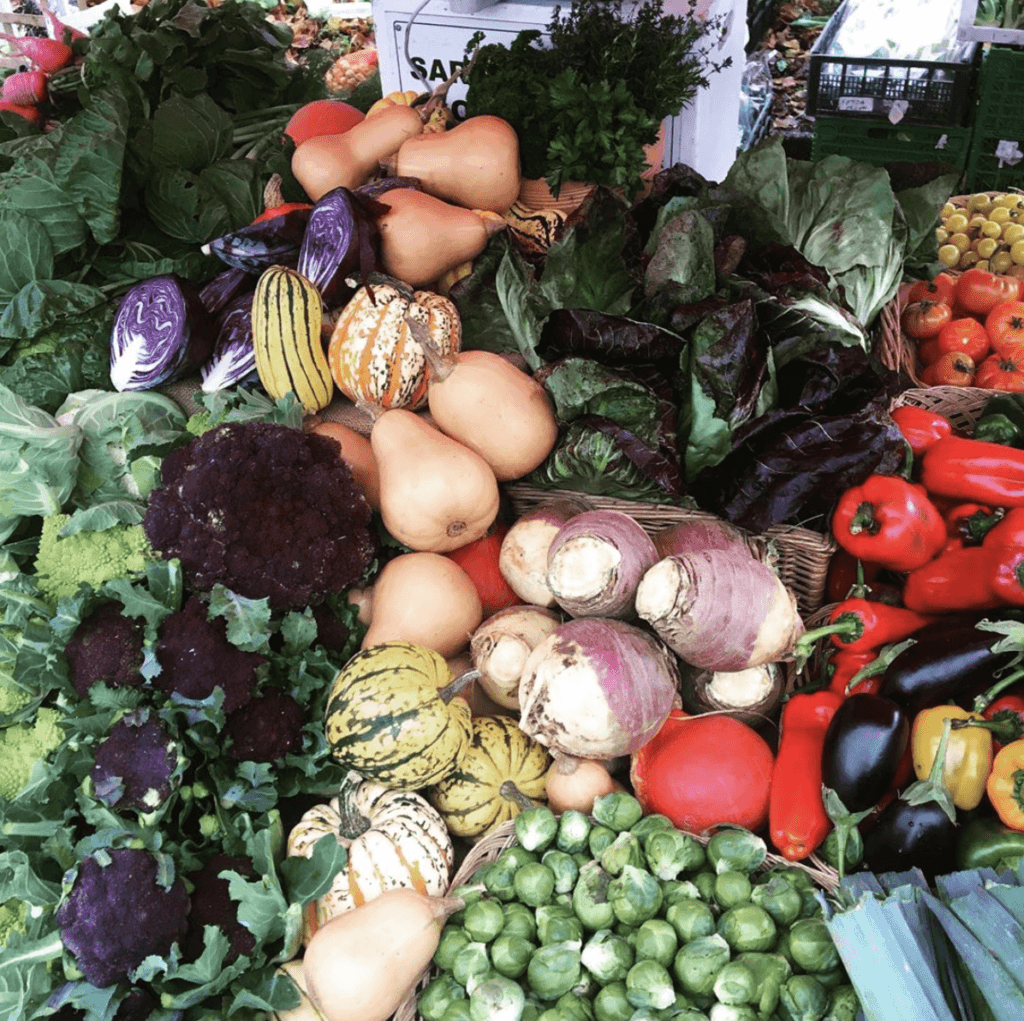 Eating locally-grown food can boost the local economy and lower negative environmental impacts – however, in certain cases, it can be better to buy specific foods from other countries. For example:
"DEFRA (the UK Department of Environment, Food and Rural Affairs) published a comparison in greenhouse gas emitted between UK and Spanish tomatoes sold in the UK that factored in both the production and delivery by land. The study found that UK tomato production emitted 2,394 kg of CO₂ per ton, whereas their Spanish counterpart emitted just 630 kg per ton."
5. Grow a food forest in your garden or a garden in your home
If you are lucky enough to have a garden, you can grow a food forest to produce vegetables, fruit, and even plants and herbs for making beauty products and remedies. This is the most effective way to ensure sustainable agriculture methods are used to produce food. 🍏
Establishing a self-sustaining food forest in your garden would also help the biodiversity of insects, repopulation of bees, and capture of carbon. It would also benefit you economically in the long term, and positively affect your mental health.
If you don't have a garden, find your nearest allotment: essentially a community garden for growing vegetables, which can create community, teach you highly valuable skills, and help the environment.
If you can't find an allotment nearby and don't have a garden, you could even start a small one indoors. You only need a sunny corner, some plants, and some effort. Once you get a hang of it, you can even start a vertical garden by building shelves, or hang pots from your ceiling.
6. Compost or recycle your food waste
Global food waste is among the worst contributors to climate change, emitting as much carbon annually as a big country such as the US or China. When food waste ends up in landfills, methane is released into the environment, whereas if organic waste is separated, it can be used as compost, fertiliser, or fuel.
Some councils in London offer food waste recycling, including for:
Coffee grounds
Eggshells
Fish and meat bones
Mouldy and gone-off food
Fruit and veg peelings.
If your council doesn't recycle food, we recommend that you contact them and ask them to start; in most cases, they have stopped because the majority of people weren't recycling. Otherwise, create your own compost to feed your plants, or contact your council to see if they can buy a large compost bin for a local community garden or a park where you could take your food waste.
7. Eat seasonal, local, and organic food
The Omnivore's Dilemma and Cooked author Michael Pollan argues that eating seasonal and organic food is more nutritious and healthy.
Eating seasonally and locally can also reduce greenhouse gas emissions associated with food production, as well as CO₂ emissions resulting from transportation of food (food miles). It can support the local economy and fair trade practices, and teach people the value of both food and farming by bringing us back to the basics of food production. 🍒
Eating organic food protects biodiversity, water resources, and soil and air quality. Organic means that no chemical pesticides are used to grow food, and antibiotics are used less frequently in animal agriculture. Organic farming practices can result in healthier soil, which can be useful in trapping carbon. Organic animal farming is also better for animal welfare, with more room to roam freely.
Conclusion
'Everything in moderation' can be a cliché, but in the case of food consumption and its impact on our planet, it's very accurate. If something as simple as our food choices can make a positive impact on future generations' lives, what is standing in our way?
Interviewed by The Guardian, Samin Nosrat, author of Salt, Fat, Acid, Heat (now also a Netflix docuseries), says that:
"Fortunately, the diet that is best for the health of people and planetary sustainability is the same, and so simple that the journalist Michael Pollan can do it in seven words: 'Eat food. Not too much. Mostly plants.' My translation: eat a largely plant-based diet, balance calorie intake with expenditure and don't eat too much junk food."
What are your secrets to eating sustainably? Let us know what changes you have made to your diet or the measures you have taken in your city to fight climate change. In the meantime, if you would like to learn more about vegan or planet-friendly diets and ways we can fight climate change, check out the resources below.
---
Further reading and documentaries
Articles and Studies
'Agriculture Plays a Critical Role in Limiting the Impact of Climate Change' by Daniel Aminetzah, Eric Bartels, Nicolas Denis, Kimberly Henderson, Joshua Katz, and Peter Mannion (McKinsey and Company)
'Climate Change Food Calculator: What's Your Diet's Carbon Footprint?' by Nassos Stylianou, Clara Guibourg, and Helen Briggs (BBC)
Books
Eating Animals by Jonathan Safran Foer
How Bad are Bananas? The Carbon Footprint of Everything by Mike Berners-Lee
Swallow This: Serving Up the Food Industry's Darkest Secrets by Joanna Blythman
Documentaries
Cowspiracy explains the reality of animal agriculture, and its negative effects on the environment as well as animal wellbeing.
The Game Changers debunks myths about protein consumption and its health benefits.
Cooked is a "look at the evolution of what food means to us through the history of food preparation and its universal ability to connect us."
Rotten (by Netflix) is a docu-series focusing on problems in sourcing food, as well as corruption and waste in the food system.
2040: Regeneration considers the existing solutions we have for tackling the climate crisis, showing how solar power, community energy, regenerative agriculture, marine permaculture, and more, can help revive the balance of nature.
---
Featured photo by Anna Pelzer on Unsplash