The attempt to create a national park city in one of the UK's most dense, polluted and crowded urban centers has been taking shape nicely over the last few years, with a lot of help from a group of committed volunteers as passionate about London as they are about nature. In a nutshell, this ambitious project is calling for a wilder, greener, healthier and happier city by encouraging more interactions between urban dwellers and the (still!) abundant natural world.

Anyone who has ever walked London with Dickensian fervor knows that for more than 2000 years it's played host to a miraculous gathering of histories and people. And — as a stubborn, pervasive presence—nature in all its shapes and forms has been constantly enhancing the city's stories, told and untold. London's fauna and flora are an integral part of the local urbanscape.

It's hard to imagine London without its bridges, towers and churches, just as it's impossible to imagine it without green spaces, marshes, medieval woods, heaths, waterways, and deer roaming free in Richmond Park. Any visiting or resident city dweller is going to be impressed with London's greenery. That's a given.
There are just a few urban national parks inside and beside cities around the world. The special thing about this particular park is that it will be the first to include an entire city.
The National Park City Foundation was founded in 2017 as a charity campaigning to make London a National Park City, but the team behind the Foundation have been working on this project since 2013.

What set out as a campaign to give a certain protected status to London's natural heritage turned into a fully-fledged community grassroots movement aiming to make the capital "greener, healthier and wilder" by improving life in this big city through inspiring campaigns and many small and achievable actions.

Sharing equally fascinating personal and professional life stories of exploration and discovery, the amazing team behind this charity project works with residents, visitors and partners alike to:
Enjoy London's great outdoors more
Make the city greener, healthier and wilder
Promote London's identity as a National Park City
The project is about "naturally" upgrading life in this urban space, but it's also a place where you can explore, a vision you can share and a community you can join. "A celebration of everything that has been done to make London's landscape, ecology and culture enjoyable:" bird song, ultimate frisbee, hill-rolling, tree climbing, cycling, hedgehogs, volunteering, sharing, outdoor play, kayaking, clean air, otters, greener streets, outdoor learning, ball games, outdoor art and hilltop dancing in the city.

Even the Mayor of London has committed to protecting and increasing green spaces and is providing funding to help with planting, while 360 wards across 33 boroughs have already declared their support.
Check out this London timeline that starts about 100k years ago to see why its national park status is fully justified. (And take a look at what the team plans to do next!)
What a moment for London: a celebration of the biodiversity and greenness that the city holds, an acknowledgement of how vitally urban lives are bound up with—and enriched by—nature, and a vision for the future of how to deepen and improve our relations with the living world—for what is good for nature is also good for us all. – Robert Macfarlane
Want to get involved? Here's what you can do:
The main thing you can do is to just enjoy being outdoors more. Doesn't sound like much effort, does it? But there are also more specific activities you can do as an individual, or as a group . The London National Park has an impressive list of actions suitable for every inhabitant of the city eager to get more involved. There are also various degrees of involvement, catering for everyone's schedule and interests. You can do this either formally or informally, so there's no pressure whatsoever.

Let's have a look at some of them:
Be a National Park City Maker
Anyone can be a National Park City Maker. You just have to show your support for the London National Park City (LNPC) while doing your thing! No pressure though, you can do things as and when you're able. You can set up or join a group, lead a project, event or campaign, or volunteer directly for the charity. Find out more.

Check out the Identity Toolkit! It sets out how people will see, feel and understand that London is a National Park City and the movement behind it. It's a badge, a statement and symbol to share and adopt.
Join the network
You can join as a group, organisation, school, agency or company, but also as a private individual. Read about the National Park City Network and view their 250+ members so far. Follow the steps to joining as a member here. Nope, there are no fees or obligations!
Join the schools network
This is a fast-growing network for London's schools and educators, committed to supporting the goal of connecting 100% of the city's children to nature while helping them become greener-healthier-wilder. Sounds good to us! Find out more here.

Good to know: If your school holds a mini-opening ceremony as part of the London National Park City Festival, they'll send you some exclusive London Curriculum outdoors and wild resources.
Start a group
The above-mentioned National Park City Makers can join up to informal National Park City Maker Groups. Whether it's your family wanting to brighten your home with more plants on the windowsill, colleagues at work keen to have more outdoor and walking meetings, or Friends of Parks groups who want to signpost a walking route between two parks—find out more here.
Or go further, and join the partnership: This is formed of groups and organisations from the Network that want to be actively involved with delivering on the National Park City aims.
Projects and events
LNPC have been running various projects over the last few years: from Wildflowers for Londoners (sowing 9 million wildflowers!) to station walks and even a competition imagining London as a national park city in art and design.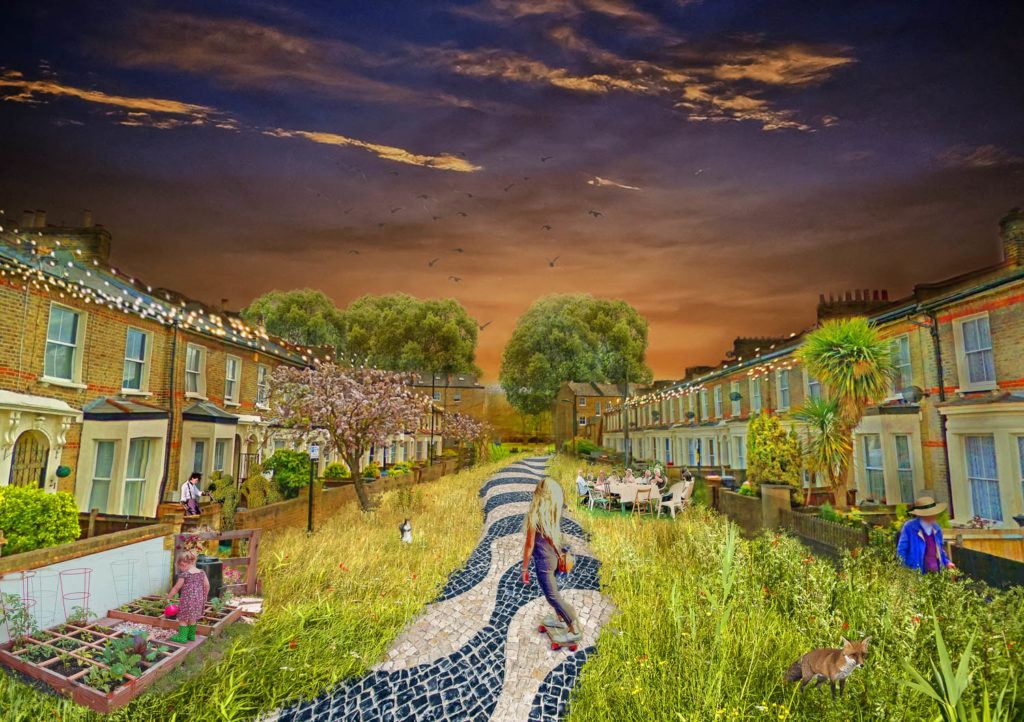 Check out their upcoming events, like the next Champion workshops and the Find Your London walks.

Find out more about their position on urban development and planning here.
This July, will you help with the launch of the London National Park City?
If the answer is yes, put the 22nd of July in your calendars! At this point we can all agree that this movement is unlike anything we've encountered before, so small wonder they don't plan one single and exclusive opening ceremony. Instead, they're inviting anyone to organise a mini-opening ceremony. The official launch will be part of the first National Park City Festival (20-28 July). They predict about 300+ such ceremonies across London.
Did you know? The first National Park City Fair took place in July 2018 and celebrated the huge variety of organisations and people who want to help make London a National Park City. Read more about the 26 speakers and 30 stands that attended the Fair here.
What kind of ceremony should I organise?!
As long as it takes place in London, outdoors, your mini-opening ceremony can be pretty much anything! Here are some suggestions from LNPC:
open a tiny nature reserve in your garden
take some friends on a walk
organise a game of hide and seek
start a project to make a street greener
go for a swing
make some outdoor art
do a performance
go kayaking on the Thames, or
do something else that is inspired by the National Park City.
Once you've made up your mind, you simply have to sign up to the Mini Opening Ceremony Quest in Make Life Better and add your own ceremony to the map (where you can already find all the other ceremonies that people like you have pledged to do so far). The ceremony should recognise and celebrate something you are doing to contribute towards the London National Park City. You are welcome to organise more than one.
Other ways you can help the London National Park City movement:
Donate. This is a charity!
Join the future national park cities conversation.
Get one of their cool T-shirts (organic cotton, printed in the UK in a renewable energy powered factory!)
Join their newsletter and to get updates on the National Park City, volunteering opportunities, events, etc.
Share your pictures of exploring and enjoying London's great outdoors on social media using #NationalParkCity
Join #GiveAPlant – a new campaign encouraging people to grow and then give a plant (or three!) to a friend, everyone on your street or everybody at school.
Become a citizen scientist and research prosperity in your local area.
Follow the 5 ways to well-being: Connect | Be active | Take notice | Keep learning | Give
But mainly—especially if you're in London—join them! Improving life in the city, as you can imagine, is a large-scale and long-term challenge. And size does matter in this case. As they say: to change everything, we need everyone. The more individuals, families, groups and organisations join the movement, the easier it is for the foundation to continue supporting and coordinating action, and the more green spaces and wildlife there are for everyone to enjoy.

In times of ecological and climate crisis, protecting and improving the green areas in such dense urban environments is essential to shifting the urban paradigm. According to this study, it's been estimated that "the ability of urban trees to store carbon is worth £4.8m per annum in Greater London—or £17.80 per tree." A thriving natural world wouldn't only alleviate the many crises we're going through, it would also work miracles for the mental health of city inhabitants.
This is a world's first, so you'll get to be part of something positive, and essential for your life and the future life of the wider community—but remember, this is also fun!

Join the movement, and become part of London's history.

Featured image credit: Siân and Jon Moxon via National Park City London website