One of the best places to find out more about community energy is an open evening with the creators and collaborators in community energy projects.These public get-togethers are meant to attract new members and potential investors with the power of real life stories and fact-based information. I don't know of people involved in running an energy focused organisation, a community project, or a sustainability campaign, who are not inspiring and truly passionate about their job. And when passion and professionalism come together, you'll get not only informed, but highly excited about getting involved in endeavors that actually make a difference at local level (helping a community) and global (tackling the climate crisis, for instance) level, far from satisfying just a handful of investors in it for personal profit only.
Recently I went to such an event to find out more about Repowering London's new community project: North Kensington Community Energy. They covered their first project with schools, their inspiring work with young people and the plans to turn Kensington and Chelsea into a solar hub. The two hours of talks and mingling filled me with hope and good vibes, but also with a ton of information about community energy. How to start one, why it's worth investing in one, and other such shareable useful information coming from a most fascinating gathering of activists and energy professionals.
What Are Community Energy Projects?
Community energy projects are social enterprises that are controlled by the community and benefit the same community. These projects propose and implement new business models and, in our case, also give priority to innovation in technology. Like it or not, big businesses are self-focused as they have to first and foremost cater for the financial needs of the investors.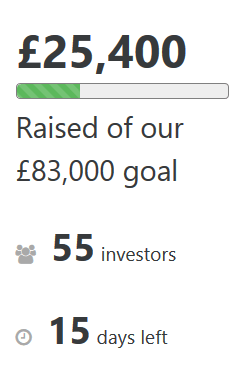 In London, community projects like North Kensington Community Energy (NKCE) receive backing from the local council, local organisations and businesses, as well as the Mayor of London. These projects are run by people from the community with the expertise and help of not-for-profit organisations like Repowering London. Irrespective of the amount of money you invest, when it comes to making decisions, you have the same voting rights as everyone else.

For instance: Voter members of North Kensington Community Energy have the same membership rights as investor members; they can vote at any meeting and stand as directors of the organisation. Any resident of Kensington and Chelsea aged 16 or over can become a voting member of NKCE. To become a member you need to purchase a £1 voting share and complete this membership form.
All those involved (those who invested £50 or £10k) have an equal say, and any profit is legally spent, mainly invested in the local area with the help of locals, because they know better than anyone else where in the neighborhood money is needed.

Find out more about successful community projects up and running in a neighborhood near you. NKCE is currently looking for investors. Apply for shares, or become a member! And do have a look at the project and help them reach their goal.
Why Is Solar Power So Popular With Community Projects?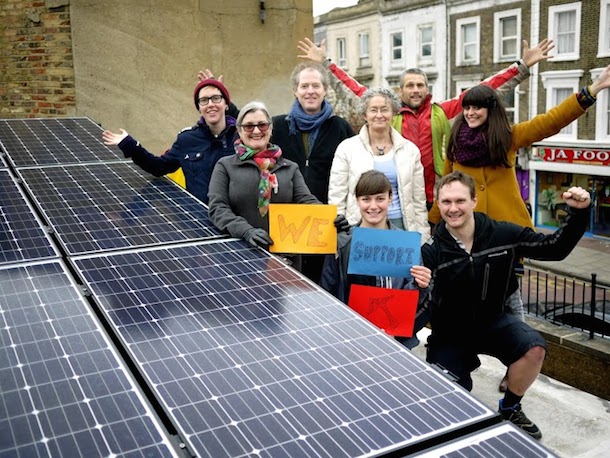 Solar power is the 7th solution out of 100 + solutions to solve the climate crisis. The technology is fast evolving and just as the light bulbs are highly efficient these days compared to a few years ago, chances are storing renewable energy is just around the corner.
And yes, there is a roof on every house, and solar panels are a non-invasive way of getting and sharing renewable energy.
The government's Feed-In Tariff makes it cheaper for communities to install solar panels. Unfortunately, this scheme will be terminate at the end of Mach 2019, but let's keep an eye on similar schemes, encourage new ones and maybe sign this 10:10 initiative demanding a fair price for solar power produced by community projects.
Community Projects are Empowering People
When people share their skills, lend a helping hand, volunteer, and get support from grassroots organisations, as well as local authorities, they feel empowered and get more involved in common positive causes.

Getting involved in a community project can come in many sizes and shapes that fit most schedules and interests. You can be a volunteer, an investor, a member, or an ambassador that spreads the green word.

Investing in a community energy project is a gift. I mean it! Literally. One of the most warming stories of the evening was about grandparents buying shares in community energy projects for their grandchildren. After all, they're the ones who will profit from the investment, right? In so many more profound ways than just financially.

Volunteering for your community can lead to unexpected benefits, not necessarily measured in money. Leila Fortunato, Director of Banister House Solar, has become involved with community energy about four years ago, when she was affected by fuel poverty. A mother of three, she found the time to get involved and inspire her children along the way. One of her boys took part in Repowering's solar panel workshops, and now wants to become an engineer. Leila herself has gained skills along the way and feels such community projects empower people in more ways than we can imagine. The ripple effects principle does work indeed. Read her amazing story here.
Yes, Anyone Can Start A Community Energy Project
If you live in London, it's easy to join a community energy group near you. There are 7 such projects enabled by Repowering London and surely more to come. If there's no group in your borough you can join another one of your choice, simply invest in one, or start one. You'll fight climate change, empower communities, while also getting return on your investment. That's a lot of positive boxes to tick.

For anyone in London interested in starting a similar project in their community, do reach out to Repowering team or to your local council.

Another good place to find out more about community energy projects is Community Energy London, a not-for-profit organisation established to support the growing network of community energy practitioners currently operating in London.

Find out more about other amazing London-based organizations that tackle clean energy.
Renewable Technologies + Community…
… might just be the next level of ethical energy, one that someday – as one senior Kensington activist was suggesting the other night – will power not just London but the whole world.

In Repowering spirit, wishing you all a lovely, low carbon week!

~~~~~
Here at ethical.net we'd like to hear more about your own experience with community energy projects, your suggestions and ideas. You can comment below.
Don't forget that you can start conversations on topics close to your interests on the ethical forum.

Featured Image courtesy of Repowering London and North Kensington Community Energy (NKCE)