US company Adobe has been around in some shape or form for years; currently it is arguably best known for multimedia and creativity software products.
The Financial Times has noted that the company is "one of the lesser-known tech success stories of the Covid crisis", building on key features such as Adobe Premiere and Photoshop with "stock content and analytics, advertising and ecommerce services".
Plus, it is behind one of the more popular free document-signing apps (Adobe Sign), which has become ever more important in a post-Covid world.
However, Adobe isn't free from ethical issues, which give some cause for concern when looked at closely.
We've come up with a list of ethical alternatives to its software, as well as detailing the main reasons to give Adobe products a miss, if possible.
Four reasons to avoid Adobe
Adobe has frequently made headlines for the wrong reasons, but why is it considered to be unethical?
Here are some of the main reasons to give its Creative Cloud products a miss:
1. Pricing and cancellation fees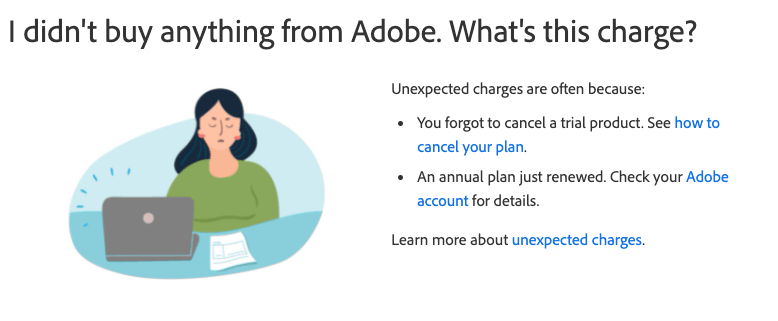 Adobe is expensive. Reasons for this include rampant piracy of its products, and because many businesses use Adobe software for professional purposes.
In any case, the company can charge whatever it sees fit. A 2019 Forbes report on Adobe's stock price noted that it's also doubly hard for customers to stop using its products:
"[Adobe's] subscription model replaces a previous strategy of selling boxed software for $1,000 or more with a monthly fee — as low as $10 a month — in trade for regularly updated software with new features.
"Secondly, Adobe's strongest tie to customers is a powerful network effect. Creative Cloud is widely used within 'the creative world and the educational system.' Were creative professionals to switch to another supplier, they would be locked out of collaborating as efficiently with their peers who use Creative Cloud."
If you do decide to stop using the service, don't be surprised if you are hit with an unexpected bill. Take this user, who faced a $291.45 fee to cancel their Adobe Creative Cloud plan after falling foul of its terms and conditions.
Adobe says: "Should you cancel after 14 days, you'll be charged a lump sum amount of 50% of your remaining contract obligation and your service will continue until the end of that month's billing period."
Furthermore, in specific countries cancellations require users to contact customer support.
A 50% cancellation fee could work out to be a lot of money, while Adobe only allows continued use of the service until the end of the monthly billing period. It's not especially flexible, and it's not a great deal.
2. Security and data
Can Adobe be trusted with personal data? Ask the nearly 7.5 million Adobe Creative Cloud account holders who were exposed in 2019.
The company evidently didn't learn from the approximately 38 million accounts hacked in 2013, following a cyberattack.
Additionally, 2.9 million customers' personal information, including encrypted payment card numbers, has been compromised by a breach of the Adobe network.
The trouble is, the company is massive. According to its own stats, over 90% of the world's creative professionals use Photoshop, while more than 300 billion PDFs were opened with Adobe products over the last year. That's a lot of user data to take care of.
You'd assume that a company in the tech sphere would have more effective online security.
Instead, it has recently released "an enhanced Adobe Customer Journey Analytics cloud service that enables organisations to apply AI to data from both online and offline sources to gain deeper insights into customer behavior."
Thanks, Adobe.
3. The monopoly
Adobe's pricing leans on the popularity of its industry-standard apps and services. However, that doesn't necessarily mean that they're worth the outlay.
Cancellation fees have seen users argue that it was "morally correct" to pirate its software, but it's preferable to find ethical alternatives that have a chance of providing competition in the long term.
Consider the Forbes report which noted that those not using Creative Cloud would be locked out of effective collaboration with peers. Or that over 90% of the world's creative professionals use Photoshop.
Then there's the fact that Adobe purchased its main competitor, Macromedia, in 2005.
It's not impossible to create or use ethical alternatives – but would they be compatible with Adobe services? Would your overall experience be worsened by trying something new?
4. Poor customer service
Considering its fees, you'd expect Adobe to have decent customer service.
Yet its Trustpilot rating is abysmal: an average of 1.3 out of five at the time of writing.

Many complaints stem from users feeling that they've been misled by 'free trials' or the various subscriptions on offer.
It's almost as if the company has made these options intentionally impenetrable.
Ethical alternatives to Adobe
The problem is: Adobe software is undeniably effective, and works well within its own ecosystem. (At least, as long as you remain a paying customer.)
The same can't always be said for alternative software, which can lead to compatibility issues: will files be viewable on every device? Will unfamiliar software be quick and easy to get to grips with?
In fact, many options are capable – for the most part – of giving Adobe a run for its money.
We've listed various alternatives for the majority of Adobe's most popular programs, but there are many more which would appreciate the support from an influx of new users. We've also tried to consider ethical options, or at least options that appear preferable by comparison.
Adobe Photoshop alternatives
This software is seen as setting the standard for digital art and imagery.
It's so popular that it has become a verb, and most people understand what a 'photoshopped' image is.
Here are some of the best alternatives:
GIMP
An option I can personally vouch for, the GNU Image Manipulation Program (GIMP) is a cross-platform image editor available for GNU/Linux, OS X, Windows, and other operating systems.
GIMP is free software, users can change its source code, and it offers customisation options and third-party plugins.
It's a world away from Adobe in terms of design and ethos, but it's well worth checking out.
Krita
A professional, free, and open-source painting program, Krita is "made by artists that want to see affordable art tools for everyone".
The dockers and panels can be moved and customised to suit your specific workflow.
Once you have created your setup, you can save it as your own workspace. You can also create your own shortcuts for frequently used tools.
Sumopaint

An online image editor and drawing tool, Sumopaint offers filters, painting tools, and image manipulators. It has both free and pro tiers, and its privacy policy is reasonably robust.
Founded in Helsinki in 2008 as a fully web-based online photo and image editor, it "serve[s] as an alternative for the 90% of users who only use 10% of Photoshop's tools and features".
Sumopaint's premium subscription services are available for a fraction of the cost of its competitor's suite.
MyPaint
"[A]n easy-to-use painting program", MyPaint "works well with Wacom graphics tablets and other similar devices".
Though originating from the Linux art world, Mac OS X and Windows ports are also available.
Adobe Illustrator alternatives
As the name suggests, Adobe Illustrator is for everything to do with digital art, illustration, and graphic design. Once again, it's a great tool for creatives, but these alternatives are also viable:
Vectr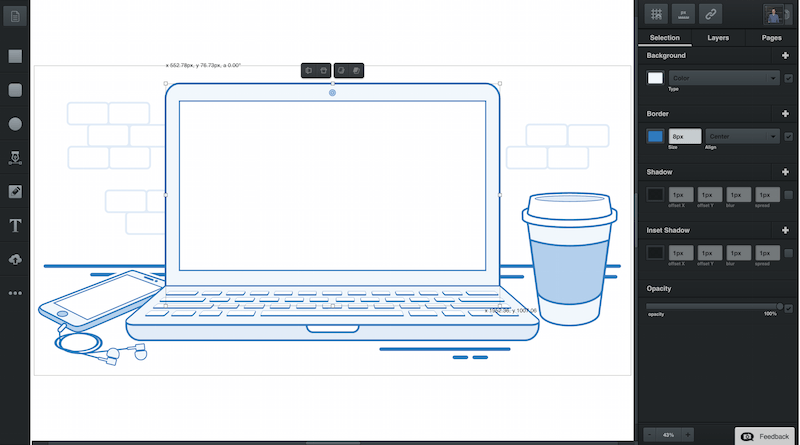 Free software for creating vector graphics intuitively, Vectr allows for real-time collaboration through both its web app and desktop versions.
The company notes that: "Vectr's basic graphics editor is free forever. In the future, we'll keep the lights on with a pro account and built-in marketplace."
Inkscape
Another Adobe Illustrator alternative comes in the form of Inkscape, a "professional quality vector graphics software which runs on Linux, Mac OS X and Windows desktop computers".
However, its Mac OS software is the most basic, and the company is currently looking for a dev to contribute to the project.
Best of all, Inkscape is free and open source software, licensed under the GNU General Public License (GPL).
Affinity

The first in a full creative suite of applications covering photo editing, desktop publishing, and graphic design, Affinity has won the biggest awards in the industry and been adopted by over a million customers worldwide.
As well as Designer, Affinity Photo and Affinity Publisher are also available. Each is currently on sale for a one-off fee of £48.99.
Adobe Animate alternatives
Another popular tool is Adobe Animate: a 2D animation software program allowing the creation of animations or cartoons, whether for personal or professional reasons.
As with the majority of Adobe's software, there's a decent range of alternatives if you know where to look:
CACANi
CACANi (Computer Assisted Cell Animation) is an application developed with hand-drawn animation in mind.
At $499, it's not the cheapest option on the market, but this includes a perpetual license that won't expire.
TVPaint
TVPaint Animation is 2D-focused software that offers both a standard and professional tier.
They note that: "The first version of TVPaint Animation (called TVPaint 1.0) was developed in 1991 on the Amiga. It means that TVPaint technology has spent at least as much time in development and use as other digital painting software."
However, there are no plans to release an iOS version, for reasons including a lack of pressure sensitivity and the 30% that is taken from each sale through the Apple Store.
Blender
A free and open-source 3D creation suite, Blender "supports the entirety of the 3D pipeline—modeling, rigging, animation, simulation, rendering, compositing and motion tracking, video editing and the 2D animation pipeline".
In terms of its ethical credentials: "The Blender Foundation (2002) is an independent public benefit organization with the purpose to provide a complete, free and open source 3D creation pipeline, managed by public projects on blender.org."
It aims to:
Manage the facilities on blender.org for users and developers who want to contribute to Blender
Maintain and improve the current Blender product via a public-accessible source-code system under the GNU General Public License
Establish funding or revenue mechanisms that serve the foundation's goals and cover its expenses
Provide individual artists and small teams with a complete, free, and open-source 3D creation pipeline.
Adobe InDesign alternatives
Released back in 1999, Adobe InDesign soon became the industry standard for desktop publishing (DTP).
As it's contained within the Adobe Creative Cloud, you'll need to buy a monthly subscription. We've mentioned that this can come with its own set of problems – including unexpected charges, or high fees for ending a subscription early – so it may be worth taking a look at some of the following alternatives instead:
Scribus
In terms of why this option is worth considering, Scribus says: "Because it's reliable and Free. Free really means Free with an uppercase F. Free is more than just gratis (which is just a side-effect). It means that you are in control of your data and, if you wish, the code of your desktop publishing tool."
That's a big deal, and it's hard to find a fairer option than that. At the very least, it's worth testing out.
Affinity Publisher

Affinity's second appearance in this article; once again, at a price of £48.99.
Publisher is comparable to InDesign in many ways, despite being available for a fraction of the cost, and was chosen by Apple as its Mac App of the Year in 2019. We strongly recommend checking out its services.
Adobe Substance alternatives
Substance is a complete suite featuring the tools artists need to create 3D digital materials. Originally developed for the game and film industries, it is also useful for anything to do with special effects or entertainment imagery.
Quixel Mixer
Mixer is known for being easy to use, but with uncompromised power or quality. Quixel claims that it's the fastest high-quality texturing tool out there.
Founded in 2011, it was "based on the vision of substantially speeding up how creators build digital environments, by giving them access to a vast and ever-expanding library of 3D building blocks, and easy-to-use tools to greatly simplify the creative process."
Adobe Premiere Pro alternatives
A popular video editing software, available as part of the Adobe Creative Cloud licensing program, the Pro model is a successor of the Adobe Premiere first launched in 1991.
Olive
Hoping to become the go-to free alternative to Adobe Premiere, Olive is currently offered in two pre-build versions: the 0.1 (aka April 2019) pre-rewrite version and the currently unstable 0.2 nightly builds.
Both are technically alpha software, but 0.1 is more developed, so is generally considered more stable and usable than the current nightlies, which are still under heavy development.
This is definitely one to watch.
Kdenlive
Kdenlive is an acronym for KDE Non-Linear Video Editor, and it works on GNU/Linux, Windows, and BSD.
Best of all, the program is free software, as defined by the Free Software Foundation under the terms of the GNU General Public License.
Adobe Photoshop Lightroom alternatives
Released as part of the Creative Cloud Photography plan, Photoshop and Lightroom are photo editing software for capturing and editing images.
As Adobe explains, "Whereas Lightroom is focused on organising and processing photos, Photoshop ventures into image manipulation, creation and enhancement. Photoshop is the best choice for images where you want pixel-level perfection."
Darktable
"An open source photography workflow application and raw developer [and a] virtual lighttable and darkroom for photographers", Darktable "manages your digital negatives in a database, lets you view them through a zoomable lighttable and enables you to develop raw images and enhance them."
It's released under the terms of the GNU General Public License Version 3.
Affinity Photo
Affinity is back on the list again, this time with a fully-loaded photo editor integrated across Mac OS, Windows, and iOS.
As with its other apps and services, you can purchase Affinity Photo for £48.99 on Windows or Mac, or £19.99 on iPad, making for one of the cheaper options overall.
Adobe XD alternatives
According to Adobe's marketing, "XD helps you craft prototypes that look and feel like the real thing, so you can communicate your design vision and maintain alignment across your team efficiently."
In practice, it's a vector-based experience-design platform that should help management of workflows, as well as boosting collaborative efforts.
Figma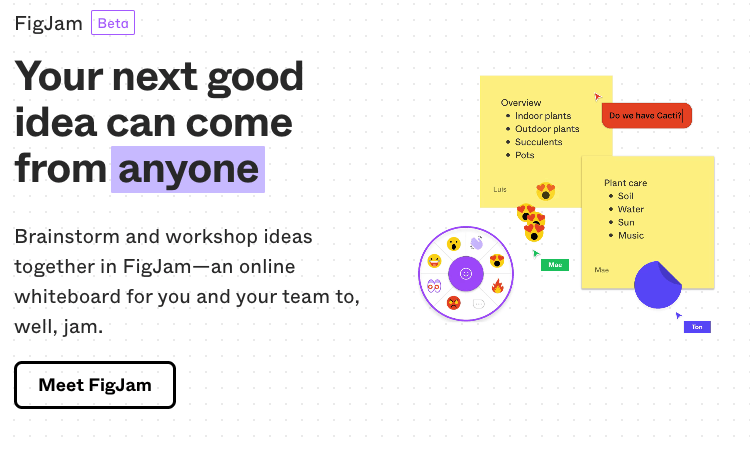 A browser-based user interface (UI) and user experience (UX) design application, Figma includes design, prototyping, and code-generation tools, and has an emphasis on collaborative projects.
While the 'starter' version is free, its professional and organization tiers are billed per editor, per month.
Figma notes that, "The Starter plan is designed for individual and very small teams to get started with Figma. You get unlimited files in the Drafts space, which you can share with unlimited viewers. Additionally, you can co-edit with unlimited editors in the Team space on up to 3 files (limited 3 pages per file)."
The software is also free for students and educators; these statuses can be verified through an application form on its website.
AkiraUX
One for the Linux users, Akira is "a native Linux Design application built in Vala and GTK. Akira focuses on offering a modern and fast approach to UI and UX Design, mainly targeting web designers and graphic designers. The main goal is to offer a valid and professional solution for designers who want to use Linux as their main OS."
However, the Linux development tool is still in the alpha stages, and isn't yet ready to be used professionally.
Adobe After Effects alternatives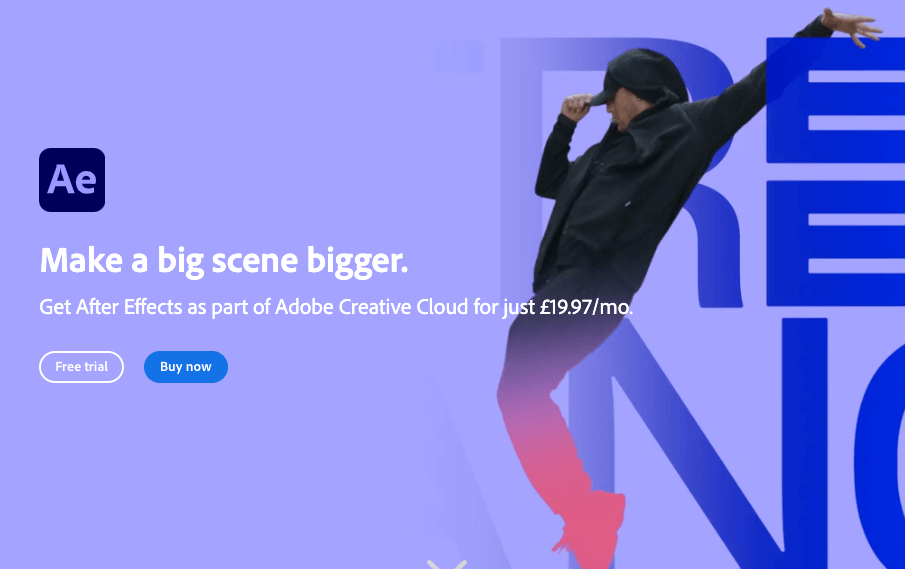 Adobe After Effects is undeniably the industry standard for motion graphics and visual effects software; it's often used in the post-production process of filmmaking, television, and video games.
This software even earned an Academy Award in 2019, thanks to "pioneering use of consumer hardware to host an application that is extensible, efficient and artist-focused [and which] has made it the preeminent motion graphics tool in film production, allowing motion designers to create complex animated elements for title design, screen graphics and fictional user interfaces."
After Effects was originally released in 1993, and is currently in its 14th version.
Natron
How can you compete with a service on the level of After Effects? Natron aims to do so with "a powerful Digital Compositor that can handle all of your 2D/2.5D needs".
A recipient of Inria funding from 2013 to 2018, Natron is now actively developed by its community.
Completely free of charge, the company's original motive was to create a tool for people that needed it, but who may have been left behind by expensive pricing plans, such as:
Students who want to learn compositing at home
Schools that may not be able to buy software licenses.
They say: "one great mission of a free open-source software is to aim to create common practises so everyone can benefit from it. On the other hand, being free of charge, Natron can be installed on large-scale render farms without worrying about licensing issues."
Blender
Making a second appearance on the list, Blender can be used for a host of tasks, including compositing and FX, as well as motion graphics.
Blender's main source of income is a development fund where users can sign up to make a recurring donation.
Adobe Audition alternatives
Adobe Audition is a professional digital audio workstation app, which is used for a variety of tasks relating to audio content. It's for Windows and Mac, and is targeted at professional users.
Audacity
Previously a no-brainer Audition alternative, Audacity recently made the news because of its new owner's plans to update the privacy policy of this free, open source, cross-platform software.
This owner, Muse Group, confirmed that user data would be sent to Russia, as well as further data being collected "for legal enforcement".
It has been claimed that these new terms make Audacity a possible spyware app – but Muse head of strategy Daniel Ray told BBC News: "We don't know anything about our users. We don't want users' personal information – that doesn't help us."
Nevertheless, it's something to be aware of before downloading the software.
Cakewalk
In 2018, the rights to Cakewalk were acquired by BandLab: a "'social music platform that enables creators to make music and share the creative process with musicians and fans".
They say: "BandLab combines music making and collaboration tools like the world's first cross-platform DAW [digital audio workstation], with social features like video sharing, messaging and discovery."
However, this isn't ideal if you have no interest in BandLab, and just want to work on audio content.
Adobe Dreamweaver alternatives
Dreamweaver is an application used to develop and design websites. It was originally produced by Macromedia before its acquisition by Adobe in 2005, and is now included as part of Creative Cloud.
Brackets
With focused visual tools and preprocessor support, Brackets is a text editor that makes it easy to design in the browser. An open-source project ironically founded by Adobe itself, it's "crafted from the ground up for web designers and front-end developers".

However, Adobe will end support for Brackets on 1 September, 2021.
Aptana Studio 3
"The world's most powerful open-source web development IDE (Integrated Development Environment)", Aptana Studio allows its users to build web applications quickly and easily.
Based on Eclipse, it supports JavaScript, HTML, DOM, and CSS, with code-completion, outlining, JavaScript debugging, error and warning notifications, and integrated documentation.
It's also free of charge, with features previously available in the paid-for pro edition merged into the community edition.
Visual Studio Code
VS Code is a "streamlined code editor with support for development operations like debugging, task running, and version control. It aims to provide just the tools a developer needs for a quick code-build-debug cycle and leaves more complex workflows to fuller featured IDEs, such as Visual Studio IDE."
It runs on Mac OS, Linux, and Windows, and is open-source software which is free for private or commercial use. Check out the product license for more details.
Ethical alternatives to Adobe: summary
Adobe might be seen as the best there is, but that isn't necessarily reflected by the reality for some users.
Its hold over the professional market shouldn't be overlooked, and various questionable business practices aren't especially user-friendly.
Alternatively, various dev teams are working on a number of projects which hope to offer ethical options that can stand up to the best that Adobe has to offer.
Many great apps and services are at some stage of development, and this list is filled with examples which could potentially be used in conjunction with others to provide a service similar to Adobe's.
---
Featured image by Med Badr Chemmaoui on Unsplash