The other day my family mailed me a bike helmet from Amazon. We used two-day shipping, and when the package arrived it was essentially a cardboard box nesting doll. I had to cut my way through three different boxes in order to get to the helmet, which is especially ridiculous when you consider that a helmet is specifically designed to withstand damage. 🎁
Our Changing Climate series
This post is part of a new series created by ethical.net in partnership with Our Changing Climate: an environmental YouTube channel that explores the intersections of social, political, climatic, and food-based issues. Get early access and support this important research by becoming a patreon.
With the holiday season fast approaching, which in the US means a rush of last minute Amazon prime orders just like mine, I feel it's important to look at the exact effect this new world of online shopping and instant shipping has on climate change.
Consumer actions 🖱️
The carbon footprint of online shopping greatly depends on the actions of consumers. As a 2013 MIT study shows, shoppers can be divided into a number of different categories that span from a traditional retail shopper to what the study calls a cybernaut shopper who exclusively shops online.
Environmental impact
✔️ The study shows that online shopping with slower shipping options has a smaller footprint than driving to a retail store to search, purchase, and return a product.
❌ The highest impact shopper is actually a mix of both, one that goes to the store to compare prices and then buys online with expedited shipping. The majority of the reason why traditional shoppers have such a large footprint is that they're using a car to reach these brick and mortar shops.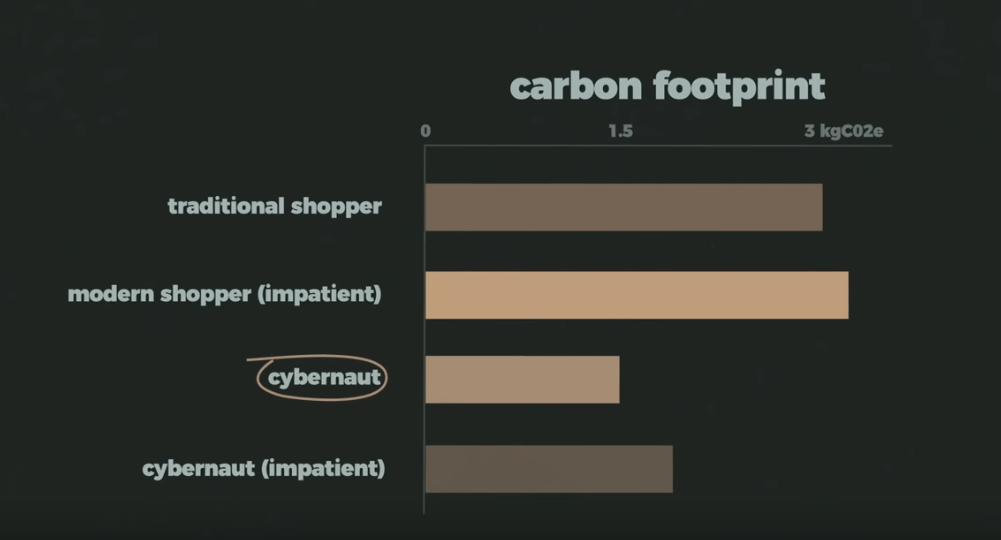 ✔️ So if they take public transportation, bike, or even walk, their footprint plummets.

❌ As for people who shop online, when they choose shipping options like two day mailing, they're more than doubling their transportation related emissions, especially within the last couple of years as companies like Amazon have started to send vans out to deliver packages that are only half full in order to fulfill customer expectations.

👎 This ultimately means more emissions because trucks and vans have to make multiple trips between hubs and homes as opposed to slower shipping options which fill up trucks with cargo and make a single trip to fill orders.
Packaging
Packaging also has a significant role to play when it comes to environmental impact. Often when you select the two day shipping option, the products that you want aren't bundled together in the same box because they are usually coming from two different facilities across the country. As a result, you receive a new cardboard box for every product you purchase in.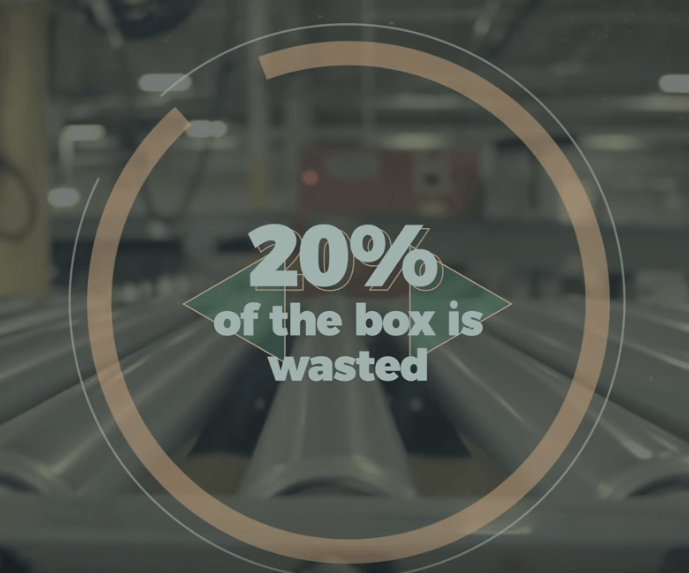 👎 The carbon emissions of products are on average 35% more when shipped separately than when shipped together. In addition, many products are packaged inefficiently.
👉 A study conducted by Peerless Research Group found that on average, boxes contain 20% of wasted space, which shipping facilities then fill with paper, styrofoam or bubble wrap, ultimately creating more waste, which finds its way into waterways or landfills.
Sustainable options ♻️
But there are many options on both the retail and consumer side that could help lower emissions.
Retail choices
For companies, cutting down emissions means nudging shoppers towards slower shipping options or making in-store purchases when appropriate. It can also mean bundling items together in one package or even reducing the amount of packaging for a product by right-sizing its box.
Individual choices
But as individuals, we also have choices to make. 🏷️
For one, if it's possible, find a way to get to your local retail store without using a car. You'll not only drastically lower your footprint, but shopping local also gives you the opportunity to connect with other people face to face, which helps build community resilience in the long run. 👍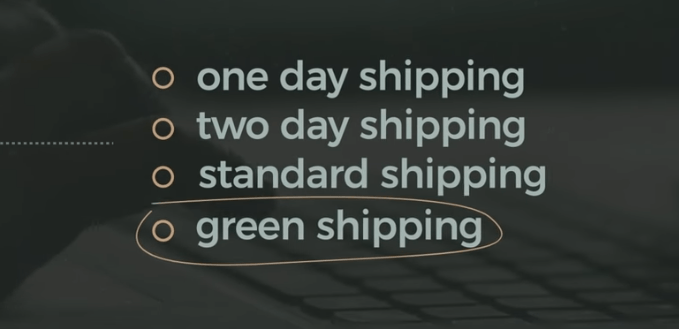 If you don't have that luxury, consider using slower shipping options which allows the online retailer to optimize shipping routes because they don't have to rush to get the item onto your doorstep. This essentially means fewer miles traveled for trucks and planes because they can fill up with packages and only leave when they are full. ✌️
Think before you shop
Online shopping isn't something to be demonized. It's an important resource for folks who may not be able to shop in person for a variety of reasons. However, it's important to think critically about our individual relationships with online shopping. 🚲
I know I say this a lot, but think before you shop. That online shopping spree not only has negative consequences for your wallet, but it also has lasting effects on the natural world we've come to rely on. 🙏
---
Watch the video essay here ⤵️
Resources:
1. Environmental Analysis of US Online Shopping (MIT)
2. Packaging + Shipping Efficiencies = Cost Savings (PRG)
3. Retailers' Challenge: How to Cut Carbon Emissions as E-Commerce Soars (Bain)
4. Online shopping is terrible for the environment. It doesn't have to be (Vox)
5. The truth about your online shopping carbon footprint (The Press Herald)
6. How green is online shopping? (The Guardian)