There was a time when spinning records was the only way to listen to music of your choice at home. Subsequently, for a few decades, vinyl records had to compete with audio cassettes and CDs. And then came the tsunami of digital streaming that devastated all physical music formats.
Miraculously, in the past 20 years, vinyl sales have exponentially increased, as have numbers of pressing plants and record shops. Now played on sophisticated turntables that retain a retro vibe despite using the latest audio technology, records (in all colours) now seem to have some of the resilience and charm of books. You can play them in a wi-fi-free environment, collect them, and enjoy their artwork; even the vinyl itself can be made to play with colour in mesmerising ways.
But the environmentally conscious music aficionado views this resurgence with a mixture of joy and concern.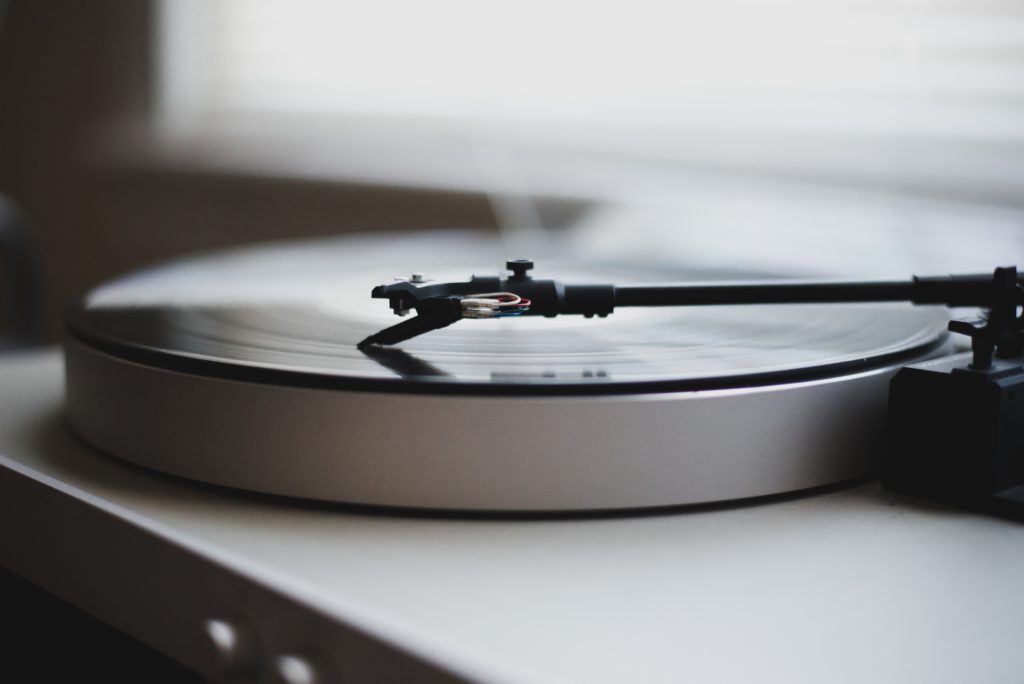 Joy, because collecting music in a physical form remains special for the generations brought up on radio and vinyl. There's the sound, the nostalgia, the general experience of playing and savouring music – which it's hard to rival by streaming something on YouTube. And physical copies can provide a more consistent income to musicians (although this was more true decades ago).
However, concern springs from the material standard records are made of: PVC (polyvinyl chloride) or 'plastic #3' (vinyl's more technical names) – yet more additions to the plastic soup choking the planet.
"Considering the average LP weighs about 135g, 4 million vinyl records represents over 550 tonnes of our favourite black plastic – with all its associated energy and environmental costs – at a time when we should all be thinking about reducing our carbon (and plastic) footprints." (Norman Records)
In a world struggling to overcome its dependency on all types of plastic, we need to ask certain questions to protect our beloved records as part of a sustainable future.
What would a sustainable vinyl record look like?
In recent decades, some toxic chemical constituents of vinyl have been banned, so modern additions to the collection aren't quite the same as in the past.
Specialists have also been trying to turn waste plastic into playable records for quite some time – but to no avail. In an attempt to raise awareness about the plastic pollution choking British coastlines, folk musician Nick Mulvey teamed up with Cornwall's Sharp's Brewery for a one-off experiment: the first playable record made from recycled ocean plastic. This is a triumph worth mentioning.
The song 'In the Anthropocene' was pressed onto 105 copies made from pieces of plastic washed up on Cornish beaches. The Anthropocene is the much-discussed new geological age succeeding the Holocene: one in which humans have managed to radically alter the face of the Earth over just a couple of centuries. Proceeds from this limited edition went to Surfers Against Sewage, to help protect the ocean.
This project was well received at the time, in 2019, but hasn't yet been followed up.
Another example of sustainable vinyl – this time focusing on pressing technology – is Green Vinyl Records. In collaboration, eight Dutch companies have developed an environmentally friendly alternative production process for vinyl records. A basis upon clean, low-energy injection moulding processes, instead of pressing, has achieved a significant energy reduction of at least 60%. Green Vinyl Records is also exploring new, environmentally friendly durable solutions for plastics, and the reduction of residual waste.
The Netherlands' Deep Grooves is on a mission to become fully sustainable – or at least "as green as possible". Despite an ECO policy most similar pressing plants would struggle to match, even they struggle when it comes to the PVC granulate from which vinyl is pressed: "We can't say we're 100% an eco-plant yet, obviously. There are still factors we can't make a difference to yet, like the actual granulate," explains founder Chris Roorda. "The granulate is one of the big challenges. We can't build a granulate factory, but we choose to use the most eco-friendly granulate we can source: coloured vinyl, all the special patterns and limited editions – we do all of that using eco-methods too." (DJ Mag.)
This 2017 article by the Vinyl Factory – a record label, pressing plant, and online magazine – explores how a sustainable future for vinyl might look. Specialists from record labels, shops, and pressing plants are interviewed, showing how vinyl manufacture itself is part of a delicate ecosystem faced with internal crises, dilemmas, production challenges, and shortages – all within the belly of the giant music industry. However, general interest in making this product sustainable is a step in the right direction.
So, is there anything that fans can do?
If I owned a record pressing plant, a record company, or a record shop, I would contact the team behind the recycled ocean plastic record to see about a follow-up. There's surely not a secret recipe that they wouldn't share.
Music fans concerned about plastic pollution can exert consumer pressure by:
Encouraging favorite musicians to support or duplicate such initiatives
Contacting favourite record companies to inform them about this breakthrough and ask them to look into it. (I did this and they replied that they will.)
Donating, sharing, following, and liking companies, start-ups, and organisations (like Surfers Against Sewage!) that are looking for ways to reduce plastic pollution
Buying a copy of 'In the Anthropocene' (there are only 105 copies, but give it a go!), talking about it, and making a fuss.
We know that the ocean plastic record is playable. But is it going to last for hundreds of years (like all plastics)? Is it even desirable that it outlives us? Can this recycled record be further recycled?
Whatever the answers, this experiment may just be the first step towards the future of vinyls, and one of the (hopefully) many projects that will attempt to clean up the Earth by putting all the garbage created over decades of unregulated pollution to good use.
What about the vinyl records in use today?
A recycled record, experimental or not, is good news, as are low-energy injection moulding processes, because they could kickstart a sustainable system of production. But while we're waiting for recycled or widely recyclable records to go mainstream, here's what we can do with our collections when we have to let them go:
Resell or donate
Again, like books, records are too precious to throw away, with too many memories and feelings attached. If you still remember opening a record and playing it for the first time, you'll know what I mean.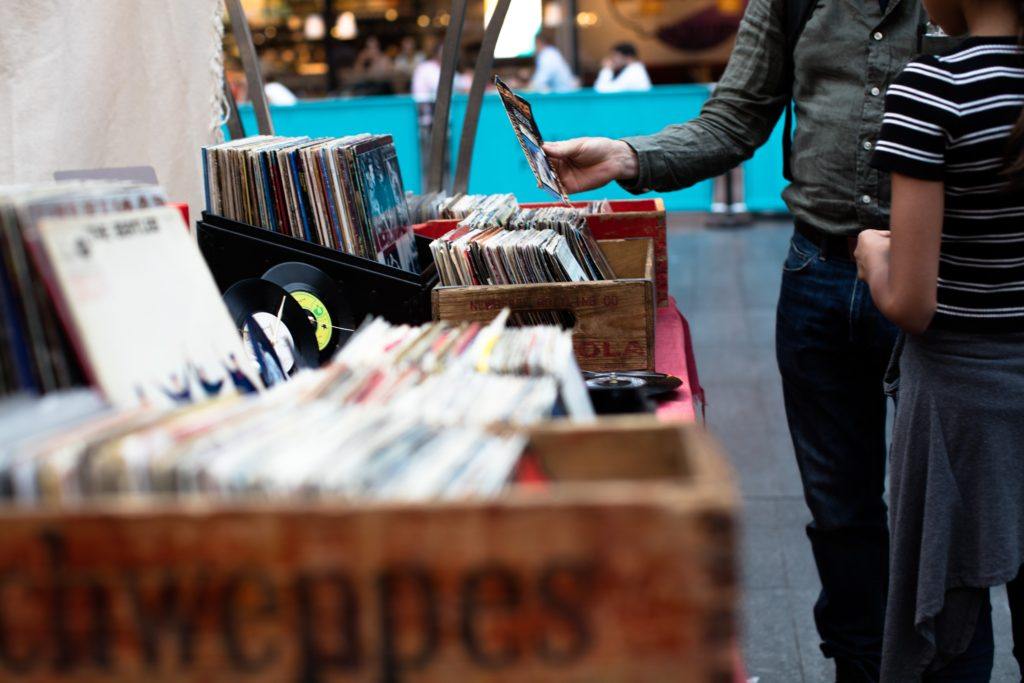 It seems unlikely that record collectors would want to get rid of their collections, but there may come a time you have to let them go. If they are in good condition, options include:
Giving them to friends or family who would appreciate them
Donating them to a charity shop
Selling them to a secondhand record store, or online (if in need of cash). Some collectors are willing to pay good money for rare and highly-sought after, limited edition records. This resurgence means that record shops are still around and always happy to buy and sell. Browse here and here for for options in London
Try Freecycle and car boot sales.
And if leaving them outside the door for passersby, choose a day that isn't rainy. 🥁
Upcycle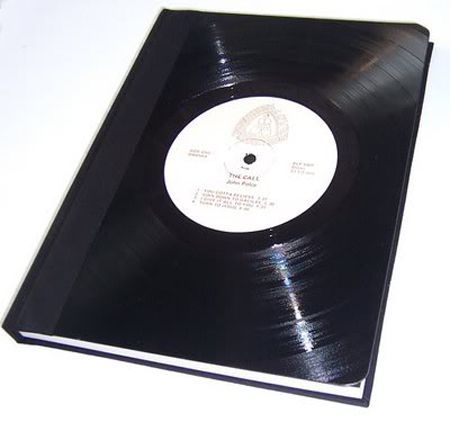 There are myriad ways to repurpose unplayable, beyond-repair, scratched and broken records. If into crafts, repurpose them into useful objects around the house, like trays, clocks, photo frames, and even bowls, wine racks, lamp shades (apparently you can home-melt them and reshape), coasters, side tables, wall ornaments, bookends, phone cases, cake stands, utensil holders, guitar picks, earrings, and much more. Or donate them to someone more crafty than you.
You can also find inspiration and practical steps on the YouTube channels, websites, or Etsy accounts of artists who upcycle in their work. Records can be painted, cut, re-shaped, or built into furniture in simple DIY sessions at home, without any specialised tools.
So there's definitely no shortage of options for unplayable records. And you get to keep them around.
Good maintenance can go a long way: Cleaning and storing records properly, and making repairs when necessary, is definitely preferable to having to buy the same titles twice.
Recycle
When there's no other solution for a record – it was blown to smithereens and you're out of upcycling ideas – try recycling. But it's not gonna be easy.
There's no one answer to recycling. In general, recycling is a non-coherent system that varies from country to country, city to city, and even borough to borough – topped off with a lack of regulation on plastics which creates additional confusion even among those actually able to recycle something.
Also remember that recycling is an industrial process with its own ecological footprint, and that plastic is not 100% recyclable; its quality decreases each time it goes through the recycling process.
In theory, vinyl could be melted into roads or shredded into construction pallets, but most recycling centres don't accept records. As a rule, recycling centres are looking for widely available plastics in large enough quantities to make this whole industrial process worth the energy and the money. And the chances are that there won't be tons of vinyl records to be recycled in your area every week – not even if a local pressing plant or record company has overstocks. ♻️
Given this mess, recycling vinyl seems almost impossible, but it's worth checking with local councils or waste management companies to see whether they can be taken to a specific recycling centre. Because, with PVC being the cocktail of harmful chemicals that is, it needs to be kept out of landfill, as its toxins can leak into the soil, affecting both water sources and air.
What's next?
With so many unexpected twists and turns in its history, it's not easy to predict the future for records, but those who listen to them and those who make them have a big say in how this non-disposable plastic will be regarded in future.
In the words of Pete Buckenham (On The Corner Records), "I feel vinyl may have a limited future. There needs to be some integrity and judgement at every level for it to be sustained." Like most manufacturing processes, it must be guided ethically from supply chain to production and distribution, in order to successfully face a future where thinking outside the box and taking into account the wider context will be essential to its survival.
For now, there is no sign of a decrease in the appetite for vinyl, and while records can be loved in perpetuity, that doesn't mean they shouldn't be better integrated into a sustainable world – one where their physical form leaves only good traces, just like the music imprinted on them.
---
Featured image by Manuel Sardo on Unsplash