The bride may be wearing white – but how to make sure everything else is green on your big day? Planning a sustainable wedding allows you to enjoy your special occasion and say "I do" without worrying what your excesses have done to our environment. By making the right choices for your nuptials, you can reduce your carbon footprint, ensuring you are part of the solution to the climate crisis, not part of the problem.
There is a lot to think about when planning a sustainable wedding – but then, most weddings take a lot of work anyway. Put in that extra effort and feel especially good about your special occasion. You might even inspire others to follow the same path.
Choosing a Sustainable Wedding Venue
One of the biggest questions is where you will actually tie the knot, and where you will celebrate afterwards. The venue(s) you choose will have a major bearing on the sustainability of your wedding – and the right choice will reduce your wedding-planning stress considerably.
Choose an Eco-Friendly, Sustainable Venue
While you will control many elements, the venue may also make a lot of the decisions.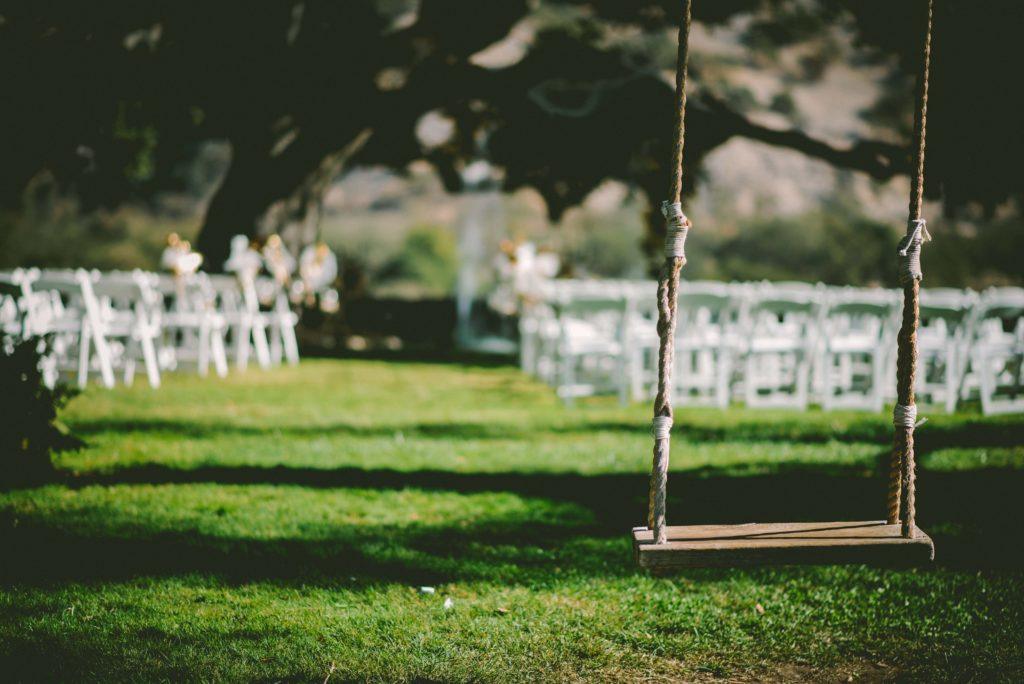 Consider choosing a venue that is itself sustainable. Think about:
When and from what the venue was built, and the impact that had (and has) on both surroundings and carbon emissions.
The source of the venue's energy and whether this is renewable.
Whether the venue has energy-saving measures in place. Is its energy use sound?
Whether it is a water-wise venue. Are water conservation measures in place?
Where the venue sources furniture and other items for the interior. Are these eco-friendly and sustainable options?
Whether the venue cares for its immediate natural surroundings and local community. 🥂
How the venue deals with waste generated on site. Are waste-reduction measures in place?
👉 You can find many beautiful eco-friendly and sustainable wedding venues in the UK.
Work with a Venue to Opt Out of Damaging Choices, and Cut Energy Costs
Getting married outdoors?
Think about whether you will be able to enjoy outside celebrations without wasting energy. Is it really worthwhile blasting heat out of doors? Patio heaters and other outdoor heating solutions can be hugely inefficient; would it be preferable to enjoy the ceremony outdoors before heading inside to eat and for evening entertainment?
Getting married indoors?
In an older venue, insulation may be far less effective than in a modern facility. But modern facilities may have been constructed with more environmentally damaging materials and methods.
Whatever sort of venue you choose, think about keeping heating and other energy costs to a minimum. Perhaps you could ask the venue to turn the thermostat down a few degrees? After all, if you are eating and drinking plenty, dancing and having fun, you will likely not feel cold. Think about choosing a venue that is large enough to accommodate your guests – but not too large; an intimate, cozy setting can be heated and lit with less energy, and so could be a more sustainable option.
🕯️ Find out whether candles can be used as a more eco-friendly way to light the venues you are considering.
Decorate the Venue Sustainably
If you will be responsible for decorating the venue yourself, make your decorations more sustainable by:
Choosing to decorate with living plants. (See more tips for sustainable wedding floral arrangements later in this article.)
Selecting upcycled items (or upcycling things yourself) for centerpieces and wedding décor.
Choose vintage or secondhand tableware, etc.
Using natural materials such as wood, straw, clay, etc, for decorations.
Consider Smaller Venues, Invite Fewer Guests
The smaller the venue, the fewer guests you invite, and therefore the lower the wedding's impact. Be strict when it comes to your guest list: the fewer guests, the less energy, water, food, and other resources consumed. The more intimate the occasion, the fewer people have to travel to attend, lowering your festivities' overall carbon cost. My husband and I invited around 50 friends and relatives when we got married back in 2005.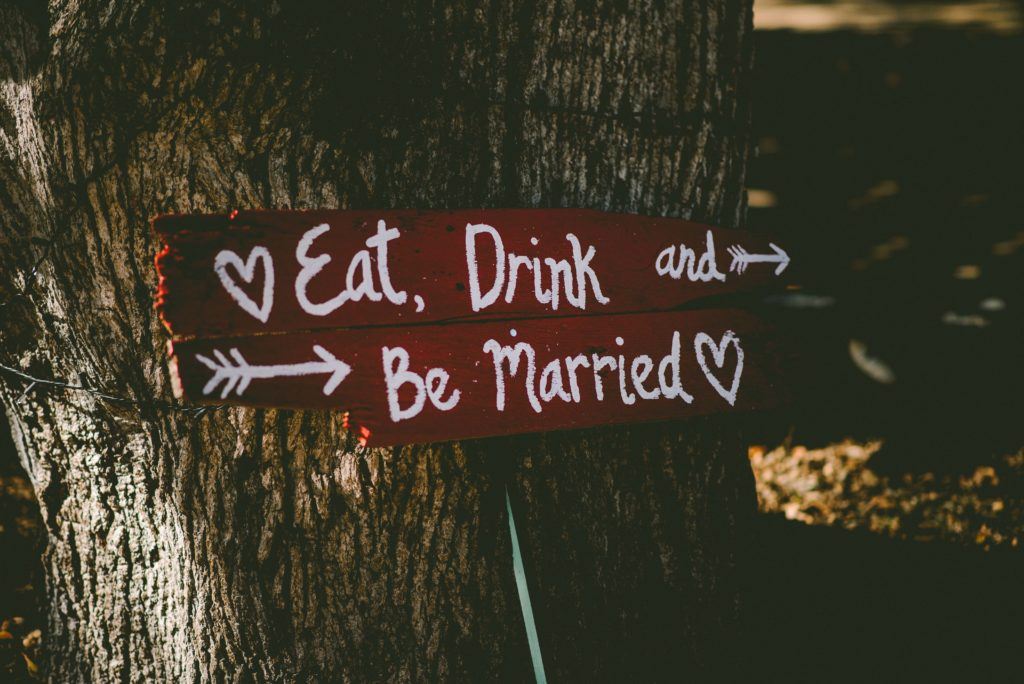 Choose a Venue as Close to Home as Possible
Finally, when choosing a venue, consider location in relation to where you and the majority of your guests will be travelling from. The closer the venue, the smaller the carbon cost from travel.
My husband and I got married in our local church, with photos taken in local woods and parkland out back; the reception took place in a local pub with a beautiful beer garden overlooking the sea. Both were within a mile of where we lived at the time.
Sustainable Wedding Invitations
A small guest list will reduce the overall environmental impact of the day – but the right choices around smaller elements like wedding invitations can also help.
Weddings can be rather wasteful when it comes to paper; to reduce this, consider sending e-invites rather than paper or card invitations through the post. This is not only kinder to the planet – it could save you money too. Also consider sending emails that point guests towards a wedding website that sets the theme and feel for your big day.
For older guests who might appreciate a physical invitation, be sure to:
Choose recycled paper.
Think about inks used. (Vegetable- or soy-based inks are preferable for printing – or take a DIY approach and consider old-fashioned calligraphy.)
Avoid using glue, ribbon, glitter, or other non-recyclable additions.
Add a note reminding guests to recycle the invitation after the wedding.
Alternatively, your invitations could be useful as well as beautiful; they could be made from plantable wildflower seed paper, for example. That way, your guests can enhance their gardens and do their bit for the bees.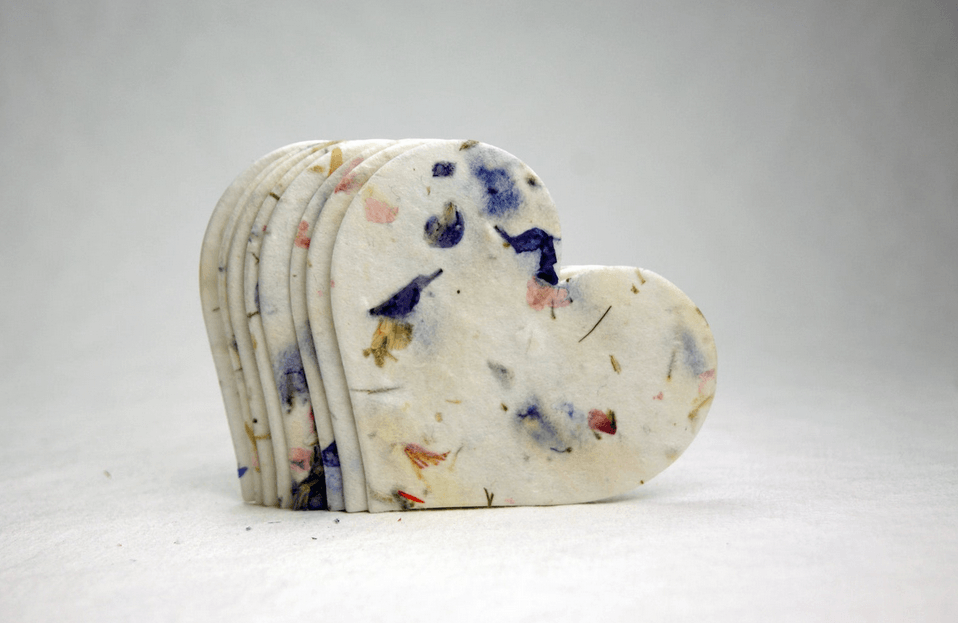 Making my own wedding invitations took less time, effort, and money than you might imagine!
Allowing people to RSVP in person or online can also cut waste paper and help you go paperless.
Sustainable Wedding Dresses (and Other Wedding Attire)
For an eco-friendly wedding dress:
Consider purchasing sustainable fabrics and making your own, or having a friend or relative do so. By making my own dress, I got a style that was right for me, at a fraction of the cost (and I am not an expert seamstress by any means!). In addition, our mothers each made a bridesmaid's dress: one for each of our sisters.
Choose a vintage or 'pre-loved' wedding dress. Vintage dresses can be beautiful, and are available in a huge range of shapes and sizes, so you are almost certain to find one you love. Check out Abigail's Vintage Bridal, Open for Vintage, StillWhite, and Preloved, for example, to find great selections. Or see whether a friend or relative has a beautiful dress you could wear instead.
Make a statement and choose a dress from an ethical UK wedding dress designer.
If you do buy a dress, don't trash it; keeping it to pass onto the next generation, or recycling and reusing it in a range of different ways, is far more ethical. Also, choose a dress made from natural, sustainable materials so it will not become a waste problem at the end of its useful life.
It is common practice to hire suits for weddings – similarly, it's possible to hire dresses, so if you aren't desperate to own a dress you will only wear once, this could also be a great option. Check out websites offering pre-worn gowns for rent, such as Rent the Runway. A range of wedding guest dresses are also available; if you're not wedded to wearing a traditional gown, this might be a possibility.
Not wearing a conventional gown means you could consider choosing a beautiful dress that you will be able to wear again for other special occasions in future. 💐
For sustainable bridesmaids dresses, think about similar options. As a bride, consider giving your bridesmaids a colour scheme and letting them pick their own dresses – in which case, they are far more likely to choose something they can wear again and again.
Sustainable Wedding Rings
Many engagement and wedding rings come at a huge cost, not only in financial terms, but also in human and environmental ones. Consider choosing rings that are recycled: ones using recycled metals, that are vintage, or are set with ethical stones. You don't want blood on your hands – which you will have if choosing, for example, a blood diamond.
Sustainable Floral Arrangements
There are a lot of considerations around ethical and sustainable flowers. You could forgo floral arrangements altogether, but if you do want flowers to set the mood and tone – to decorate the venue, or in bouquets and corsages – think about choosing: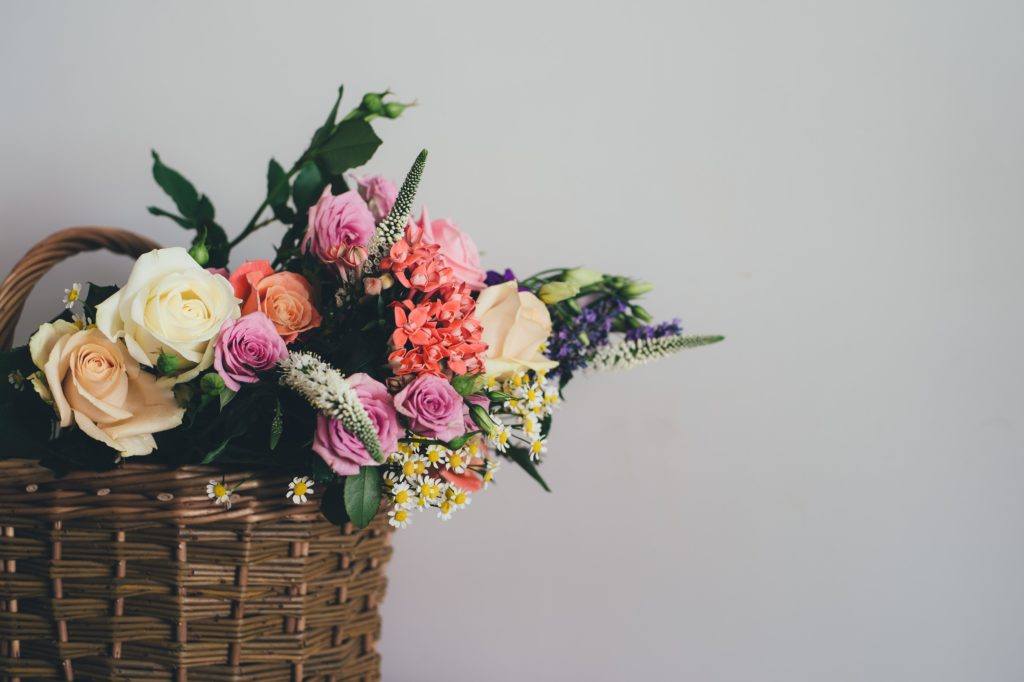 Seasonal flowers, grown as locally as possible.
Ideally, wildflowers or organically-grown options.
Dried flowers for greater out-of-season choice.
Arrangements without floral foam or Oasis, or other toxic, harmful materials that are plastic or won't break down after use.
Flowers delivered without plastic packaging. (Perhaps a florist could deliver them in glass or cardboard instead?)
Living plants that can be retained and planted out in gardens after the event. Potted plants can make great centrepieces for tables, and decoration for venue spaces.
If you do choose cut flowers, don't throw them out at the end of the festivities. Consider donating them to a local hospice or charity, drying them to keep as a memento of your wedding – or at least composting them.
Sustainable Wedding Cakes
While a wedding cake can be an important feature of the day, your choice (and who you choose to bake it) will affect how green your celebrations will be. A sustainable wedding cake should:
Come from as close to home as possible (to reduce food miles and carbon costs).
Contain ingredients also grown as close by as possible.
Contain organic, free-range, ethical ingredients. Organic flour, fair trade sugar, and free-range eggs (if not vegan), for example. The Organic Wedding Cake Company offers organic cakes, as well as some great vegan and gluten- and dairy-free options. Choosing natural wedding cakes can cut your impact significantly.
Of course, you could also consider making your own wedding cake, or having a friend or relative bake one for you. They could use the most ethical and eco-friendly ingredients to tailor-make the perfect cake for you and your spouse.
Sustainable Wedding Catering
Other food eaten on your big day is also hugely important, since what we eat makes up about a fifth of the average personal carbon footprint.
Make your wedding more sustainable by:
Choosing food grown and processed as close as possible to your wedding venue.
Selecting organic produce, grown and processed in a sustainable, eco-friendly way.
Considering vegan or vegetarian options rather than eating meat. (If you do eat meat, make sure it is from sustainable managed, integrated, agro-ecology farming systems.)
Supporting local, small-scale, independent producers.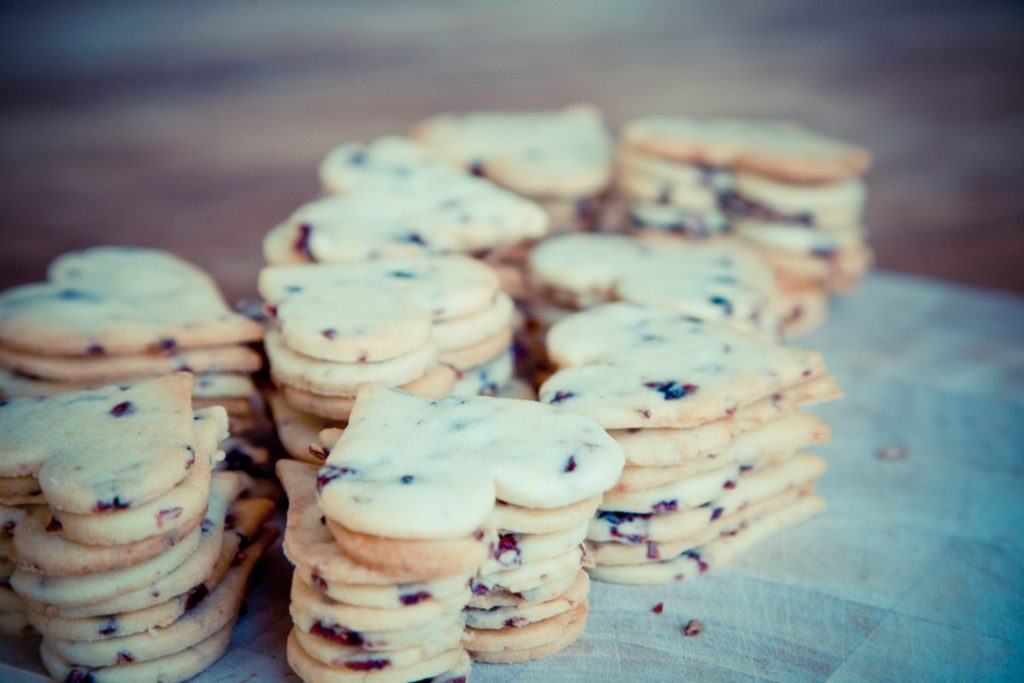 In addition, think not only about where the food (and drink) comes from, but also what will happen to leftovers and other waste generated by you and your guests. To reduce this:
Do not over-buy when purchasing food and drink for the event. (Or delegate to a responsible caterer.)
Choose DIY approaches and prepare from fresh produce as much as possible, rather than buying pre-packaged or processed foodstuffs. This will help to reduce the amount of plastic packaging.
Donate excess food left after the event to a local charitable organisation – or pack up leftovers and take them home/give them away to guests.
Avoid single-use plastics or items such as disposable plates or cutlery.
Sustainable Wedding Transportation
Another major factor in the environmental impact of your green wedding day is transportation. Think about how you and your spouse-to-be will reach the venue or venues for the event, but also about how your guests will arrive. As mentioned above, choosing a venue as close as possible to the majority of guests will cut down on the carbon costs of transportation, but the mode of transportation is also significant.
Think about opting for slow-travel solutions such arriving by:
Foot (or walking between venues).
Horseback, or by horse and cart/horse-drawn caravan.
Bicycle, in a rickshaw, or other pedal-powered transport.
Boat (wind-, paddle-, or pedal-powered).
Alternatively, consider reaching your destinations in:
An eco-friendly electric vehicle.
A romantic steam train or by other rail option.
If it is inevitable that many of your guests will arrive by car, encourage car-sharing as much as possible. Consider orchestrating car-shares through a wedding website, so guests can link up with others coming from the same direction. An eco-friendly coach could be hired if a number of guests are coming from the same location.
If some guests have to fly in, consider counteracting their air travel through a carbon offset scheme.
Sustainable Wedding Favours
Rather than providing guests with wedding favours that are likely to be lost or subsequently thrown away, consider donating to a favourite charity instead. By creating attractive signs you can inform them you will be donating in their names.
Otherwise, ask guests to choose a charity to support from a selection. For example, they could place a token in a jar to designate their choice.
If you would prefer to give guests a little something to celebrate your big day, consider:
Choosing eco-friendly, edible favours. For example, home-made preserves or baked treats, fair trade goods, etc.
Gifting seeds or plants that guests can grow in their gardens. 🌼
Options to help wildlife, such as bird-seed-coated favours that can be hung in trees at home.
Giving favours that will be useful later. For example, beeswax wraps, eco-friendly candles, DIY natural cleaning or beauty products, or other items your friends and relatives will actually be able to use.
Sustainable Confetti
Another option for wedding favours is to give guests eco-friendly and sustainable confetti. Throwing confetti over a newly married couple has been a tradition in weddings for over 200 years, symbolising the wish for a fertile marriage.
However, many confetti options contain microplastics, and even those made of biodegradable paper can be dyed with harmful chemicals. It can also clog drains and generally make a mess, meaning many venues now do not allow confetti at all. If you do want to use some, make sure you will be allowed, and factor in the clean-up afterwards.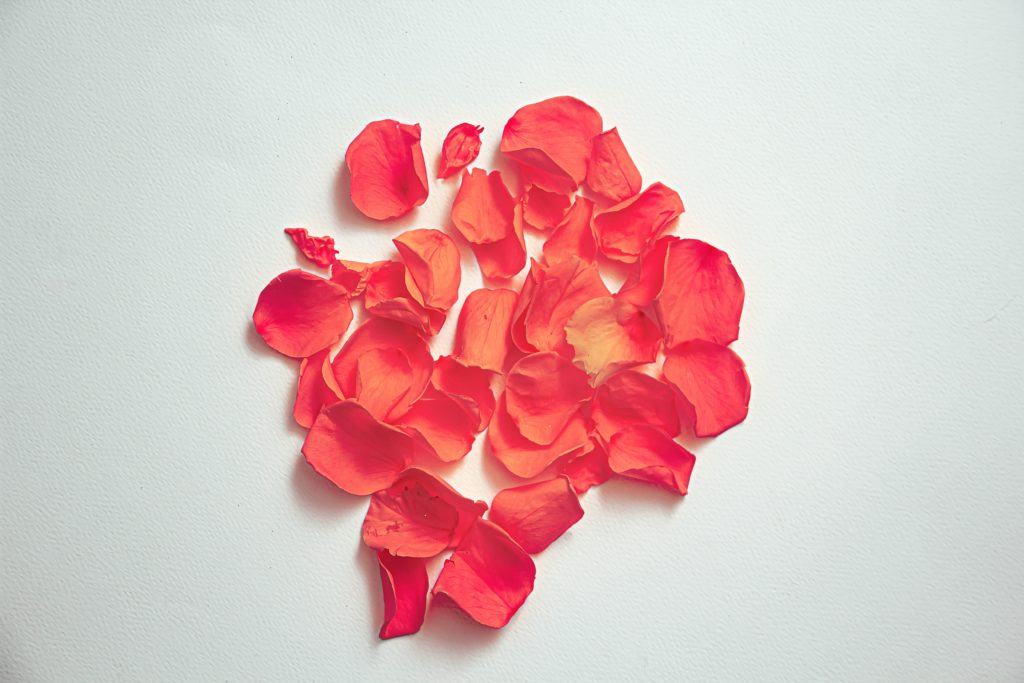 Of course, you needn't use confetti at all – but if it is allowed, and you choose to use it, there is a range of eco-friendly options available.
The simplest and greenest option is all-natural confetti made from petals, herbs, or leaves. Most churches and venues will allow natural petals to be thrown, since these do not harm wildlife, and are 100% biodegradable.Collect and dry your own petals, herbs, or leaves, or choose a mix from a sustainable confetti company in your area.
You can also use a punch (for example, a heart-shaped hole punch) to make confetti from leaves found in your garden or local area; choose a mix of different leaves and cut out the small pieces for an eco-friendly confetti mix. 🍂
Sustainable Wedding Gifts
While there is a lot you can control about your big day, that may not include what your guests do. You may not be able to guarantee that they make your preferred sustainable choices.
However, increase the chances of this by gently steering your guests in the right direction. For example, encourage them to gift sustainably by:
Asking them to donate to an environmental charity of your choice rather than giving you presents.
Asking for home-made, eco-friendly gifts.
Requesting donations for time rather than physical gifts. (If you are moving into a new home after your marriage, for example, you might want to ask guests to donate periods of time to help with decorating, etc.)
Suggesting that guests offer experiences rather than objects. (For example, tickets for events you would like to attend with your partner, activity days, or offers to give you and your partner free lessons to learn their skills.)
If you do need practical household items, consider making a wedding registry or list so that guests can anonymously check off items they have purchased, so you don't receive unneeded duplicate items. Make suggestions of eco-friendly, sustainable products they could buy for you, so they are less likely to choose harmful, non-sustainable items you might never buy yourself.
If you do receive unwanted gifts, make sure they aren't wasted by donating or selling them, or repurposing items to suit your needs.
Sustainable Honeymoons
Finally, after your big day, keep the sustainability drive going: choose a sustainable honeymoon option to start your married life off on the right track.
A honeymoon should be a very special holiday, but it doesn't have to cost the earth – literally or metaphorically. There are a range of ways to minimise the impact of your romantic trip on people and planet; to ensure its sustainability, consider:
How far you travel.
Your means of transportation to get there.
Where you stay.
What you eat, drink, buy, and do while away.
The impact you have on the environments you visit, and those who live there.
First of all, consider staying closer to home; you don't have to travel to the other side of the world to enjoy the adventure of a lifetime. For example, a glamping trip in a natural beauty spot right here in the UK could be just as special and romantic as a honeymoon in more exotic climes.
Wherever you go, choose transportation with the lowest possible carbon cost. Avoid flying if you can. Instead, use an electric vehicle, take the train, or choose slow-travel options.
Select an accommodation option using the same sustainability criteria with which you chose the right wedding venue. Weigh up all the considerations and choose an option that allows you and your partner to have as little impact as possible.
While on your honeymoon, choose sustainable food and drink options: eat local, seasonal, organic produce, and dine at ethical restaurants whenever possible. Choose activities that allow you to remain in harmony with the natural world. Hike, bike, or take to the waters, for example.
Give Back on Your Travels
If possible, think about how you and your partner might be able to give back while travelling. For example, you could volunteer together on conservation, re-wildling, tree-planting, or social charitable schemes.
Doing some good on your travels could be a wonderful way to bond, and to kick-start married life with some positive karma. 🏵️
How Much Should You Spend on a Sustainable Wedding?
Finally, there is one more consideration: how much you might spend on your big day. How much is it really ethical to spend? Might your wedding budget be better spent on things that will add true, longer-lasting value to your lives? Or put towards worthier causes?
The Bridebook 2019 wedding report revealed that couples in the UK spend, on average, £17,674 on their big day, and considerably more in certain areas. But it is possible to spend far less – arguably a more ethical option.
Assess ways to save money, and make your wedding day more sustainable – not only environmentally, but also for personal, long-term benefits. Ask yourself whether it's really sensible to spend all that cash on one day, rather than on things that will provide more lasting benefit – both personally, and in a wider sense?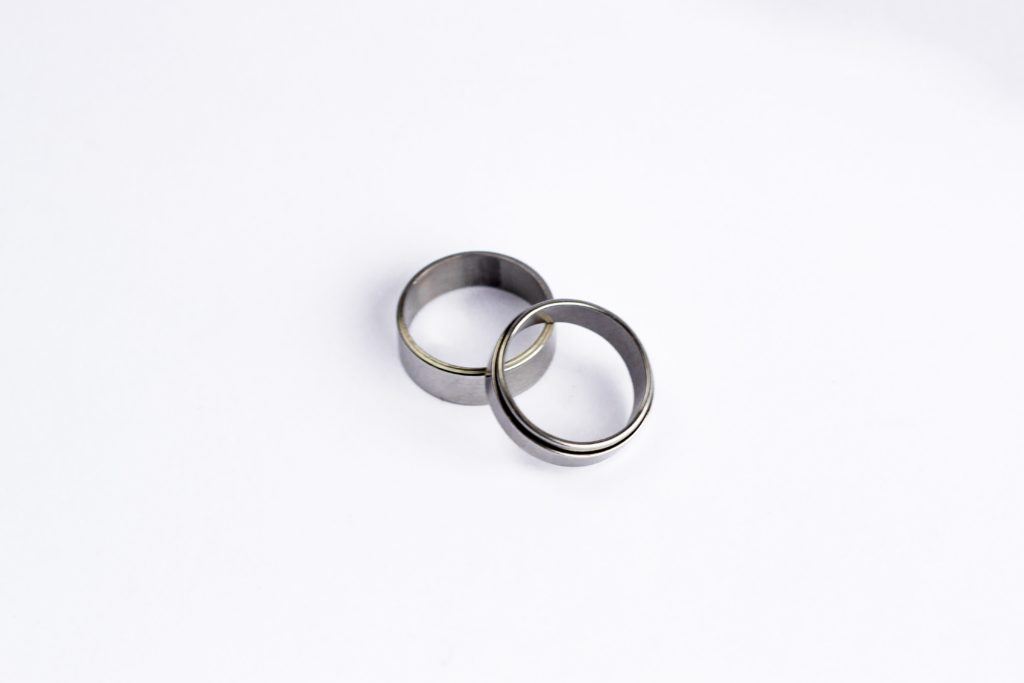 When my husband and I got married in 2005, we spent less than £1,000, but had a wonderful day. Ways to save money on your wedding might include:
Doing as much as possible yourselves (and asking friends or family to help).
Getting married outside of peak season – perhaps in autumn or winter months.
Considering a mid-week wedding.
Having the ceremony and reception at the same venue.
Fewer guests and a smaller, simpler event.
Taking a DIY, laid-back approach worked for us, and meant we had a lovely time and started married life without spending a fortune on just one day. Your dream wedding might look rather different, and how you spend your money is up to you. But often, more consideration and less spending could be what creates greater sustainability.
Using your imagination often means saving a fortune. Spending less on your wedding will mean more money to spend on sustainable lifestyle changes, and more money for starting your lives together. Forgoing wedding excesses might also enable contribution to a worthwhile environmental or charitable cause.
The tips above should help you to enjoy a more sustainable wedding, and go green on your big day.
Featured image by Photos by Lanty on Unsplash